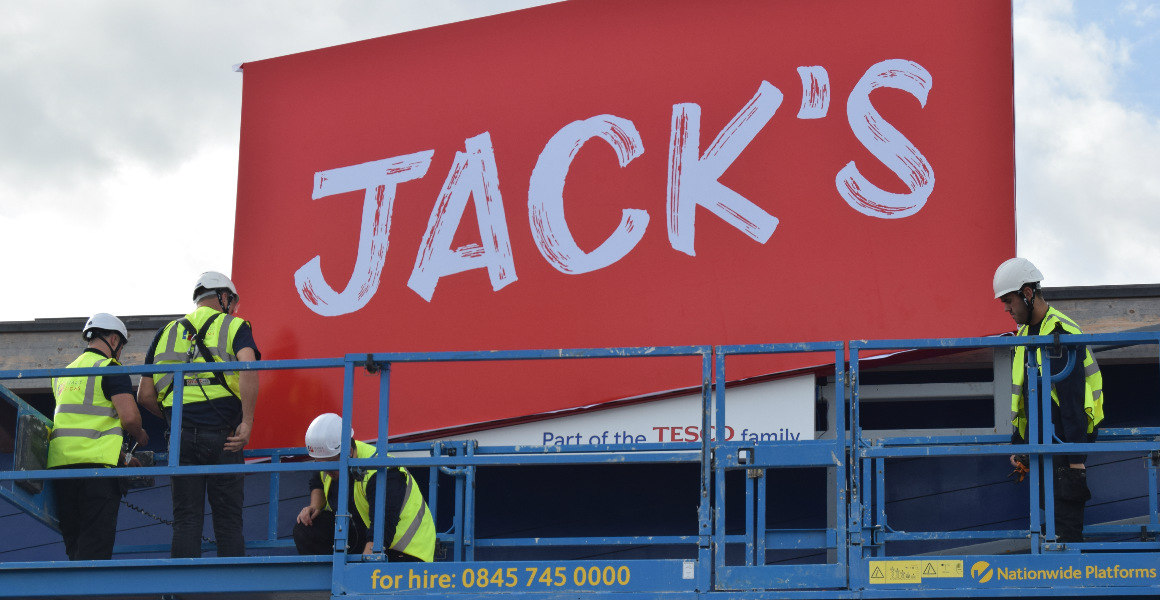 Tesco CEO Dave Lewis unveiled the brands first Jack's discounter store in Chatteris, Cambridgeshire, and said up to 14 more sites would follow this year.
Each site will include approximately 2,600 lines, of which 1,800 will be Jack's branded. The company hopes having 80% of its own branded lines being from the UK will give it a boost over its close rivals Aldi and Lidl.
Lewis explained that a site in Immingham will also open on 20 September, followed by two more sites in a fortnight. The 15 locations will include conversions of five existing Tesco stores, plus two empty Tesco sites (Chatteris & Immingham). The rest will be located at new units yet to be announced. Dave Lewis also stated that the stores would be located "in all sorts of locations" in order to measure what works. He said this would even include locating a Jack's store next door to an existing Tesco supermarket.
RN questioned the CEO on how the launches will affect nearby independent convenience stores either ran in partnership with Tesco directly (One Stop), indirectly through Booker (Budgens, Family Shopper, Londis and Premier) or as the supplier of non-symbol stores. The owner of Chatteris Post Office previously told RN that the launch would damage his business and other independents in the town. Lewis argued that out of town locations would reduce the potential difficulties. "If you look at the Chatteris experience, we're not talking about an impact on local convenience stores, we're respectful of the partnerships we have with local independents and will carry on being that. It's 10-15 stores so let's see what the impact is."
Strategy
Former Aldi and Tesco retail director Lawrence Harvey is to head up the new chain. Describing how the stores were developed he stated: "Whenever we have made a decision it is based on does it make us more simple, does it make us more efficient?"
As a result of this ethos, the chain's locations will feature 20% more efficient chillers than Tesco, cheaper polished concrete floors instead of tiles, wider aisles to allow restocking at peak times, 90% of ambient lines are in shelf ready packaging, no use of Tesco Clubcards and no staff uniforms apart from a branded Apron.
Tesco also launched a "Shop Smart" app that allows Jack's customers to scan barcodes as they shop and pay quickly at the checkout.
The brand, based on the founder of Tesco – Jack Cohen's policy of "stack 'em high, sell 'em low" will price match its products against competitors in each town, and Lewis said will ensure Jack's is always "The cheapest in town" based on baskets. However, an analysis of Jack's pricing in Chatteris shows its lines are often more expensive than Aldi & Lidl, and there is an Aldi already located in the town.
Supply
The own label will be provided by 150 suppliers from within Tesco's existing supply chain, many of whom have worked with Tesco on the project since its birth 18 months ago. Lewis said that Booker's only role in the Jack's chain was to provide the new brand with the scale needed to improve buying power.
Like other discounters, the stores include a bakery section at the front and general merchandise(GM) bins running down the centre of the store selling everything from TVs to coat hangers to cordless irons. The section moves on a staggered promotional cycle with all 48 GM lines changing every month. In regular grocery sections promotions run on a two week cycle and NPD focuses on traditional British cuisines such as ham hock soup, regional cheese and Eton mess ice cream. The remaining 800 non-own-label lines are in areas where there is strong consumer demand for the household brand such as Coca-Cola, or a lack of a replacement option such as Quorn lines or Lea & Perrins.
How will Tesco's new discounter, Jack's, impact retailers?
Read more: Local shop owner prepares to take on Tesco's discounter chain