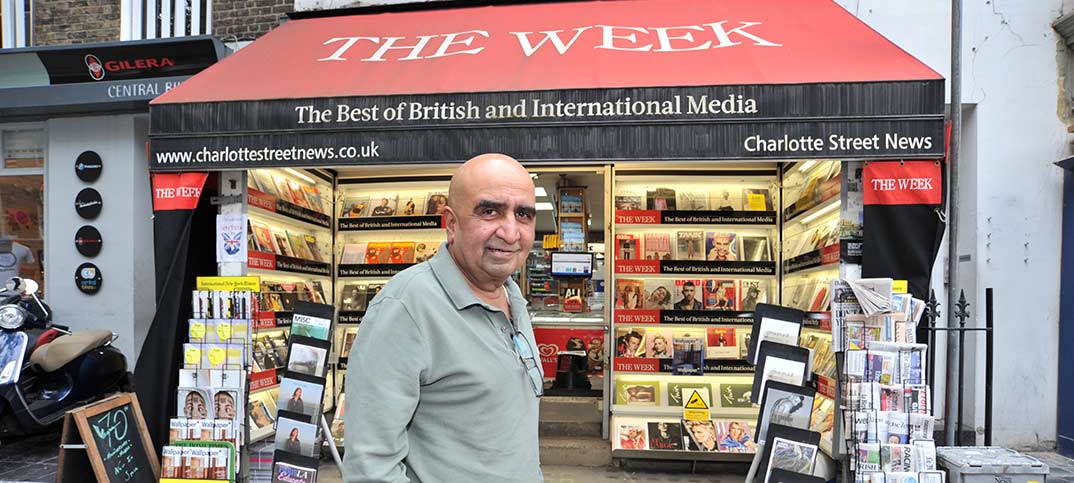 While many retailers have started to steer away from the challenging newstrade, London retailer Perry Thaker embraces it. Over the past three decades, Perry's store has evolved to specialise in niche fashion titles, meeting an ever-increasing demand.
Tim Murray
reports
During the near-30 years that Perry Thaker has owned Charlotte Street News, in London's Fitzrovia, many store owners have decided to move away from the newstrade as sales have dwindled. Not Perry, however – he has slowly but surely morphed his business into a specialist magazine outlet, one that stocks scores of somewhat obscure titles.
"We started ordering titles local businesses were asking for. Slowly, over the years, we've grown the business as demand has grown."
Nestled in between advertising agencies, fashion houses and lying just north of the world-famous shopping mecca Oxford Street, it stocks lavish fashion magazines that retail for sums well into double figures.
Titles available at Charlotte Street News include such names as Lula, Proper, Jocks & Nerds, Lucky Peach, the Australian fashion title Lunch Lady and Purple Fashion (priced at almost £30).
Exclusive Magazines
Fashion fans, meanwhile, also make the trip up from Soho to the store. "Once they know we stock the one magazine they want, they'll always come back to us," he says.
To keep this customer base satisfied, Perry searches out new publications, too.
"There are still magazines we might not stock. People ask 'do you have this one?' and if we don't have it, we Google it, contact the publisher and get it in stock."
Key to the business's success is the display that draws magazine lovers in. Under the store's canopy – one of the few in the country that features The Week, published by nearby Dennis – are purpose built shelves featuring new titles, all face on, highlighting the extent of the range available.
To increase his overall profits, Perry deals with companies to book up space in the display, with similar arrangements in store.
"We got the units from a company in Birmingham 20 years ago. The publishers like it and book the windows up," he says. "One of the distributors books space for their titles all the time. Every week, on a Thursday, we change it – which keeps it fresh," he says, adding: "When London Fashion Week is on, all of our windows are solidly booked."
There's a similar system at work inside the store too – and the results prove its success. "If we have a display on the wall, we'll take a lot more copies and they will sell," Perry says.
Bye Bye Confectionery
While he does stock the other items you'd expect to find in a CTN he says he would happily ditch the sweets and chocolates. "I'm not as interested in that anymore," he says. "If we could sell that space to publishers and distributors, we'd not sell chocolates at all.
"We used to do a lot of cards and chocolates, but you can buy them cheaper at Tesco." Instead he concentrates on magazines costing £10 and upwards, offering a far better margin than confectionery and snacks.
As the business has developed, Perry has begun to use his store's website to offer online sales. He pushes the site to customers in store, on the canopy and on his plastic bags. "I'm not good at computers, but I found someone who could build the site. I knew what we wanted."
The online side has replaced his delivery business, which at one time provided magazines for media companies such as Channel 4. He sold it a few years ago during a bout of ill health.
Yet while digital sales are a growing area of his business, the store's atmosphere benefits from being rather less boldly modern.
Despite the size of the store – it is around 500sq ft – it has a feel more akin to a bookstore at times, with customers browsing and eyeing different publications. It's something he positively encourages.
"People said it looked like a bookstore," he says. "People like it and we have tourists taking pictures of it.
"It's nice to have customers come and look at it. Some people browse, some people don't buy, and that's fine too.
"With all the magazines we stock here, some people will buy more than they intended."
Visit my store