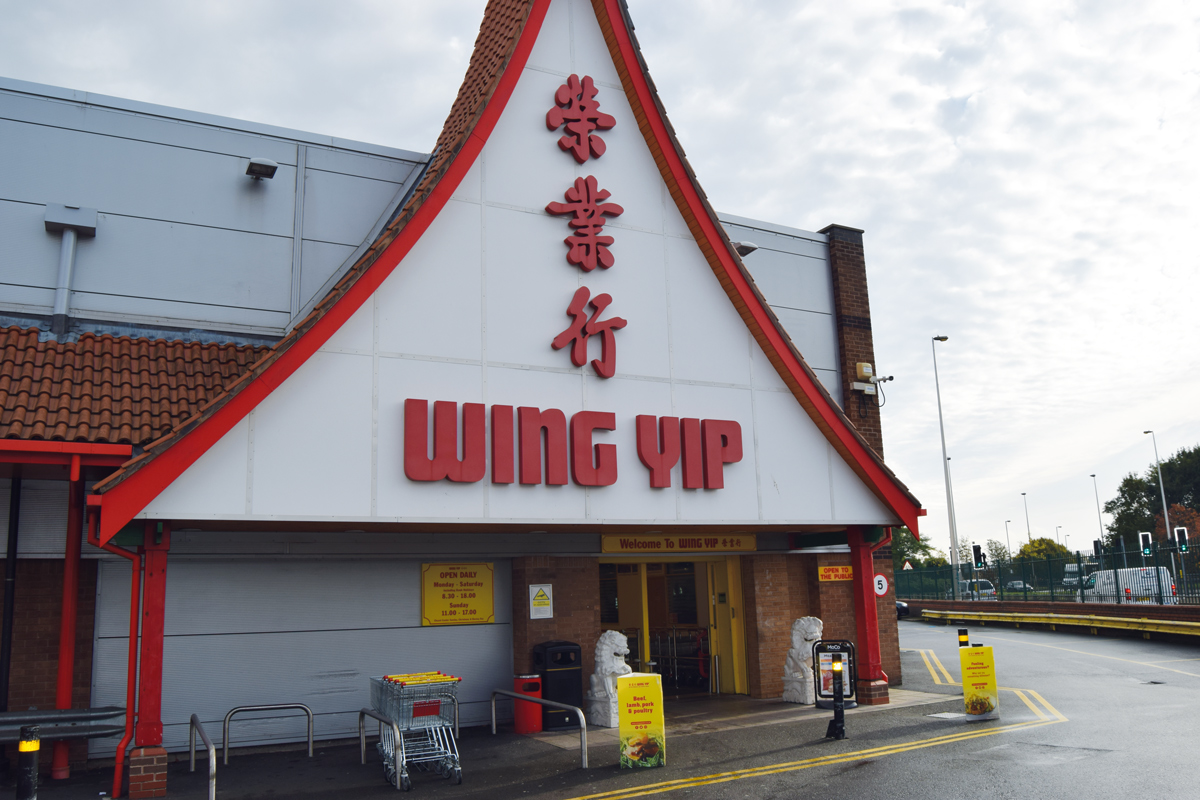 Birmingham Superstore & Headquarters, 375 Nechells Park Road, Birmingham, B7 5NT
75,441sq ft (store and cash and carry)
Since the opening of its first branch in Birmingham, Wing Yip has opened three other stores in Manchester and London which specialise in chilled and ambient products sourced from South East Asia and the UK, such as vegetables, fish, instant noodles and bread.
Founded in 1970, Wing Yip has established itself as one of the UK's largest Asian convenience and wholesale businesses. Wing Yip's main customer base has traditionally been the restaurant and takeaway trade, but the company has seen increasing demand from members of the public.
Emma Lim, Wing Yip's online manager, who is based at the company's Birmingham branch, says: "We're still focusing mainly on trade customers, but we're getting lots of demand from members of the public.
"There's more awareness of Asian cuisine. People are eating out at restaurants more and they're wanting to recreate the food they try. When you come into a store, you can tell who the type of customer is right away. Trade customers will have four or five trollies piled with stock, while members of the public will have a trolley with a bag of rice, some noodles and fresh produce.
"It's not just Chinese food which is popular. We have aisles dedicated to South Korean and Thai cuisine."
Each branch has its own supermarket with an adjoining cash and carry and unlike other wholesalers who are open to both the trade and the public, no membership fee is required to shop at any of Wing Yip's branches.
The Birmingham branch opened a business centre in the summer, allowing local businesses to offer their services to customers and attract more footfall. "We have a restaurant occupying one of the sites in the business centre, while a coffee shop recently opened in the store. Both are very popular – it's about moving forward and offering something different."
Read more Store Profiles: Selection Box in Bridgend strives to go above and beyond
What we do well
Having a convenience and wholesale business in one location means Wing Yip offers a variety of products in different pack sizes and quantities. "We have products such as Asian snacks in single quantities, but we also offer lines such as white rice in 1kg sacks.
"These will be mainly purchased by our trade customers, but sometimes members of the public will buy them as well.
"They realise these products will be much cheaper in the long run," says Emma.
Wing Yip places the fastest-selling products for its trade customers in the aisles towards the front of the depot.
"A lot of supermarkets put the fastest-selling lines towards the back to try and encourage them to buy stock they see during their time in the warehouse. We offer convenience by placing stock towards the front of the depot," she adds.
What we're working on now
Emma says the store has been seeing an increasing demand for the vegan trend over the past few years.
"Customers are asking for vegan products, and we've been adding products to cater to this trend," she explains. "We have dedicated aisle ends to ensure customers know where these products are, and we offer hampers that include products like coconut milk and plum sauces."
Emma says the key to making these trends work is having them in areas where customers are most likely to see them. "Like any retailer, we stick new products and trends on aisle ends," she explains.
"It enables us to see the demand for them and determine whether we'll continue stocking them for a longer period. Each of our four stores will have its own focus that none of the other branches has based on customer feedback and provenance."
How we stay competitive
Although Wing Yip specialises in food, it also offers a range of kitchenware and household goods such as knives, chopsticks, dinnerware chopping boards, rice cookers and woks.
Each product is merchandised either in its own standalone aisle or on the shelves above products such as sauces. Specialised kitchen knives are displayed in their own glass cabinets.
"These products are seeing the most demand from our trade customers, but the increased awareness from members of the public about Asian cuisine means they're also trying to recreate meals they've tried in restaurants, or perhaps as takeaways, in their homes," says Emma.
"Having these products helps us offer another point of difference for our customers."
The company is also taking advantage of seasonal trends and sells products such as pumpkins for Halloween.
The changes and their impact
The store has wider aisles to make the navigation around the shop floor easier for customers. According to Emma, the key to the store's merchandising is by product type. "Customers aren't that brand loyal. They're more loyal to the type of product and we'll merchandise by type. Walk into the store and you'll find shelves dedicated to soy sauce, instant noodles or tea," she says.
The decision to merchandise by product type also helps promote impulse purchases in the store, particularly with the local residents living nearby.
"Some members of the public come into the shop to pick up some small items and they'll be more likely to make some impulse purchases such as noodles, cakes, biscuits and snacks. They'll come into the store at lunchtime to quickly top up on products they need," she adds.
The challenges I face
Wing Yip's focus on fresh seafood, meat and vegetables means the company has to constantly monitor its chilled range to minimise wastage levels. Meat and seafood are sourced within the UK, while some of its vegetables are imported from South East Asia.
"We have dedicated areas for each chilled and frozen category. For example, we'll have a walk-in freezer for poultry, while fish will have its own chiller. We also have tanks to store fish and lobsters to ensure they're as fresh as they can be when customers buy them," says Emma.
"The key to managing waste is just to keep on top of your stock levels. Monitor them closely and ensure you're always ordering the right stock to keep up with customer demand."
The company will be opening an additional storage unit on its Birmingham site to enable more storage of chilled products, which it will also open to other businesses.
Where my biggest profits come from
Yip's Birmingham branch has sites occupied by a restaurant, accountant, Thai massage parlour and travel agent, with the remaining areas to be let out to other businesses in the future.
As the company is predominantly visited by trade customers, the inclusion of these businesses helps differentiate Wing Yip from other wholesalers and gives customers another reason to visit. MinMin, the on-site restaurant, had previously been based closer to Birmingham city centre.
The move to the new business centre attracts an additional base that Wing Yip can potentially benefit from. Emma says: "We had to knock down the restaurant on the site to make way for the business centre. However, the new noodle bar is very popular throughout the day, and gives customers a place to eat when they've finished shopping."
---
Find Wing Yip Birmingham
---
Explore Wing Yip Birmingham