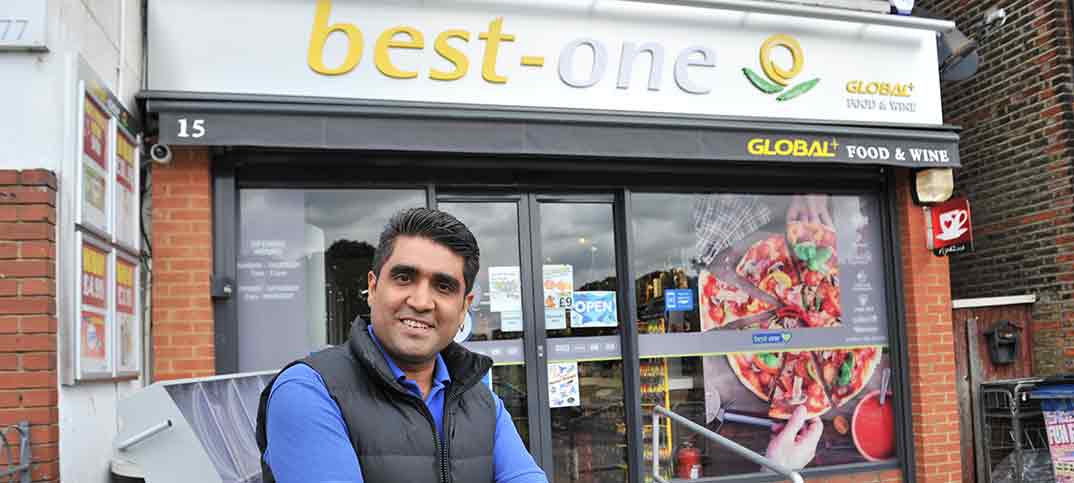 Owning and running five stores, Kay Patel lives and breathes retail. In tough times this passion pays off, he tells Tom Gockelen-Kozlowski.
"Retailers tend to focus on similar things: availability, price, pack size – at the moment margin is very much at the top of that list."
East London retailer Kay Patel is one of life's entrepreneurs and, in an era of the National Living Wage and higher business rates, this hunt for margins has put him in his element.
"There was a time when we'd bring in any new product, but now the margin has to be right. I'm looking for 30% on confectionery and crisps and 40% on products that need to be chilled such as beers, soft drinks and chilled produce – if it's not that high I'll wait until it's on offer to do this."
Many retailers see higher business costs, particularly wages, as necessitating increased responsibility being passed on to staff. But Kay isn't one for this received wisdom and likes to maintain full control as he searches for the most profitable stock.
"We deal with where a product comes from, where it is shelved and what to do with it. It's so much easier because our staff don't have to change their routines."
This approach enables Kay to be both bold and ruthless.
"On our soft drinks planogram, for example, I delist AG Barr products first and have tightened their range because they offer the lowest cash margins, because of their market positioning. Cash and carries don't stock their products non-pricemarked so they're the least profitable products on the shelf," he says.
Suppliers whose approach chimes with Kay's are rewarded, however: "One tobacco supplier asked me, how come you sell more Carlton cigarettes than others in the area? The margin was always higher – we get 8% from them – so I told our staff to push them – you can change customer demand like that."
He is more than happy to work with suppliers to improve his category management: "We create our own planograms but work with the major supplier in each category. To do this I'm part of Pladis's Better Biscuits Better Business panel and also work with Mars and Unilever who provide a lot of this expertise," he says.
The origins of his Best-one Global Food & Wine store, in Wanstead, highlight how deep-rooted Kay's instinct for business is.
"A drinking buddy ran a florist and told me he was thinking of folding. We shook hands in the pub. We spent about £160,000 refurbishing the store and extended it to 950sq ft from 250sq ft."
Long opening hours, great store standards and a basic convenience goods that fitted locals' "top-up mission" needs ensures the store meets the exact needs of its location.
Eight years on, and with Kay's laser-like focus on profitability intact, the store continues to evolve. Kay doubled its high-margin fresh and chilled range last year to cater to changing shopper habits.
"We ripped out the shelving and refrigeration and started again. The area is quite affluent and I remember Unilever telling me Tesco choose their flooring depending on the affluence of the customer base. They use wood in affluent areas, and lino in poorer areas – we've followed that," he says.
And once again, while top performers such as alcohol and multipacks earned extra space, Kay showed his ruthless side:
"On canned veg we went to own label-only with no double ups – just the fastest seller. If you want that product you're going to buy it anyway – we're a convenience store."
This approach has helped boost turnover and basket spend by 20% and is guiding Kay's future plans.
"We've created a kitchen area and once it's fully operational, we'll start making fresh sandwiches," he says.
Why is he taking the store in this direction? You can guess: "because the margins are there".
Visit my store