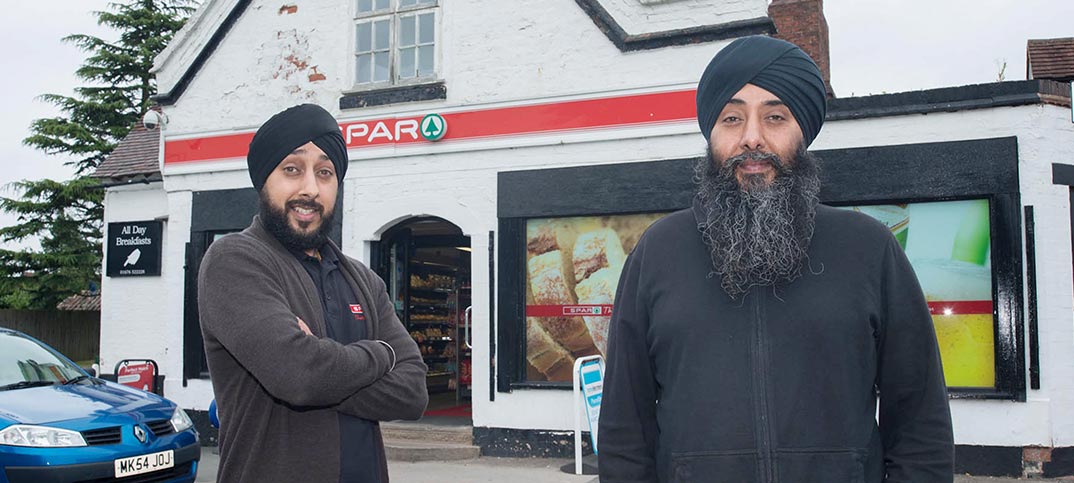 Brothers Dal and Kam Singh Nijjar are happy getting involved with their local community.
Greg Wilcox
takes a journey to the centre of England to meet the inspiring Spar Meriden team

   
It's very apt that Budgens Meriden (previously Spar) overlooks the green that's considered to be the geographical centre of England.
For 20 years, brothers Kam and Dal Singh Nijjar have run the store which they claim not only sits at the heart of England but also at the heart of its community it serves.
"We have good customer relations, we know a lot of our customers by their first names and we are the hub of the community," says Kam.
"We like to get involved. It can't all be about making money – you have to be a focal point and be there to help the community."
"We do a lot for charity, hosting barbecues on the village green for Macmillan Cancer Support and Marie Curie.
As far as points of difference go, being positioned right at the centre of England and an ancient monument that marks this fact is hard to beat.
"Tourists come here and take photos
of the monument, then they often pop in to buy a couple of things. So the fact we are where we are certainly helps," says Kam.
The 1,000sq ft store has its own historical merit too, being a 200-year-old listed building.
Plans for refurbishment
But despite benefiting from its history and location, Kam and Dal are very aware of the need to keep innovating and are planning a refurbishment in the near future.
"We've always aimed to keep its character, by keeping original features visible such as the wooden beams on the ceiling," Dal says.
"But you have to keep on top. Newer concept stores are doing well and customers notice and appreciate the appearance of a shop. With the refurb we'll aim to make products like fresh food and wine that sell well more prominent."
The brothers are keen to keep up with current consumer trends and have made the store a hub for local produce. This range has proved popular with customers, not just from Meriden, but also surrounding villages.
"We've been selling cakes at £4.99 for the past few years. At first when the local bakery, Fatherson Bakery, came to us I thought they were going to be too expensive. But the cakes sell very well," says Kam.
"We also sell sausages from the local butcher. They do very well and we have people come from other villages just to buy them."
The success of the sausages has led to a change of approach and the store is increasingly stocked with more fresh and more premium wines.
"When customers come in to buy the sausages they are also looking to get produce to make a meal so we've expanded and pushed our fresh and wine offering.
"It's really about giving customers what they want, so the high-end items are doing really well."
Get going with food-to-go
With the belief that this trend is set to continue, the brothers also plan to add to their food-to-go range, which currently consists of Indian dishes.
"We'll continue to work hard and look to add more local produce and chilled items as they are our two growth areas," Dal says.
With sales of fresh food growing for the past two to three years, the brothers also plan to increase this range and push it in-store.
"We want more fresh than processed food and to have a healthier shop. In the future, I'd like a new layout with more products in the food-to-go section," says Kam.
For both brothers, being at the centre of their community is clearly more important than building a more impressive balance sheet.
"I love the job and I love the banter we have with customers. You have to interact with them because it makes it all worthwhile. I've been in some stores and they don't say a thing, not even 'thank you'," Kam says.
"We give the elderly free delivery if they aren't well enough to come in. We're there for our customers seven days a week."
Visit my store