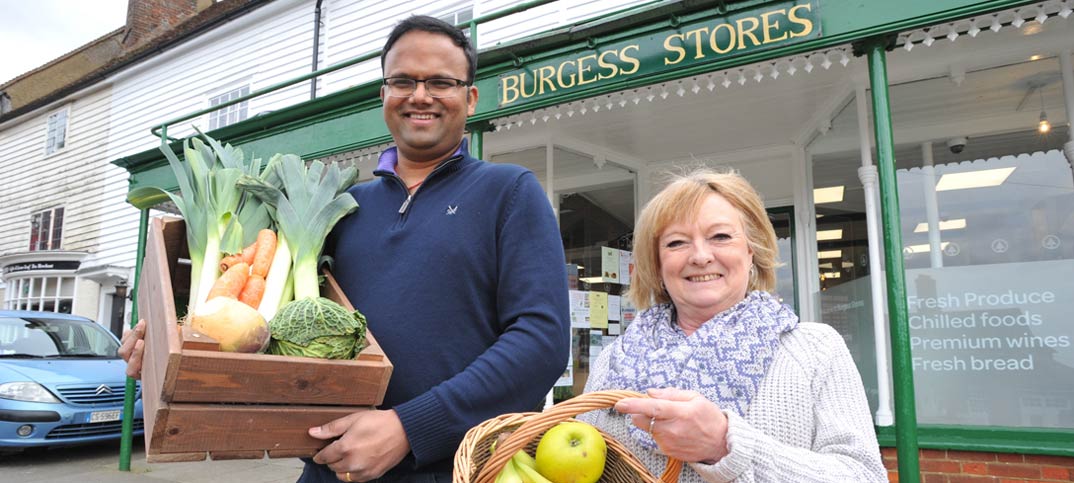 Kent retailer Soban Shanmuganathan, has opened a new shop in order to meet his customers' changing demands. It is already a huge success, which Soban says is as a result of working with local tradition rather than against it.
Steven Lambert
reports
Ever since trading in his office job in London nearly nine years ago, Soban Shanmuganathan has dedicated his time to providing a vital retail service to residents in the small village of Goudhurst in Kent.
Establishing his first store, Goudhurst Newsagents, in 2007, Soban has built up strong relationships with local customers and a wealth of workers passing through on their way to nearby towns such as Maidstone and Tonbridge.
With the backing of the local parish, Soban took the opportunity to expand his estate when a nearby store was looking to close its doors last year.
"We said we would, but we didn't want it to be a typical convenience store. We wanted to offer something a bit different and stock the products that customers had been asking us for but which, until then, we hadn't had the space for in our other store."
Soban says: "We had a shop down the road from us and when the previous retailers were looking to leave, the neighbour next door to the shop bought the lease and asked whether we would like to take it over.
His latest venture, Burgess Stores, officially reopened in November, with the 1,200sq ft business presenting its own set of unique challenges for Soban and his team.
For one, the store is located in a grade II listed building and its roots can be traced back to 1831. Soban says the store's history has fed into some of his business decisions.
"For example, the name Burgess Stores has been known in the village for ages. When the previous owners renamed the store, it didn't go down well, so that is why we have brought the Burgess name back."
He adds that the building has also influenced the design and look of the store. "It is quite a traditional building and features a lot of wood. We have tried to replicate that by using things like wicker baskets for our fresh fruit and veg and ordering in specialist lights from the internet."
Serving a very close-knit community, Soban says he has also paid particular attention to the needs of local shoppers, which affects everything from the products he stocks to the type of refrigeration equipment he uses.
"We wanted to modernise the store and we worked with Delta Refrigeration, through the NFRN to introduce just over eight metres of chiller space.
"Because we're right next door to people's homes, we have to be cautious when it comes to noise pollution. This is why we've introduced special ventilation fans for the fridges outside that dampen the sound so you can barely hear them."
The new fridges have also allowed Soban to expand his product range to include more convenience goods, including chilled ready meals, cooked meats and dairy products to meet demand from customers.
This is complemented with a Love Food-branded freezer filled with gourmet ready meals and a deli counter stocked with meats, cheeses and tapas, all sourced from local suppliers. Meanwhile, Soban has extended his range of beers and wines to include more premium and locally-sourced goods, around half of which are chilled.
Soban says it is still "early days" for the business but says his new store has continued to trade well after a positive Christmas.
"We had samplings and events taking place over Christmas and we've seen a lot of repeat custom since then. We've been able to maintain sales throughout January and February, which is a good sign that we are doing the right things."
Visit my store