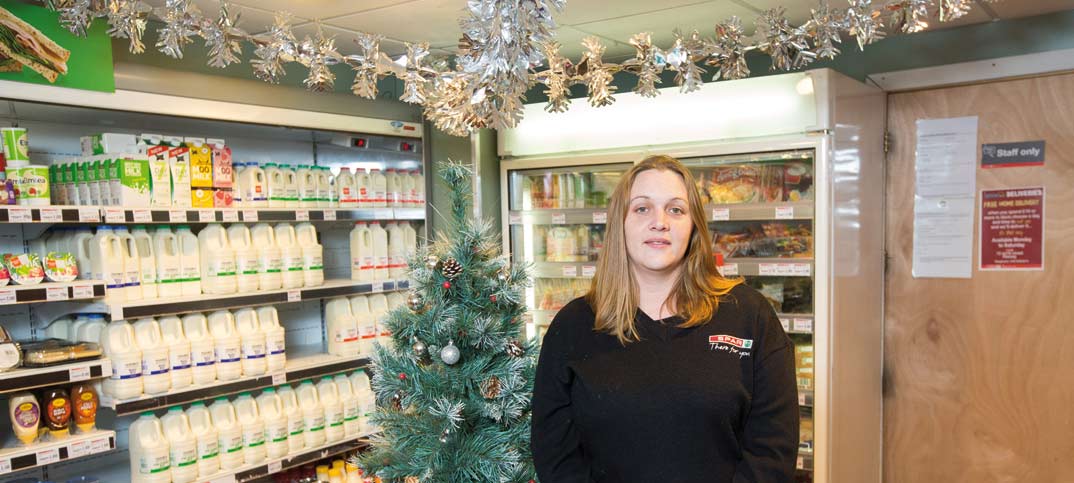 By embracing cutting edge technology, networking, focusing on fresh and seeking out expert advice from everywhere she can think of, Susan Connolly has taken her rural store from strength to strength.
Tom Gockelen-Kozlowski
reports
Spar Pewsey, a 1,400sq ft convenience store in rural Wiltshire, has a very special place in the heart of its former manager, Susan Connolly.
Now business development manager for the four-strong Connolly Group at Spar, Susan oversees community work and store innovation across the business.
But having established its place in the community, and with her partner now taking the reins, this store in particular is, in her words, "my baby".
"Managers control the day-to-day running of our other stores – I'm only allowed to suggest what might work. But with my partner managing this one, I have more of a say at the Pewsey store," says Susan.
Having a foothold in this store means a lot for a woman who has experienced independent retailing first-hand her entire life. "My grandad opened his first store 52 years ago and my dad's been in retailing since his late 20s," she says.
While her family had always built the business around a traditional newsagent model, Susan has marked her influence on the Connolly Group by embracing the cutting edge of convenience retailing, bringing in food to go, concentrating on fresh produce and challenging her symbol group when it doesn't meet her needs.
Getting out of her family's stores and meeting the industry has been a key way to develop and learn. "Networking is a must, she says. "Retailers used to be scared of each other and we used to dread reps coming. Now we work closely with suppliers such as PepsiCo and Heineken and meet retailers at events like betterRetailingLIVE.
"I went on an ACS trip to Barcelona to see how convenience retailers make fresh meals with rice, vegetables and bits like that," she says. She now wants to do something similar but knows it could be a challenge.
"Creating something like that is a lot harder than you think because of all the different bits you have to get right. It's not something we could do alone but it would be great if Spar could help us with that."
For a store that sits in the middle of the countryside, there is a surprising emphasis on "on the go" ranges and products. Susan says Nutella & Go is one of her top performers and her bacon rolls, at £2.79, are picked up every morning by customers, helping her food to go sales rise 65% in a year. Susan says that because Pewsey's population of 3,000 doesn't sustain the business by itself – passing trade is also essential.
Reaching for market-leading best practice is a luxury Susan has earned after dealing with more fundamental issues when the Pewsey store opened five years ago. "People thought we were expensive when we opened and it took a long time to change their minds," she says.
One way she has addressed this has been by gaining more flexibility in her relationship with the Connolly Group's parent Spar.
"We go direct to a fresh fruit and vegetable wholesaler rather than through Spar and cutting out the middleman means we can reduce our prices," she says.
We go direct to a fresh fruit and vegetable wholesaler rather than through Spar and cutting out the middleman means we can reduce our prices
The same has happened this year with wines. "Spar's promotion cycle is three weeks long so people were coming in one day and buying a bottle for £5 and seeing it for £8 the next," says Susan. Working with a new supplier, South West Wines, the store has managed to maintain a fixed price of £5.50 for bestseller Echo Falls since March.
Year-on-year sales increases of 16% highlight the success of this approach, even if it is in direct contrast with one of convenience's biggest current trends: franchising.
Susan describes the model used by the likes of One Stop as 'barbaric'. "You might as well work for Tesco," she says.
Innovation and community work – including a £4,000 sponsorship deal with a local kids' football team and a 15,000 foot skydive in aid of a children's community party this year – have helped to convince Susan that her "proactive" approach to retail is the right one for her business and, with a birthday party planned for 100 invited customers to celebrate the Pewsey store's fifth anniversary next year, it's clear that her "baby" is as happy and healthy as ever.
Visit my store