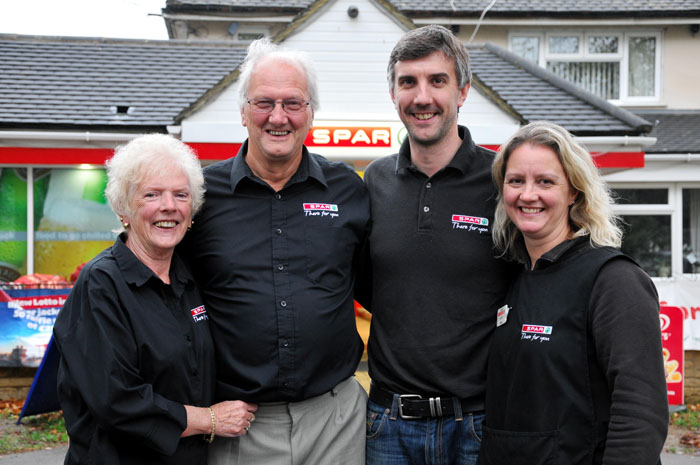 4 Brize Norton Road, Minster Lovell, Witney, Oxfordshire, OX29 0SE
Spar Crescent Stores has a long history, a celebrity clientele and an owner dedicated to evolving his shop to meet customers' needs. David Lewis talks prices, profits and personalised service with Steven Lambert
Spar retailer David Lewis takes pride in offering a little bit of something for everyone – whether it's the average man on the street, politicians or celebrities. "Alexander
Armstrong from Pointless comes in quite often. And Jack Straw lives nearby in what we call the old village," he says casually.
David and his wife Lyn have spent the best part of 55 years building up Crescent Stores to accommodate a wide mix of local shoppers and customers passing through the picturesque village of Minster Lovell in Oxfordshire.
He says: "My uncle had a four-acre plot and decided to build five houses and a shop on it in 1937. My dad and I lived next door to the shop, which at the time was no bigger than a living room.
"In 1949 my uncle passed it on to my dad and I would help him out in the shop, and in 1972 my parents passed it on to me.
"Back then it was a greengrocers and was looking a bit run down, but we have worked hard to get it in shape."
David says the business has had four extensions during his ownership, expanding the floor space to 1,800sq ft. He has also built up a close relationship with Spar after joining the group in 1991, and was made a guild member in 1997.
Working with Spar has offered many benefits, especially when it comes to availability, according to David.
"We have chilled deliveries every day from Monday to Saturday, and ambient deliveries on Monday, Wednesday and Saturday. My daughter Karen does our ordering and she hates seeing gaps, so we keep on top of it as best we can. If you have 100% availability, you never lose sales."
While 95% of the products he stocks are compliant with what Spar offers, David is also quick to go out of his way to find more specialist items for customers.
"One of our shoppers asked if we could get Brothers Toffee Apple Cider in, which we found at a local cash and carry. We got six cases in before Christmas and sold out pretty quickly, and now it's something we stock regularly.
"We also offer more upmarket sauces from Petty Wood and a range of fine cheeses for people who want something a little bit extra."
Spar Crescent Stores has also benefited from a number of recent footfall-driving initiatives, including a dry cleaning service and the introduction of Collect+, with the shop now processing around 100 parcels a week.
Food to go has been another important profit driver, with year-on-year sales up 20%, to around £1,500 a week. David is looking to improve this further with a prototype coffee machine sent to him by WHSmith, which he has been trialling for the past three months.
[pull_quote_right]I'm satisfied when people come in and can find exactly what they need. And if they can't, we will go out of our way to get it for them[/pull_quote_right]
He says: "It's quite a slim machine with a footprint of about 1.5sq ft, so it doesn't take up too much space. We must sell around 80 cups of coffee and hot chocolate a week."
All the improvements to his business have helped David to grow year-on-year sales by 3%. He adds that average basket spend stands at a robust £6, while his weekly turnover is around £30,000, which has been steady despite there being a Morrisons three miles down the road.
Looking further afield, David and his family are deeply involved in their local community, sponsoring shirts for the
local reserve football team and supporting the nearby cricket club.
They are also committed to charity work; their last venture was a Santa's grotto at their store. "We raised £400 on the day, which we donated to a prostate cancer charity," says David.
With his long-standing reputation and drive to keep improving his business, some might say that David has become more of a local celebrity than some of the TV stars in his village. But he says humbly: "I'm just satisfied when people come through the door and they can find exactly what they need. And if they can't, we will go out of our way to get it
for them."
Visit my store