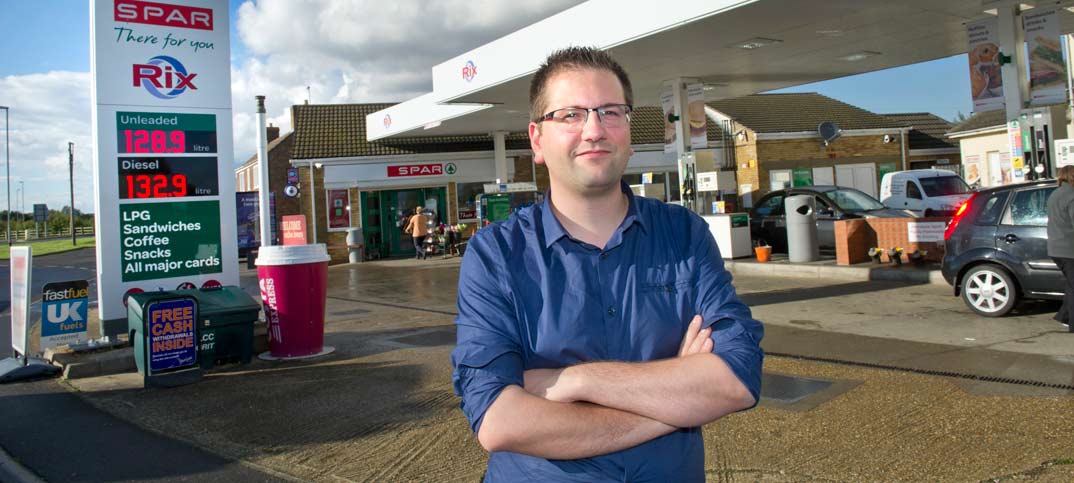 Lincolnshire retailer Tom Dant worked with reps, changed his layout and used a system of stock monitoring to bolster his food to go offering. But it was the addition of his Costa coffee machine that really heated things up. Tim Murray reports
Food to go has continued its epic rise during 2014 and if anyone needed proof of the potential it offers, they need look no further than Partney Filling Station in Lincolnshire.
Adding a Costa coffee machine has hugely boosted Tom Dant's food to go sales
The store, which is part of the Spar group and has a petrol station attached, has seen food to go sales rocket since it upgraded an old ambient fresh food cabinet to a heated unit.
A Costa coffee stand was also added, which has, in turn, further boosted trade.
Even its grocery range, which has been reduced as part of the business' ongoing stock monitoring, has shown growth.
Tom Dant has managed the Partney Filling Station for two and a half years. "Since the end of last year, we've done a lot to develop the store, looking at stock and re-arranging the layout," he says.
"Our customers make a lot of impulse purchases, so we looked at crisps and sweets. We use suppliers' planograms and look at offers from reps."
This has had a big effect on the food to go category, in particular. "We've got one heated cabinet and a Costa Express. Our food to go sales have gone through the roof."
The hot food shelf is able to stock a wide range, including hot pies and pasties, bacon rolls and sausage baps, while the Costa effect has also paid dividends.
"We've got people coming who were attracted by the Costa name, they'll get a drink and then buy something else.
"Before we got the Costa machine, we introduced donuts, croissants and pastries but we struggled to sell any. Now, customers get a coffee and then buy a snack too, so it really drives footfall."
The introduction of the hot food has led to tweaks elsewhere. "We have a smaller range of mainstream groceries. But even though we reduced the range, we still saw growth."
Customers are used to changes in the store, including new products and layout changes.
"We are allocated a lot of new products. We recently got the Nutella launch – Nutella & Go – and sold the whole lot in two days. It's a really good place to test launches.
"It's a bit of a joke in-store, the customers will ask where have we put something this week," he says, but adds: "If you make them look, they'll pick up other items too."
Before we got the Costa machine, we introduced donuts, croissants and pastries but we struggled to sell any. Now, customers get a coffee and then buy a snack too
This sort of innovation helps when it comes to creating a sense of in-store theatre. "We normally do a display around Valentine's Day," he explains. "We'll put chocolates and wine on an aisle end. This year we also put condoms there and sold a few."
Getting people talking is a key part of the business, as the customer base includes both passing trade as well as locals.
"It is transient, but we have regulars as well," says Tom. "We're on a main road, but we are also the local village shop. The post office brings in business too."
The shop is also keen to support charity work and got involved with fundraising for organisations that are important to customers and staff.
Indeed, staff at the store with relatives in the Philippines appealed to customers after a devastating typhoon hit their homeland in November last year.
"We did three days of fundraising. We made some homemade food and raised just over £1,000.
"The money was taken out there and it made an immediate difference.
"We saw pictures of what the money was spent on and our customers really liked that. It became a real talking point."
Fundraising efforts are continuing, but what's next elsewhere at the store?
The post office is set to remain unchanged despite upgrades elsewhere in the Post Office system, but Tom is looking to expand to other areas.
"We've been trialling DVDs and CDs recently," he says. "We had these for six weeks and sold more than £1,000 of stock.
"The margins are good and they are on sale or return. It's mainstream films too. We had The Lego Movie the same day as the supermarkets, it was £13 on full 30% margin.
"We're definitely looking at doing more things like this."
Visit my store