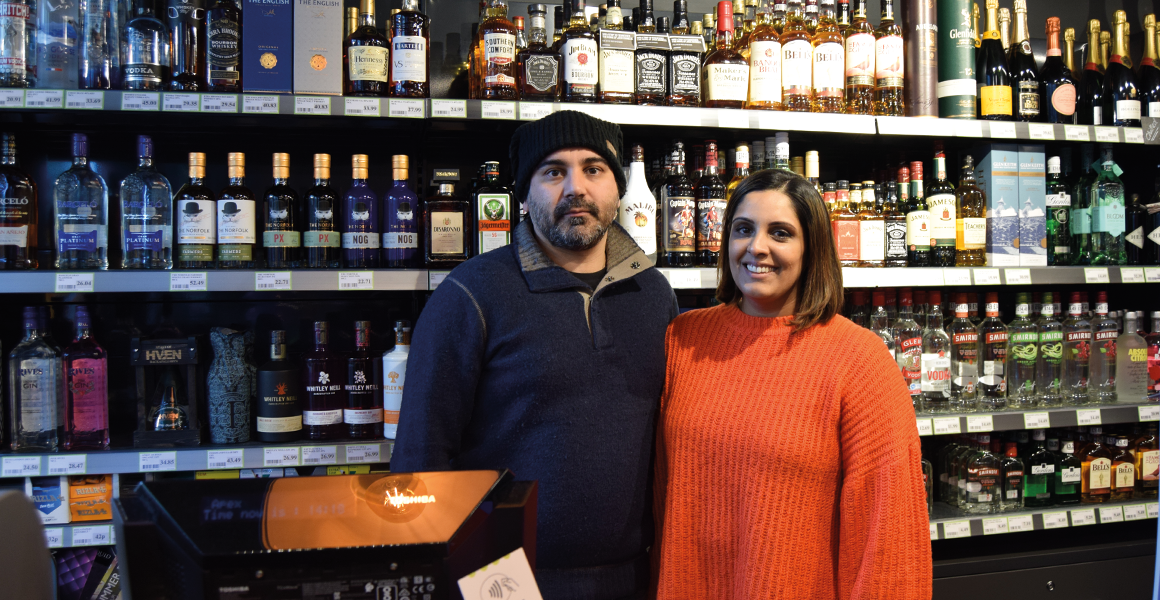 Simply Local & The Kitchen
Apex Building, Forbury Road, Reading, RG1 1AX
Simply Local & The Kitchen combines a convenience store with an innovative food-to-go offering, which has helped Ravi and Davina Grewal offer something unique to commuters. Alex Yau finds out more
Running a convenience store near a Caffè Nero, Pret a Manger and other high street food outlets is tough for any retailer. Facing this competition was the first challenge for Ravi and Davina Grewal, who entered independent convenience when their Simply Local near Reading train station opened last year.
"We moved back to the UK two years ago after working in East Africa in the road haulage industry for 15 years," says Ravi. "Davina and I needed work and the convenience industry was one of the areas we thought of. Her father already runs several convenience stores in the area and recommended this site when it became available."
To directly compete with the tough rivals nearby, the Grewals decided to add a hot food counter at the back of the store. With a focus on fresh food, the counter and kitchen serves a range of pastries, sandwiches and meals throughout breakfast, lunch and dinner.
We normally sell 100 products and customers comment on it being a concept they see in America, but not so much in the UK
The decision was partly driven by the customer base in the area, which consists mainly of employees in surrounding office blocks, commuters and construction workers. "It made sense because it's the ideal demographic for these products," says Ravi.
"They want food they can eat while on the move and we receive plenty of trade throughout the day. We normally sell 100 products and a lot of customers comment on it being a concept they see in America, but not so much in the UK."
The food-to-go counter consists of sandwiches from third-party suppliers, such as Aryzta, and those freshly prepared by Davina on site each day.
The result is no wastage, but the Grewals had to go through trial and error in the early months.
"We normally don't have any issues with wastage because we sell out of products every day," says Ravi. "But we did take suggestions from customers when we first started.
"For example, we offered peanut butter cups after a customer asked for them, but we realised they weren't as popular as initially expected. We had to change our approach."
The range was reduced to five items per meal option and focused on core options such as sandwiches, which the Grewals knew would sell.
Customers are also offered limited-edition products during seasonal periods such as Christmas.
This forward-thinking attitude also stretches from food to go to the main convenience offering that Simply Local & The Kitchen has.
Alongside the staple products such as lottery tickets and tobacco, Ravi and Davina stock trend-driven lines, including protein bars, vegan products and healthy instant noodle snacks from Itsu.
At the till, tobacco has been moved to a gantry underneath the counter. Vaping products and a range of craft alcohol has been made visible to customers instead." Ravi says: "We have a relatively young demographic and need to offer a product range that caters to the latest trends.
"The convenience store is still the main footfall driver in comparison to food to go, but they both work in unison together. For example, a customer might come in just wanting to buy a soft drink, but they'll spot the food counter and will be more tempted to buy a hot snack. The average basket spend in the convenience store alone is £4, but of course this can grow once they purchase food."
With the initial challenges out of the way, Ravi and Davina are confident the next year will provide plenty more opportunity for growth. "It's definitely been a challenge for us going into the convenience industry for the first time, but we have learned many lessons over the past few months and we are confident we have learned enough to carry on our recent growth in the future."
Find Simply Local & The Kitchen