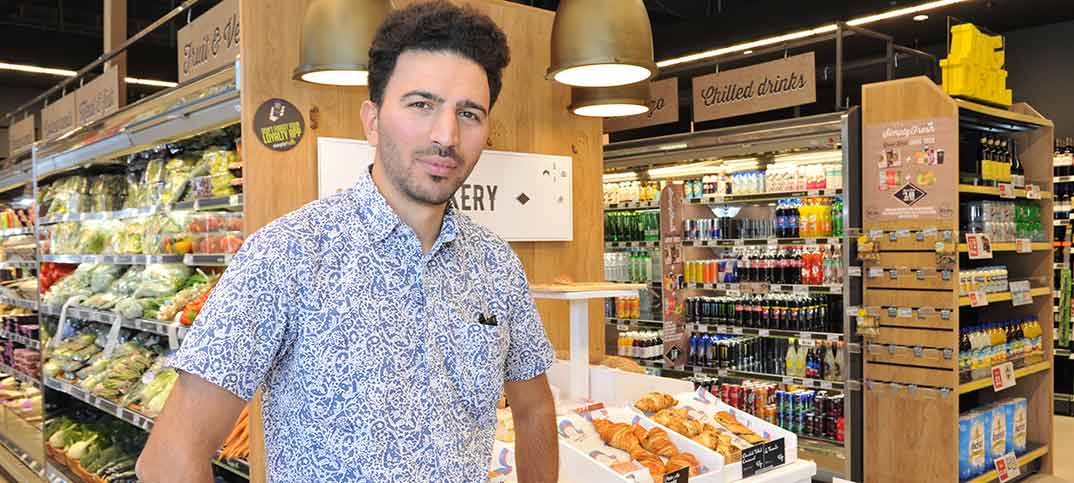 How do you meet the demands of affluent rail commuters and a local residents' association? Create a store focused on quality food to go and fast and effective service, says Mehmet Guzel, who opened his third store this month. Joe Cooper reports
Opened just three weeks ago, experienced Simply Fresh retailer Mehmet Guzel's new store, on the platform of Hatfield train station, is a bit of a balancing act.
On the one hand, there are 6,000 people passing through every day – mostly hungry and fairly affluent commuters heading in and out of London, eager for food to go.
On the other, there is a strong and vocal local residents association who have campaigned for years for the station units to be let – and they want their needs catered for too.
And while they may have had their fingers crossed for an M&S Simply Food, Mehmet says his store is a great fit for the area and has been welcomed with open arms. It has been described as "fab" and "well worth a look" on the Old Hatfield Residents' Association Facebook page, he is proud to report.
"They were crying out for this store," says Mehmet. "The initial response has been extremely positive. When I was going to the residents' meetings early on, they wanted to make sure I was going to cater for the local community.
"So, as well as our usual range of ready meals and curries, we've got fresh meat and fish so people will be able to cook from scratch."
Some products, like sauces and tins, have been "decluttered" compared to Mehmet's Bethnal Green and Old Oak Common stores, but offering a good range to locals is still important.
I love to read about my peers and get inspired by them. RN keeps me updated with all the important information and latest developments
It is in fresh and food to go that the store really comes into its own. With a coffee kiosk the only other trader on the platform, there is plenty of potential. Basket spend is only expected to be around £3.50 – a far cry from the £11 of Mehmet's trendy Bethnal Green store – but the volumes of people will be far higher.
Between 25% and 50% of trade will be food to go, Mehmet estimates, and lunchtime will be key. A deal has been struck with Cuisine de France for a bakery. Alongside this, the store stocks sushi – anything to draw in transient train commuters.
"We predict we'll soon be selling 50 to 70 good quality sandwiches per day," he says.
But again, to keep locals on side, he is keeping his meal deal price reasonable, at £3.69, with fruit an option for the snack.
Early signs show partygoers heading into the capital, picking up beer and pre-mixed cans for their train journeys, will be another source of custom. Local events – The Game Fair at nearby Hatfield House attracts up to 50,000 people, for example – will also drive footfall.
The store's size – 1,300sq ft – means its impressive range needs to be kept under continual view.
But Mehmet remains ambitious about what he can do with it.
"In the next six to eight weeks we will also be installing a couple of self-service checkouts – a first for me," he says. "Some customers don't want to engage, they'll pay for food and drinks and go."
Opening the store cost around £150,000 and Mehmet is aiming for a £30,000 turnover in the first couple of years, and hopefully up to £45,000 longer-term. He has recruited a team of 12, with five full-time staff and the rest part-time.
His customer base might include fewer locals, but Mehmet still likes his staff to have hospitality experience so customers get the highest level of service.
Mehmet hopes this team will guarantee the store's success as he looks to manage his three businesses simultaneously.
"I'm thinking of employing an in-house trainer in future.
"I want my staff to really be specialists in and understand their departments, but also to be able to work throughout the store," he says.
Visit my Store