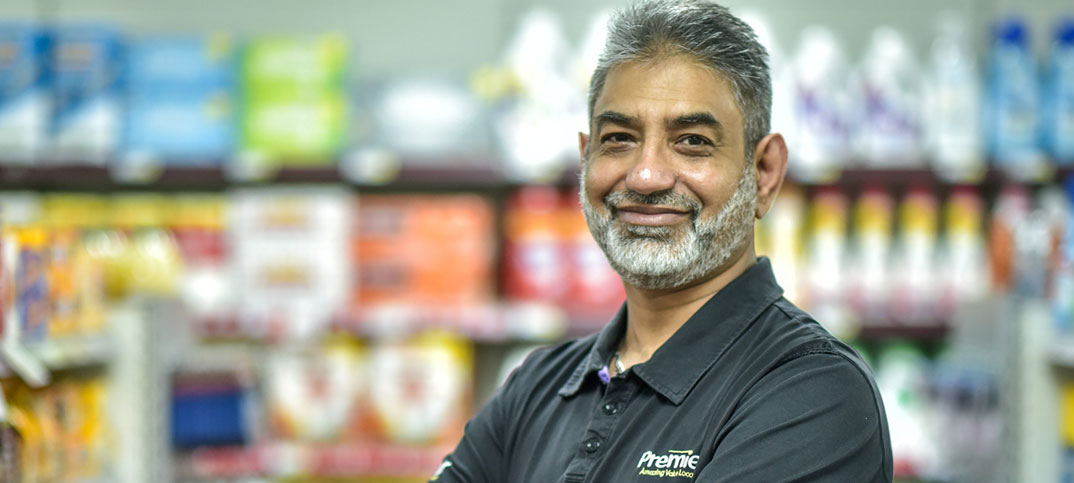 With water damage of £150,000 to his new store just a month after being re-opened, Sandy Sarwar was told he wouldn't be trading for six months. But, with grit and determination, he and his team proved everyone wrong. Steven Lambert reports.
With a brand new shop under his wing and a steadily growing number of regular shoppers, Sandy Sarwar was looking forward to developing his latest Premier Pricekracker business located in the village of Alyth.
That was back on 12 June – but just a month later, he was left with £150,000 worth of damage costs and a "totally devastated" store after a nearby burn broke its banks and flooded the area.
"It was really frustrating as we'd only taken over the business on 6 June and had invested a lot money into refitting it," says Sandy. "We were getting ready for an official reopening but everything was completely destroyed."
An assessment from his insurance company bought more bad news – they claimed that it would take more than six months for the business to be up and running again. But Sandy and his team had other ideas.
"We said that wouldn't do. The longer we were closed, the more chance the business and our customers would suffer. That was the driving force behind us getting back up and running as soon as possible."
With the help of the local community, Sandy was able to immediately make the first steps towards rebuilding his store.
"The flood had knocked all the stock off the shelves, so we had to get that out and have a complete clean up. We had people coming in off the streets to help us out and, without them, we wouldn't have been able to turn things around as quickly."
The longer we were closed, the more chance the business and our customers would suffer. That was the driving force behind us getting back up and running as soon as possible
Shelves also had to be removed and walls stripped back, and even the entire floor had to be taken out to dry off.
Despite his troubles, Sandy was determined to keep supporting his customers. So much so that during the rebuilding process, he was able to reinstate his home news delivery service.
He says: "The computer with all the HND data got soaked, but with help from my staff and a computer repair company, we were able to get the data back.
"We had dried out one corner of the shop, and we set up a bench where we could prepare the papers. Out of 100 news delivery customers, we only lost six while we were fixing the shop."
Through hard work and sheer determination, Sandy was finally able to re-open the store on 5 September – beating his insurance team's estimate by a solid three months.
He says: "We had a tremendous open day. We had support from Booker and suppliers and were able to give out freebies to customers. We must have had about 150 people outside the store"
Since then, Sandy has taken every opportunity to make the store even better a second time round.
"We've increased the space we have for fruit and veg and our sales have gradually grown since then.
"We've also added in more frozen food and groceries, extended into gifts, and installed a Rollover hot dog unit and a coffee machine. We're now looking to develop our bake-off section in the next few weeks."
While Sandy says sales have not fully returned to where they were before the flood, he expects trade to pick up following the completion of nearby repair works. "Some families are only just moving back into their homes after the flood and the council are looking to redevelop three walkways over the burn that were damaged, so we're hopeful for the future."
Much like the new flood defences that are now being put in place around him, Sandy says the experience has only strengthened the bond between he and his customers.
He says: "We had had two elderly gentleman who would visit us every day while we were rebuilding and every time we would offer them a coffee and have a conversation with them. We still have the same two gentleman coming to the shop now. I think retailers these days need to persevere more than ever, and if you work closely with the community, it goes a long way."
Visit my Store