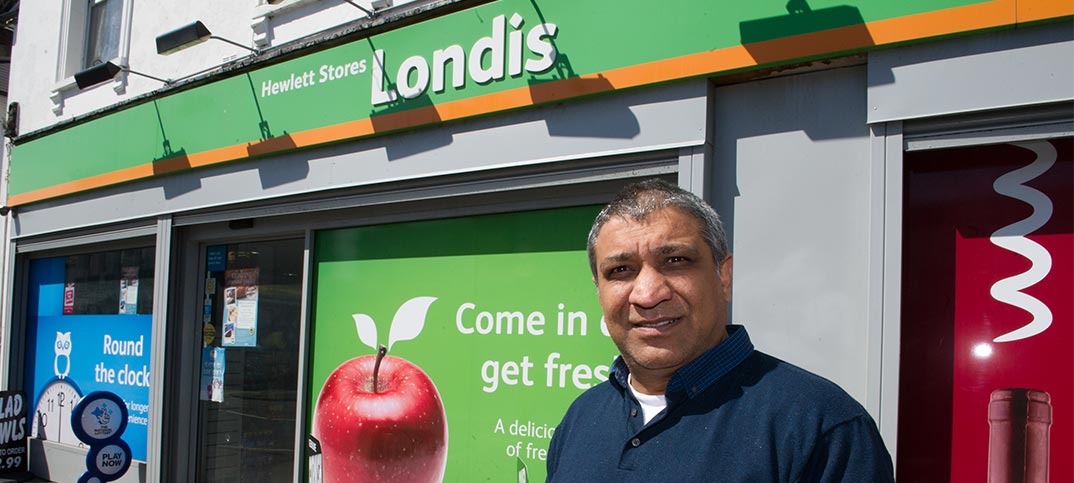 After a tough five years, Cheltenham retailer Sandip Kotecha discovered his son's talent for technology, and within a day was presented with a brand new app for his Londis store. The app has brought new faces and the opportunity to expand further into the food-to-go market.
Steven Lambert
reports
It was Boxing Day last year when Sandip Kotecha came across the inspiration that would help him change the fortunes of his Londis convenience store – with a little help from his 14-year-old son.
Sandip says: "My wife told me our son wasn't doing his homework, so I went to have a word.
"I asked him what he was interested in and he said IT and engineering. So I asked him to explain apps to me and whether he could make me one for the shop."
By the end of the day, Sandip was presented with a fully-functioning app with an online ordering system, loyalty scheme services and compatibility with the store's Facebook page.
"In the last five years, we've taken a battering," he admits. "Our post office closed down, we lost the student trade when the local college moved to Gloucester, and we've had multiples opening all over Cheltenham. Our offer was as good as ever, but footfall was drying up."
Skip forward to today, and the app has become a crucial part of Sandip's new strategy to counter a swathe of new challenges that he says has affected trade at his business in Cheltenham.
Realising change was needed, Sandip sought the advice of fellow retailers: "I went to people such as Arjan Mehr and Steve Bassett, who both have great food-to-go offers."
Feeling he could develop his own unique spin on the category, Sandip then began creating his own freshly-prepared meals in store.
"We started off with speciality pasties, and we've added breakfast baguettes, hot pork rolls, jacket potatoes and salad bowls. We're now about to do breakfast-in-a-box and meals including chilli con carne and curry and rice."
It was then that Sandip hit upon the idea of using his son's app to help him develop this new side of the business.
"We used the app to launch a digital loyalty scheme, and offered customers a stamp every time they used it when buying food to go. When they get to 10 stamps, they get an item for free.
"We've had 180 downloads since January and we're seeing a lot of new faces in the store as a result."
Sandip is now building on this by launching a food-to-go delivery service, having registered with takeaway ordering service Just Eat this month.
"We're offering the full food-to-go range along with desserts such as luxury cheesecakes. We charge £2 for a delivery and have a minimum order of £10.
"In our first week on Just Eat, delivering just food to go, we've done just over £400 worth of sales, with the average spend per customer being £14.
"We're now looking to extend this by offering up to 12 freshly-baked artisan breads from Country Choice straight to your door."
This has been bolstered by heavy promotion of food to go on the store's Facebook page, which has attracted around 1,800 likes since being launched last October.
"I live on Facebook – I love it," says Sandip. "We've also done things like give away hampers full of chocolate and donated to the school by asking people to like the page. It's free advertising and good PR for us."
Sandip says while his breakfast and lunchtime trade has increased with the changes, his future plans will focus on attracting hungry customers in the evening.
He says: "I'm looking to introduce really outstanding burgers for around £3 to £5, and set up an area where customers can add their own garnish and relish.
"It has to be something that people will go out of their way for – nobody is going to travel across town just to save 50p."
With customers returning to the store and sales beginning to grow, Sandip believes he has turned a corner with his focus on food to go.
He says: "We've stemmed the decline and it's given us inspiration for the future.
Visit my store