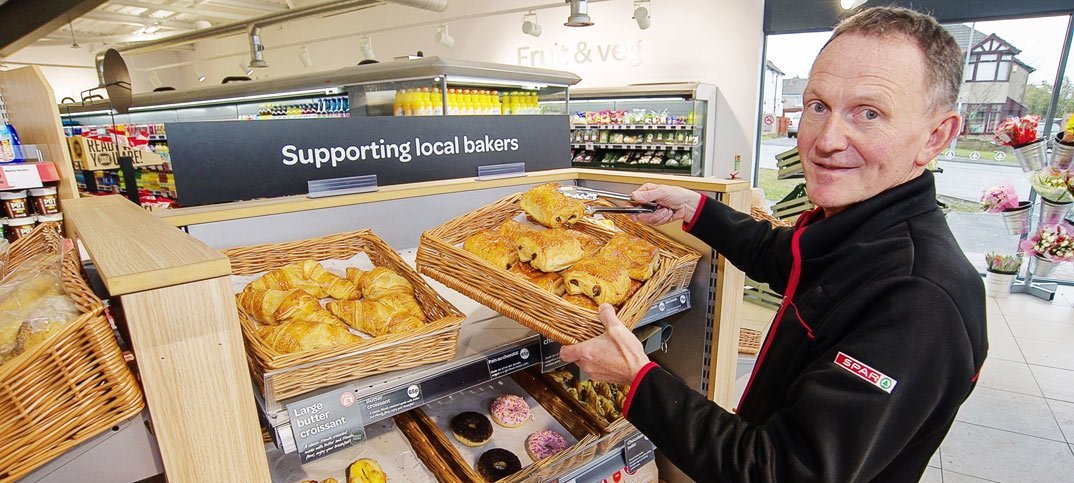 As the owner of a forecourt, Rocky Leach could be considered the underdog when it comes to going toe-to-toe with the big boys. But he shows no fear, boxes clever, and punches well above his weight to leave Tesco on the ropes.
Steven Lambert reports
Whether you're a motorist looking for petrol and a quick sandwich, an adventurous home cook looking for hard-to-find ingredients, or a regular customer looking to do a full trolley shop, Rocky Leach has got you covered.
The owner of Chellow Heights Service Station and Spar in Bradford has invested heavily in his business to provide an excellent convenience offering to complement his forecourt service, which is helping him to outperform nearby competition.
"The nearest store to us is a Tesco Express just 200 yards down the road, and I would say we are comfortably outgunning them," he says.
Taking on his first Esso forecourt in Bradford at the age of 21, Rocky quickly added three other sites to his estate. He later bought two of his own forecourts, one in Rossendale and another in Chellow Heights.
"We were working really hard but although we were making extra profit, it just seemed like we were travelling from one business to another all the time.
"So we decided to sell everything except Chellow Heights and just concentrate on one business. This was in 2007 just before the financial crash, so we were lucky in that sense."
At the same time, Rocky was also working with his symbol group, Spar, to make improvements to the convenience side of his Chellow Heights site.
"We've been working with Spar for about 10 years now. Early on, after we took over here, we worked with them to increase floor space from 800sq ft to 1,200sq ft.
"Our weekly turnover used to be £12,000 but almost overnight this went up to around £19,000 due to the extra space and products we got and by having the Spar brand.
"The example I like to give is, before, we had one customer coming in asking whether we did tea bags. After the refit, we had a different customer asking us 'where' the tea bags were, so people now had the presumption that we were a proper shop."
Things kicked up a notch in 2013, when Rocky decided to invest a huge £750,000 in turning his shop into a 3,000sq ft modernised convenience store.
He says: "We had peaked at around £30,000 in weekly turnover and we wanted to increase this further. The store was starting to look a little bit dated, so we decided to greatly expand the store, making the aisles bigger and getting in extra products.
"We now have a full range of fruit and veg, increased our chilled and frozen range and our alcohol section, and even added an in-store bakery.
"We had a lot of new faces coming into the shop after that and some now do trolley shops here. Our average basket spend went up to around £8 and our turnover is now around the £40,000 mark, which peaked at £55,000 last Christmas."
Rocky has also looked to create a point of difference in the store by adding his own world food section to appeal to local tastes.
Our nearest competition is a Tesco Express just 200 yards down the road, and I would say we are comfortably outgunning them
He says: "We have a large Asian population in the area and many of the families cook from scratch at home, so we've been working with a company called Heera to introduce a range of spices and ingredients."
Next on the list of improvements to the business is the introduction of a dedicated food-to-go section, something that Rocky is currently looking into.
"We have a Costa Express machine already, which we link in with cakes from James Hall and other snacks, and that goes well but I think we could do more with food-to-go. I'm now considering getting in either a Costa or a Subway franchise."
Whichever direction he chooses to go down, Rocky said he and his staff will continue to provide the same excellent customer service they have always offered, which he considers to be another important tool in distinguishing himself from the multiples.
"It's especially important for us as we have a lot of local trade, especially elderly shoppers, which is why we offer to help them with their shopping and take it to their car for them. It's not something you'd expect to get at Tesco."
Visit our Store