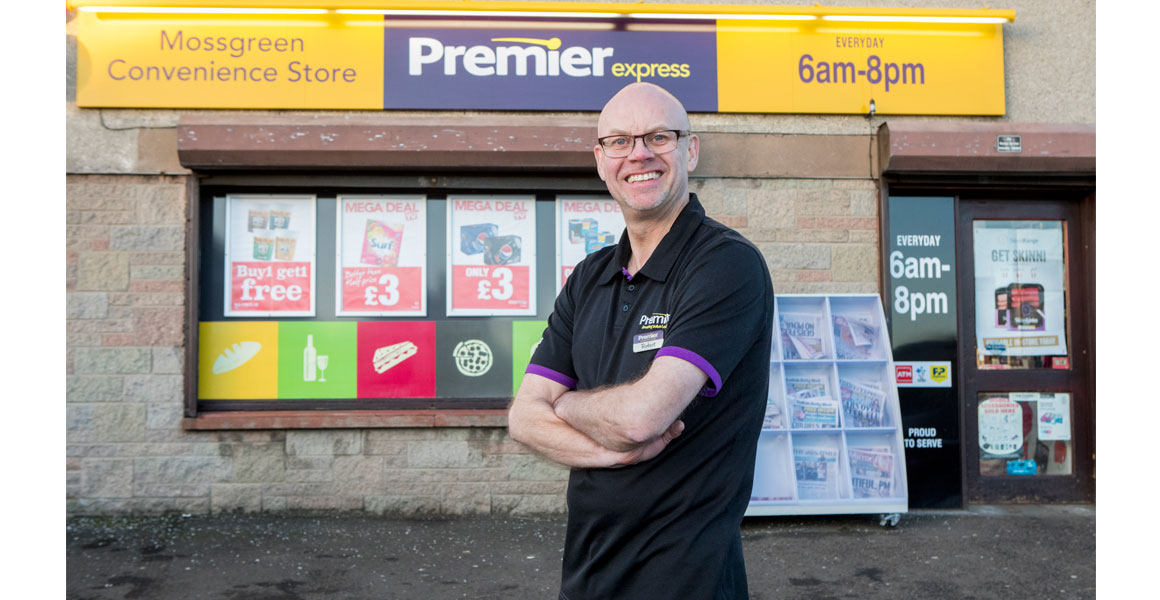 Premier Mossgreen Convenience Store
He's one of the newest, most exciting names in independent retail. Now, just two years after opening his first store, Robert Kirkwood has opened another. He tells Alex Yau all about it.
When Robert Kirkwood became a retailer two years ago, many may have questioned whether his ambitious plan would work. Not only did he open his first store – a 470sq ft site – from scratch, he then battled to find space for food to go, craft beer, a meal deal offer and an array of other services usually found in stores many times the size.
Yet, with a basket spend of £7.02 and a turnover increase of 30% in the past 12 months, the shop's success (lauded by IAA recognition late last year) vindicated the approach. So, now Robert is out to raise eyebrows again – becoming a multi-site retailer following the opening of his second store in November.
"My first 470sq ft shop was too small to have an extensive range of baked goods or fresh food," says Robert. "It's a big trend and I have to do more with those categories if I want to go further as an independent retailer."
Robert's new 800sq ft shop has the all the usual categories – chilled drinks, alcohol and snacks – found in traditional convenience stores. But the additional space is allowing him to focus on local produce and trend-friendly fresh and food to go offers. Two months after opening, he is already making weekly sales of £2,500 from just a few well-chosen products.
"I've got a one metre shelving unit which stocks more than 30 types of pies, pasties and cakes supplied daily from Stuart's, a well-known local baker," says Robert.
"My weekly turnover from these is £1,500 alone. Prices range between £1 and £1.80 for the products and the margins I make are really good, at an average of 30%.
"My 12-metre chilled section includes a range of locally sourced premium haggis and minced beef at prices ranging between £3 and £8. I make at least £1,000 a week from them."
Robert spent months conducting research before committing to take on the 30-year-old independent convenience store and immediately invested £23,000 – a combination of his own funds alongside help from close family and friends – transforming it into a Premier in the course of a week.
An early priority – as was the case in his original business – is forging links with the community. With a customer base consisting of residents from nearby housing estates and local builders, the shop's location is, he says, ideal for his ambitions.
"I've sponsored local football teams and raised funds for a terminally ill woman in a raffle at my old store. I'll do similar things in this store, but I also want to do more," he says.
And while the passion with which he speaks about the local community underlines Robert's sincerity, he's not unaware of the strong business case for his work.
"I make the extra effort to chat to customers. It helps me tailor my products and services," Robert says.
And it's this knowledge which brought both Stuart's pies and his locally-sourced meats into his new store and, ultimately led to his nomination for the "Effective Ranging" category at last year's Independent Achievers Academy.
Indeed, barely two years on from opening his first store, this former Mondelez rep has become something of an independent retailing sensation, telling his story to the industry's finest at 2017's Local Shop Summit as well.
And while it's now clear there are many who want to hear about how he and his stores are doing, getting out and about is also giving Robert a few ideas of his own.
"I learned so much from other retailers last year. I found out about home delivery, how to maintain the best margins on food to go and engaging with the community.
"Now all I've got to do is bring those ideas into my own business."
Find my store