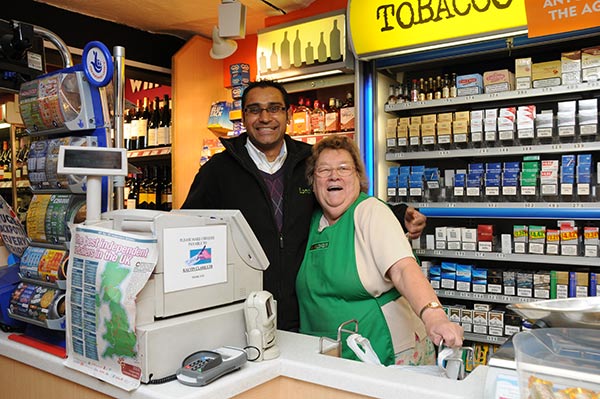 Independent retailers are often said to be vital to their communities, but Vineet Patel has proved that by banding together with like-minded traders, the commercial life of an entire village can be saved from the grave.
A lifelong convenience and news retailer, Vineet acquired the 1,000 sq ft Wady & Brett Londis store in the prosperous village of Charing, near Ashford in Kent, back in 2003.
"We went through a phase where there were a lot of shops closing down in the village," he recalls. "People were hearing rumours that Charing was dying in terms of retail, so we really needed to reverse that and get a positive image going."
With the help of Sean Carter from Kent Action for Rural Retailers (KARR), Vineet and his fellow shopkeepers formed the Charing Business Association of which he is now head.
"It took off last year to drive awareness not just for ourselves, but for the whole business community in Charing," he says. "We have revitalised the village, which we like to call Charming Charing."
Their first, and so far most effective move, was to site a vinyl banner on the busy A20 depicting the picturesque high street behind a large "Charming Charing" message.
"The coffee shop and the antiques stores have already had lots of people coming as a result of the sign," he says. "Footfall in the village has increased, simply through siting the banner."
The business association is also keen to revive an annual go-kart competition, which used to draw major crowds until a few years ago, once health and safety issues are sorted, and has also built a website where members' details and special offers appear.
Customers who do make their way to Wady & Brett find a store stocked to the gunwales with groceries for every conceivable taste, and that offers a range of services including mobile top-ups, Lotto, dry cleaning and DVD rental.
"We try to stock a local product in all the categories we sell," he says. "In chilled goods we have local cheeses, pre-packed sliced meats, local yogurts, sausages, tea, honey and even soft drinks. We have really embraced that side of things because the people of Charing are very supportive of local producers, even if they are a little dearer."
The affluence of Charing is reflected in the range of wines Vineet is able to stock with confidence. High-end French vintages like Gevrey Chambertin (£24.55) and Chateu Neuf du Pape (£16.09), Fleury and five makes of Champagne all sell through healthily, although he doesn't forget the mid-range and bargain bottles. "We have to cater for the needs of all of our customers," he says.
He is a great believer in the Londis EPoS system to analyse weekly sales. He can see at a glance which are his top selling lines and which are slow. "We can identify any dust-gatherers on our shelves and delist them in order to bring in new products," says Vineet.
"My preference is to keep things turning over. We bring new items in because it creates interest in your store and people notice. We print our own PoS material so anything that's new will be highlighted. Customers appreciate not seeing the same old stuff all the time. Grocery turnover is up 5% and I think this policy has helped.
"Some customers are a bit more adventurous than others. We have three different Moroccan lines, a Mexican section and others devoted to Indian, Chinese and Italian foods. People tell us we have a fantastic range for such a small shop."
Next priorities for Wady & Brett – Vineet kept the long-established name, which came with a good reputation – will be the expansion of his fresh fruit and veg offer and the purchase of a 1.5m chiller, which he estimates will bump up the £2,000 summer turnover in the section by 30%.
"And we'll remain pro-active. More people are going for home shopping on the internet these days, so we're going to have to find ways of counteracting that with our own home delivery service."
However he chooses to do that, villagers can be pretty sure it will be charming.