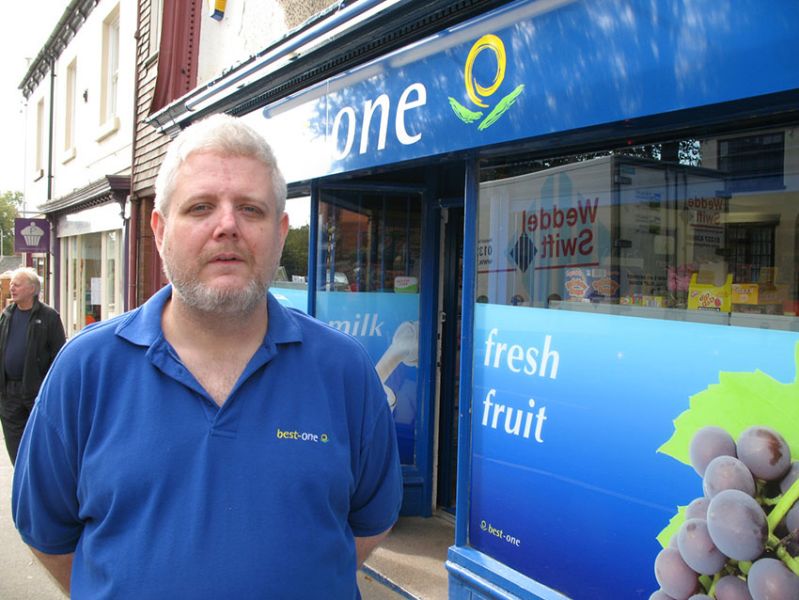 Homesickness was what brought Darren Hickman and his wife Lorraine back to the UK from the States two years ago.  After his career as a manager in the textiles industry there, Darren knew he had what it took to go into retail and that's when they bought The Paper Shop in the pretty Leicestershire village of Barrow upon Soar.
When his customers complained to him about the high prices of food in the Co-op a couple of doors down, he knew there was a gap in the market for a strong, good value convenience offering. And so he bought the vacant former pine furniture shop next door and transformed it into a Best-one.
Now he has the best of both worlds – a traditional newsagent offering at The Paper Shop and a more food and drink-oriented convenience offering at the Best-one.
Darren says: "With the Paper Shop opening early we catch people on their way to work at factories and offices, and at the Best-one we catch people shopping for a meal on their way home."
There is a range of frozen food and ready meals, as well as bread from Loughborough supplier Hulls Bakehouse, with loaves baked the previous night and sold for £1 in the shop. The same company also makes hearty sandwiches which are popular with Darren's customers looking for a tasty lunch on the go. Elsewhere he has a stand dedicated to US sweets and chocolate – tapping into the craze among teens for a taste of Americana.
His biggest category is the off-licence section, however, and as well as offering chilled wine, beer and cider, Darren always has a shelf of Best-one alcohol promotions to catch his customers' attention.
"Bestway's promotions are fantastic – they are better than many major retailer promotions," he says.
His team deliver papers to 300 homes – which accounts for 10 per cent of the whole village. But with newspaper sales falling gradually everywhere you look, Darren says they are always looking to expand into new markets and capture more customers. Among their biggest successes have been installing a range of traditional penny-sweets behind the counter, as well as a slush machine – which he says has been their single best investment. With a high school five minutes' walk away, offering an exciting range for children has been essential.
One of the top selling categories among his younger customers is energy drinks, with Rockstar Punched Guava the biggest seller. He says the £1 price-mark is brilliant at attracting customers with a limited amount of cash – such as school children.
The Paper Shop is also a specialist for greeting cards, which Darren divides into modern, arty, funny and traditional. This has been another help in making his stores a destination for shoppers.
Besides this, Darren and his team support their loyal elderly customers by finding whatever goods they request – even things like alarm clocks.
The shop also doubles up as a box office, selling tickets for events at the church and the amateur dramatics society.
Darren believes in investing in his staff and has recently taken on an apprentice from the next village, who they hope will play a bigger role in the business eventually and also bring in fresh ideas that will improve the stores.
He says: "One of our biggest challenges is to find new areas we can do well in and compete with the Co-op in our street. One of the main advantages we have is that if someone asks for something we can get it for them. We are more flexible than the big retailers."
SHOP AT A GLANCE
-NAME: Best-one Barrow / The Paper Shop
-WHERE: Barrow upon Soar, Leicestershire
-SIZE: Each shop is 1,000 sq ft
-STAFF: 10 across both shops
-OPENING TIMES: 7am – 10pm every day at Best-one / 5am to 6pm (7.30pm Wednesday and Saturday) at The Paper Shop
-TRADING SINCE: June 2012 Best-one / 2010 The Paper Shop
DARREN'S TOP TIPS:
-Customer service – treat them well and get what they need
-Stay competitive. In this climate people are looking for a good price
-Offer a good experience – make the shop look nice and move with the times
[/box][/aside]