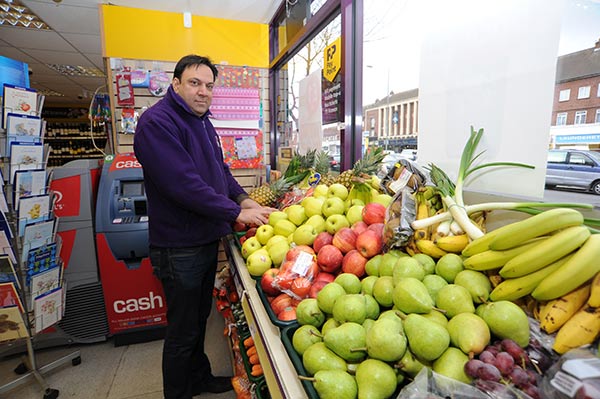 Whether you're from Poland, Ireland or Africa, Adil Ali's Premier store is bound to have something to suit your tastes.
Located in London's culturally diverse Edgware Road, Adil has striven to make his business stand out amongst local competition by stocking food and drink for people of all races and backgrounds.
He says: "Along with our English customers we have a large Irish and Polish communities in the area, as well as customers from other countries, so we try to stock the products that they want to buy."
Having run the shop alongside his father, Anjit, and cousin, Kamran, for the last three years, Adil has used his own retail experience and the help of his family to make his business a success.
"My dad owned the shop previously before selling up and buying a KFC. I worked in both businesses and, when the store came back on the market again, he decided to buy it and we've been here ever since."
He adds this working background has been invaluable in establishing the store during its reopening in 2008, especially with the high level of local competition from other independents.
What's more, Adil is also sandwiched between an Asda and a Sainsbury's, with one of the supermarkets within walking distance of the shop. But he says trade is holding up despite the presence of his multiple rivals.
"We are a 1,200 sq ft store and sales on grocery are at £17,000 a week alone, so I think we are performing well considering the amount of other shops nearby."
Footfall has also been boosted through the introduction of specific world food sections in-store, Shoppers are able to choose from a variety of Polish alcoholic drinks and meats and Romanian wine to name a few items on offer.
"We do have a lot have a lot of specialist food shops and delicatessens nearby, so we make sure all these products are competitively priced so that people will keep coming back to us."
In addition, Adil has also noticed a particular trend towards Irish products as of late, leading him to widen his existing range to meet growing customer demand. "We now have things like Clonakilty sausages, Flynn's bacon and Galtee black pudding, which we also have at very affordable prices, and they are selling really well with Irish and English customers."
Away from this, Premier Edgware Road has plenty of other services to entice passing trade. With a vast amount of workers travelling past the front door in the morning and evening, Adil has installed both a Coffee-to-go machine and a bake-off section to target busy commuters looking for a quick pick-me-up. He adds the addition of a PayPoint terminal and lottery functions has been invaluable in encouraging repeat visits from customers.
Alongside this, Adil offers a free delivery service to less able shoppers. He says: "We have a lot of elderly people in the area who can't travel very far, so we advertise a phone number they can ring to place an order, which we then deliver to their door."
Meanwhile, the store is also active in annual charitable events: "We always help out with local charities and, last year, we raised money for the Macmillan Cancer Support. And whenever the marathon is on, we supply drinks and other goods for the runners, and we also give away hampers if someone asks for them for a special occasion."
Looking ahead, Adil says he is keen to expand and refit the store in the near future, while also developing his fresh fruit and veg and dairy offering. "You cannot afford to become complacent, especially where we are located, and we will continue to do everything we can to keep the store profitable."