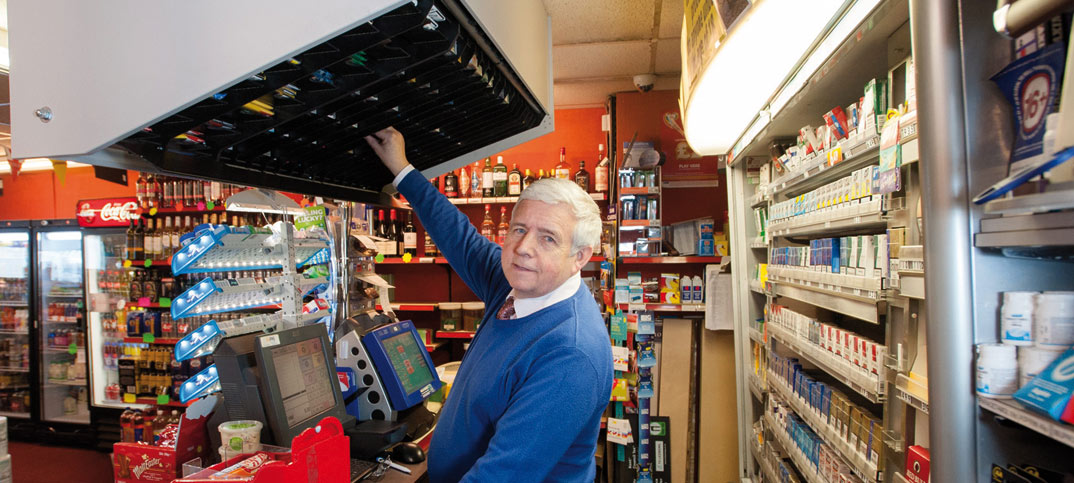 Rather than worry about what a dark market will mean for his store, tobacco specialist Ray Monelle has taken the bull by the horns, installed an overhead gantry and is seeing the new law as an opportunity. Tom Gockelen-Kozlowski reports
If tobacco represented nearly half of your turnover, you could be excused for viewing the upcoming dark market with more than a little apprehension.
Yet Weston-super-Mare newsagent Ray Monelle, owner of Orchard News, seems not only to be ready for life after the display ban but, thanks to his new overhead gantry, is seeing it as an opportunity.
"I don't like the big grey area that you see in a lot of the supermarkets now," he says. "That didn't appeal to me."
I heard about the Servertab system at an NFRN national council meeting and signed the deal at last year's BetterRetailing LIVE event," he adds. "I really liked the fact that it frees up valuable selling space in my shop."
His job now is to work out which products will benefit from this increased exposure.
"I've spoken with various people and have been surprised by the range of things retailers have used this space for. One person put cakes and biscuits in it and, because it's in customers' line of sight, people think 'I'll have a packet of those'."
So, what's he planning? "I want to improve my range of e-cigarettes and spirits so I'm going to use some of the space for that and the rest for some kind of impulse product range."
Getting his system in early means that Ray has had the time to experiment while his existing, open, gantry is still in place. It also means he has had the chance to get his team up to speed.
"I've got three part-time members of staff, as well as my wife and I, and none of us have needed too much training.
"It's just been about getting used to where things are and, because the whole thing is hidden from view, we've been able to put up labels by the products, which helps."
With suppliers big and small united in urging retailers to maintain their ranges and full availability, the unit has allowed Orchard News to stock as many different products as ever.
"I've got more than enough space for my full range. I'm quite a specialist cigarette shop anyway – I sell niche brands such as Sobranie Cocktail Cigarettes and a cherry menthol flavour pack too – my only concern is that people will not be aware that I stock these products any more, but that's a challenge for everyone," he says.
Customer service is his main tool in combatting this. "My staff have been with me a while so hopefully they will be able to help customers who are looking for something a bit different what we stock."
Embracing a potentially-damaging law change is typical for Ray and his store is bucking the trend when it comes to the newstrade thanks to his determination to grow sales.
I've got more than enough space for my full range. I'm quite a specialist cigarette shop anyway – I sell niche brands such as Sobranie Cocktail Cigarettes and a cherry menthol flavour pack too
"I know nationally it is a declining industry but for me there is still a big market in news and magazines."
As with tobacco, Ray relies on customer service and his local reputation to drive additional revenue.
"I stock various specialist titles such as British Bandsmen, some of the Motorsport titles plus several tattoo magazines. People know that if they pick up a magazine somewhere, they can come to me and I will get it in for them," he says.
His store was also ready and willing to help out when a newsagent in a neighbouring area closed down, leaving its HND customers without service.
"We sent a letter to all the customers who were going to lose deliveries to offer ourselves as an alternative – it added another third on to my HND round," he says.
Looking forward, Ray's recipe for success is much the same for his HND service as it is for his tobacco sales.
"I just have to make sure that our service is right and that I'm not only trying to compete on price," he says.
"I just offer a good service and an extended range."
Visit my Store