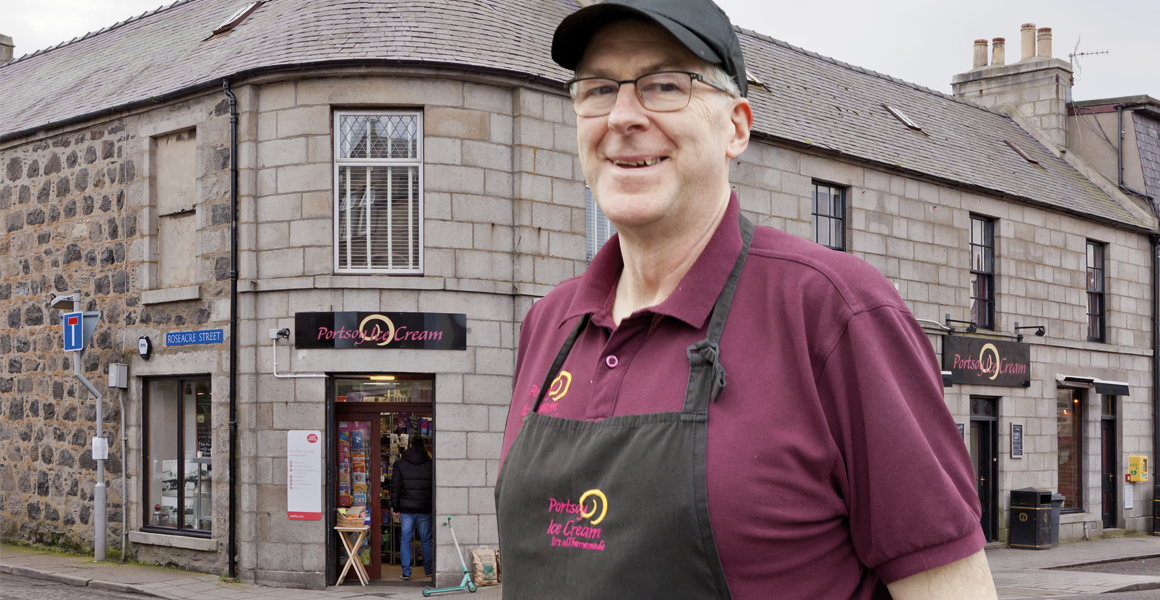 Portsoy Ice Cream's range of desserts would not look out of place in a trendy city centre. Owner Alex Murray tells Toby Hill how he has made it a footfall and profit driver in his small town store
Alex Murray grew up on a dairy farm in northern Scotland, learning the craft from his parents before taking over the business with his brother. But as the trading environment changed – with giant dairies cornering the milk market through economies of scale and low prices – he decided to leave the farm to his brother, and pursue a career elsewhere. 
As it happened, his farm supplied a shop owner in the nearby town of Portsoy, who was looking to sell up.
Alex jumped at the chance to enter the retail trade – but he took a key part of his old life with him, building this new venture around his pre-existing skills.
"The shop sold ice cream, and I thought there was room to create more interest in that side of the business," Alex explains. "I already knew about the hygiene processes through the dairy farm – pasteurisation, homogenisation and so on. So it was a case of adapting those skills, learning from the old owner and doing a couple of courses."
More store tours: Richard and Donna Evans's HND service helps their post office thrive
Fast forward 15 years, and Alex runs one of the UK's most unique ice cream outlets, which shares space with a convenience offer and café. His range of flavours prioritises the Scottish, from Raspberry & Drambuie Sorbet, to Cranachan, a traditional Scottish dessert.
"We try to make it with local ingredients; we source local cream, raspberries, heather honey and oatmeal, and whisky from a nearby distillery," says Alex.
The store has a separate preparation area in the same building as the service area and store. Part of the work involves coming up with interesting new flavours: Vodka, Mango & Black Pepper sorbet was a recent innovation that proved popular with customers – as long as they didn't have to get behind the wheel after treating themselves.
Alex has also found ways to expand his ice cream sales beyond the service counter. In 'Coffee Corner', barista-trained staff serve customers coffee and tea, as well as ice cream shakes and sundaes.
He also does a little wholesaling, supplying hotel restaurants. And by advertising on Facebook and attending wedding shows, he's sold the idea of having a pop-up ice cream parlour at a wedding, and now does several of those a year.
Thanks to such varied commercial outlets, ice cream sales alone make up roughly a third of the store's turnover – as well as providing incomparable margins, providing the bulk of the store's profits.
More like this: Heather and Broderick Rigg's baking led to bigger profits
But alongside the ice cream counter and Coffee Corner is a small convenience store, selling all the essentials. Here, too, Alex makes a point of prioritising local produce.
"We do a bit of everything people could need, and we have a post office, which helps keep the community running," he says. "Local potatoes sell very well, as do other vegetables, beef from two local butchers, local jams, honey and biscuits."
Even with such a unique business model, Alex has to respond to broader winds blowing through the world's retail ports. In particular, he's found himself having to adapt to customer demands for more environmentally friendly products.
"People expect you to be environmentally friendly, even if they don't always understand how much more those products cost," Alex explains. "With social media, you have to give them want they want, as they have the potential to do a lot of damage."
He's brought in compostable straws, spoons and beaker tubs for the ice cream, and has had to adjust prices as a result. "Normally, when you're deciding on prices for something like our ice cream you find yourself rounding down, but this time – to cover the costs of the environmentally friendly accessories – we decided to round up."
Starting from nothing, Alex has managed to build up a business that both provides a vital service to the local community, and attracts customers from hundreds of miles away.
"There's one customer who comes regularly from all the way in Paisley – 200 miles away," he says. "It's unbelievable."
Find Portsoy Ice Cream
Explore Portsoy Ice Cream