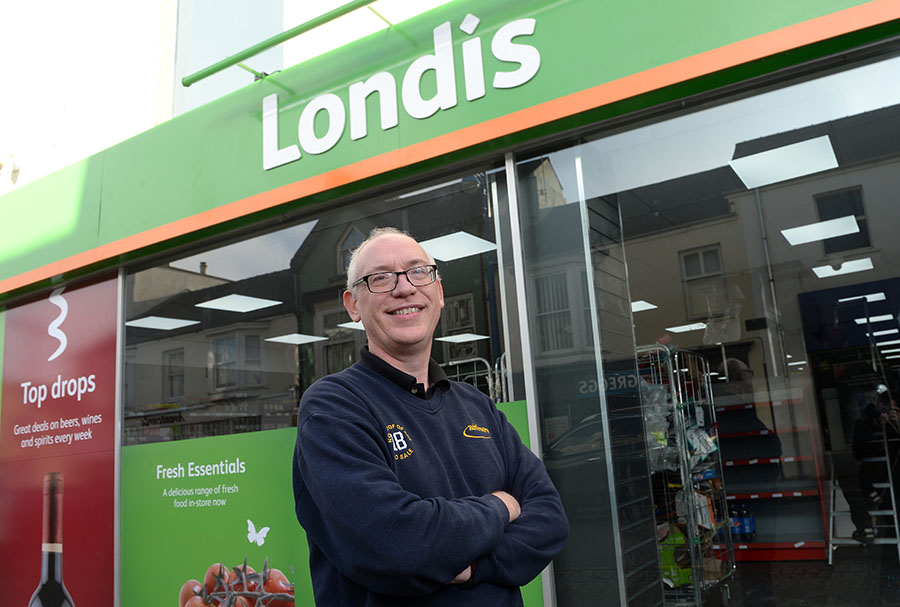 Pembroke retailer Peter Robinson has spent decades adapting to the rise of convenience. Now, with a new team behind him, he's ready to meet his biggest challenge yet – a new 3,000sq ft store. Jennifer Hardwick reports
It's a bold move to rent a former competitor's store – but to take over a business just for its staff – who are then moved to an entirely new site – takes an extra level of guts. But this is just what retailer Peter Robinson has done to give his new 3,000sq ft store in Pembroke Dock the best chance of success.
Peter's retailing career began in his parents' Pembroke newsagent after he left school, before taking on the business in 1994. He opened a second store in 1997 (which later closed), then bought another in 2006 and a third in 2014, all in Pembroke and Pembroke Dock.
Over the decades, his business has shifted from being primarily a newsagent to focusing on chilled and fresh food – reflecting a change in retailing that is mirrored around the UK. Tobacco and news and magazines are still key categories for him, alongside alcohol, but such is the strength of this change that Peter has been inspired to fundamentally evolve the business model he first inherited from his parents.
"Convenience has changed dramatically in the past 10 years. Chilled and fresh is the way the market has gone and, if you're not doing it properly, you're doomed.
"You've got to have a really good, credible range of fresh food. People's expectations have changed a lot and it's a case of working out what your customers want. It's a gradual process."
Chilled and fresh is the way the market has gone and, if you're not doing it properly, you're doomed
The importance Peter places on chilled and fresh is what motivated his transfer of all four of his stores to Londis last August.
"My reasons for switching were purely to get a wider fresh range, and you get longer dates on food, too," he says.
Londis sent a merchandiser to help him with the displays, and Peter says the group has been very helpful in advising him on a product range tailored to each of his businesses.
"It's been a very smooth process and, so far, trading has been very encouraging. We are still getting to know the range and the operations, but we certainly hope to see a turnover increase."
Londis is also helping Peter set up and operate his new 3,000sq ft convenience store. It's a size of site he was keen to add to his portfolio – the new store is more than 1,200sq ft bigger than his other stores.
"You always wish you had a bit more space for wider aisles and room to build a perfect display of alcohol or whatever else you want to highlight.
"Our food offer is going to be extensive," he adds. "It's designed to be a destination convenience store."
Peter's goal is to build a thriving business in a building that has lain dormant for a
decade.
He paid £250,000 for the building at auction and has had to make significant investment to "bring it back to life", including a new roof, new electrics and new plumbing, as well as a £100,000 refit.
But it is his approach to staffing – bringing in a team he trusts will make his store a success – which gives him the ultimate confidence in this store's future.
"It's fundamental to get a good team together," he says.
"When you open a new store you need to have staff who have either worked with you at other shops or are very experienced somehow. If the store is new and the staff are new too, it's a huge challenge," says Peter.
The additions take his overall staff count up to 50 and, with a new store and new symbol group in tow, it highlights the exciting future that Peter sees for his business – 31 years on from his first day's work.
And with the industry more dynamic than ever and shoppers' expectations constantly rising, he knows this latest step in the journey can't be his last. "Change is inevitable," says Peter. "Embrace it."
Visit my store