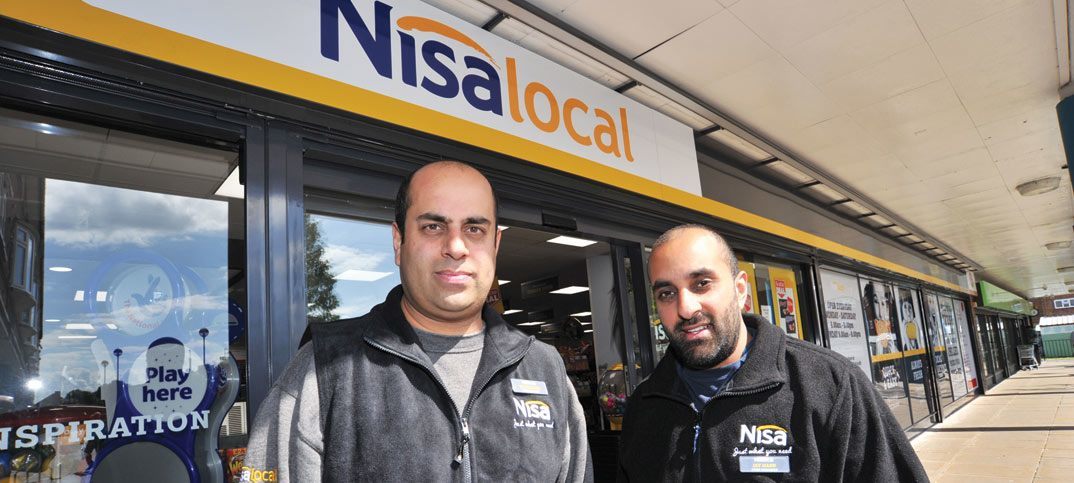 After a lifetime in retailing Peter Mann has lost none of his enthusiasm. In fact, he and his brother Jay's Luton store is all set for a strong future thanks to a successful refit with Nisa's support.
Steven Lambert
reports
As part of the third generation of a family that has been running convenience stores around Bedfordshire since 1972, Peter Mann says he has been in retailing his entire life.
And the experience he has gained is clear to see in the work and investment he has put into his Nisa Local business in Luton, which has undergone four refits since being acquired by the Mann family in 1987.
In the most recent of these, Peter and his brother Jay signed up to transform their 2,500sq ft business under Nisa's Store of the Future 2 programme.
And although work on the revamped store only finished in February, Peter says he is already seeing the benefits of the £150,000 spend.
"Our weekly turnover has increased by 12% to around £22,000 since we made the changes. It's definitely been worth the investment," he says.
These figures are made all the more impressive when you consider that Peter's shop competes with a similarly-sized Co-op store next door.
Peter says he worked closely with Nisa to create new planograms and conduct a full range review, which led him to remove a number of slow-selling lines and reduce range sizes.
"We used to have 12 different types of pizzas that were all fairly similar, for example. Now we only have four," says Peter. "We must have lost about 30% of shelf space in the refit, yet our sales went up by 14% shortly afterwards. Our average basket spend has also gone up from £5 to £6.50."
The extra room has allowed Peter to expand into growing categories such as chilled food and fresh fruit and veg, and he now dual-sites jars of sauces with fresh meat to target shoppers looking for an evening meal.
Other changes include the introduction of closed-door chillers and an upright freezer to replace old equipment, while new LED lighting is also saving Peter around £300 a month on utility bills.
In addition, the store also offers the Lottery and a Hermes parcel collection service, while the recent addition of a post office fortress with three windows is already attracting extra footfall.
Peter says: "We get very little passing trade as we're on a parade of shops in the middle of a council estate. But the post office is getting more people through the door.
"We're also about to get a free cash machine from the post office. The nearest cash point is at another shop nearby, so having our own should encourage more people to spend their money with us."
Peter has also been using his expertise to take full advantage of new opportunities presented to him through the refit.
Our weekly turnover has increased by 12% to around £22,000 since we made the changes. It's definitely been worth the investment
He says: "We had some grey shopping baskets sent in to replace the blue ones we had. But the old baskets were still relatively new and I didn't want to throw them away, so I decided to place these at the back of the shop.
"I've been amazed at how many people come in without a basket, but will then pick one up from the back and fill it up."
Peter has also been using social media to raise awareness of his business among current and potential shoppers.
"We have a Facebook page and I use it to post one or two things every week. For example, we posted about our disposable barbecues when the weather got warm. The main thing is not to keep bombarding people all the time."
Peter says he now plans to make improvements to his other store, Manns Paper Shop, a 600sq ft traditional CTN located in the same parade of shops.
He says: "We bought the store to make sure that an off-licence didn't move in to take the space.
"As sales in the newspaper and magazine market are declining, I'm now thinking about introducing things like a £1 range and more convenience products."
Visit our Store
[googlemaps https://www.google.com/maps/embed?pb=!1m18!1m12!1m3!1d2463.2155404064674!2d-0.43911200000000006!3d51.875277999999994!2m3!1f0!2f0!3f0!3m2!1i1024!2i768!4f13.1!3m3!1m2!1s0x487648f2f8dd1de1%3A0xfe14ac95aa710a27!2sNISA+LOCAL!5e0!3m2!1sen!2suk!4v1434540266343&w=600&h=450]