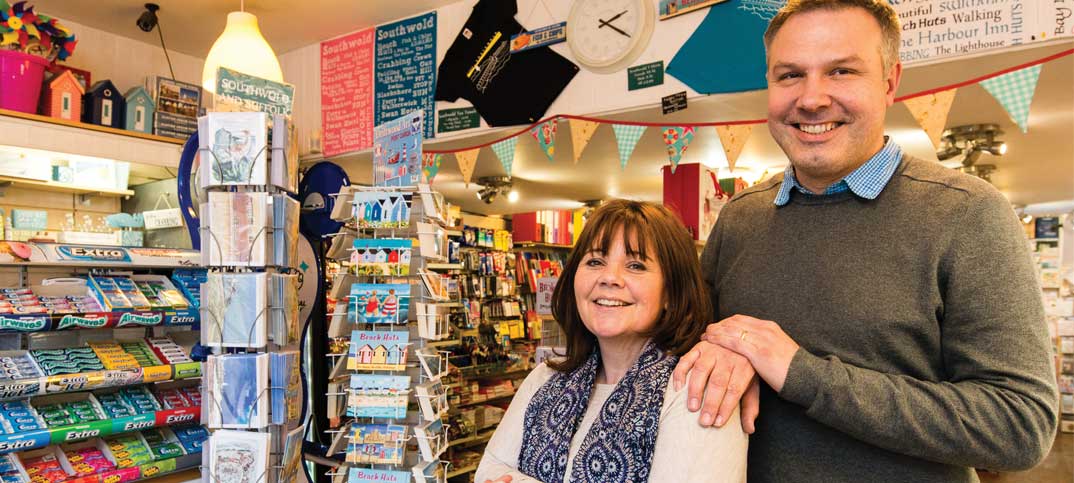 With independent seaside shops often suppressed by seasonal slumps, Suffolk retailers Pete and Clare Hart identify gaps in the local market and introduced loyalty cards to beat the winter blues.
Steven Lambert
reports.
After years of managing WHSmith stores around southern England, Pete and Clare Hart took the bold move of stepping away from the company to set up their own independent business in 2007.
This led them to purchase Chapmans of Southwold, located in the seaside town of the same name on the Suffolk coastline.
Updating everything except the name of the store, which dates back to 1896 ("It's a bit like renaming a ship – it's bad luck," says Pete), the couple have turned a "run-down" business into a bustling newsagent and gift shop catered towards local shoppers and summer holidaymakers.
"We could see the store had a lot of potential and it was in good position in the high street," says Pete. "We needed a new challenge, so we thought 'why not?'"
He describes the business as a "place of extremes" due to its location. Trade is very seasonal, he says, with an abundance of visitors and tourists over the summer but much quieter periods during the winter.
He adds that with a supermarket across the road from the shop, and with their former employer also running a store close by, he and Clare do all they can to offer something different to customers.
"There's no point us selling beans in the shop as we can't compete on grocery," says Pete. "That's why we've focused more on greetings cards, gifts and stationery."
"We have a WHSmith in town but we're about 10% cheaper than them on cards and we're cheaper than them on stationery as well."
Pete says he and Clare have also worked hard to develop these ranges since taking over the store.
For example, they now work with 15 card suppliers, including UKG and more specialist firms such as Caroline Gardner and Bright Side by Rachel Bright.
"We have standard cards but also quite a big range of contemporary styles as well," adds Pete.
"We also offer corresponding gifts with the cards, such as Bright Side tins and notebooks and Caroline Gardner umbrellas and magazine holders, and you can create some really nice displays with them."
To drive further sales, Chapman's also has its own coffee shop-style loyalty scheme on greeting cards. Pete explains: "Every time a customer buys a card over £1.49, they get a stamp. Once they've got 10 stamps, they get a free card. "It's all branded up with the Chapmans logo and it really gets people coming back to the shop."
Pete says schemes like this are especially important out of the holiday season, when footfall becomes harder to come by due to the town's small population of around 800 households.
"In the winter we become a bit of a Christmas shop, and we do quality decorations, boxed cards and roll wraps, which we dedicate quite a bit of space to, and people travel quite some distances for these."
This changes completely over the summer, where thousands of visitors and tourists descend on the high street, leading to a complete change in the store's product range.
Pete says: "Bank holidays can be heaving and we go to selling everything from buckets and spades and fudge through to large prints of the local beach.
"We've also given additional space to our fashion stationery range, which includes items such as notebooks and ring binders with different designs on, similar to what you find in Paperchase. These are really popular, especially around the school holiday time."   
Pete admits that he and Clare have "worked a lot harder" since leaving WHSmith but he believes they made the right decision by going independent.
"It's a very different proposition when it's your own money on the line but it's been much more rewarding without a shadow of a doubt."
Visit my store