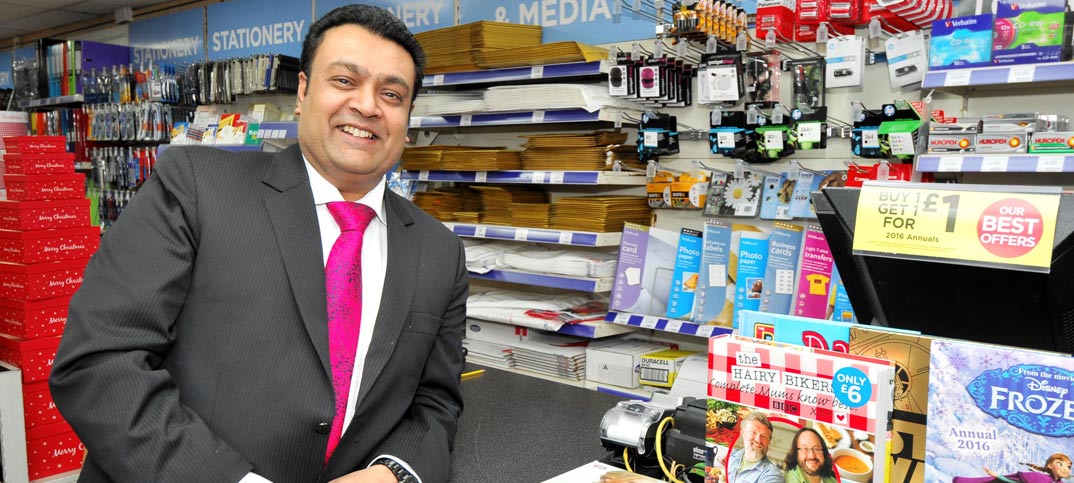 By building on what he knows best and adopting the WHSmith Local fascia, Southampton retailer Paul Patel has developed a great point of difference. Now, his once struggling store has been transformed into a beacon of success. Chris Rolfe reports.
"Two years ago, my business was at death's door. The bailiffs came in so often they felt like family and my cashflow was in dire straits," says Southampton retailer Paul Patel.
But today he is showing RN around a 1,500sq ft store that has been transformed by tight cash management, a specialist range of 1,500 magazines and over 3,000 greetings cards and, most recently, its new WHSmith Local fascia.
Paul decided to join WHSmith Local earlier this year, while preparing to take over the store's lease from his family.
He had already built up an extensive range of magazines and greetings cards, plus an HND service of 15 morning rounds and eight Sunday rounds, but to modernise the store still further, he decided he needed the support of a symbol group.
"We looked at convenience fascias, but to join them, we would have to sell alcohol and compete with five multiples nearby. This is a traditional CTN. My strengths are stationery, cards, newspapers and magazines, so WHSmith seemed a perfect fit."
Working with the group to refit the store, Paul relaid the floor and had LED lighting installed, while WHSmith's shopfitters, reorganised fixtures and fittings and set up a new EPoS system.
Paul's greetings cards range was expanded, WHSmith's core stationery range was added, as were toys such as Lego, and credit card and contactless payment systems were installed.
I've seen a lot of new faces.
You hear them saying 'we've
got WHSmith' and they're
proud to have a high street
brand in the village
Since opening in August, Paul says the business has grown rapidly, largely, he believes, because of the WHSmith name.
"I've seen a lot of new faces. You hear them saying 'we've got WHSmith' and they're proud to have a high street brand here. They also like how full the shop is. I've seen a 15% uplift in magazine sales simply because people associate them with Smiths," he says.
The brand name has had a similar effect on regular customers too, who now buy more cards and stationery.
Paul says one of the major benefits of joining Smiths has been the group's buying power and prices and the consequent benefit to his margins.
"My biggest fear was their pricing, but the power of the brand name makes the price insignificant," he says. "I used to buy Pritt Sticks for £1 and sell them for £1.95. Now I buy them for 50p and sell them for £2.19."
Paul has also reduced his higher-priced cards by 40p, but still makes a margin of at least 75% on cards and stationery.
"It's early days, but on stationery we're doing £1,000 a week now," he says.
With Christmas just two weeks away, Paul is benefiting from promotions on best-selling books such as Mary Berry's latest cookbook.
"I struggled to get products and deals like that before, but one customer bought five Mary Berry books the other day," he says.
The benefits of this and the WHSmith name are evident in Paul's turnover, which, in the last three months has increased by 30% compared to the same time last year.
To build on this growth, Paul has several plans for the new year, including a refresh of his greetings cards range and the addition of a Delice de France range.
And to build his reputation as a specialist retailer still further, he also plans to expand his small range of artists materials.
"Artists from a local art group have asked for professional materials. They have to go to Southampton town centre or Lymington at the moment so I want to stock Windsor & Newton products. If I can get the right range I could get 150 new customers," he says.
Paul says it is this combination of his local knowledge and relationships and WHSmith's brand name and buying power that will help him to drive his business forward.
"It's a partnership. The shop has become more vibrant. My pride is getting to know customers, while the power of the brand cannot be underestimated. It's about making sure your customers don't go elsewhere."
Visit my Store