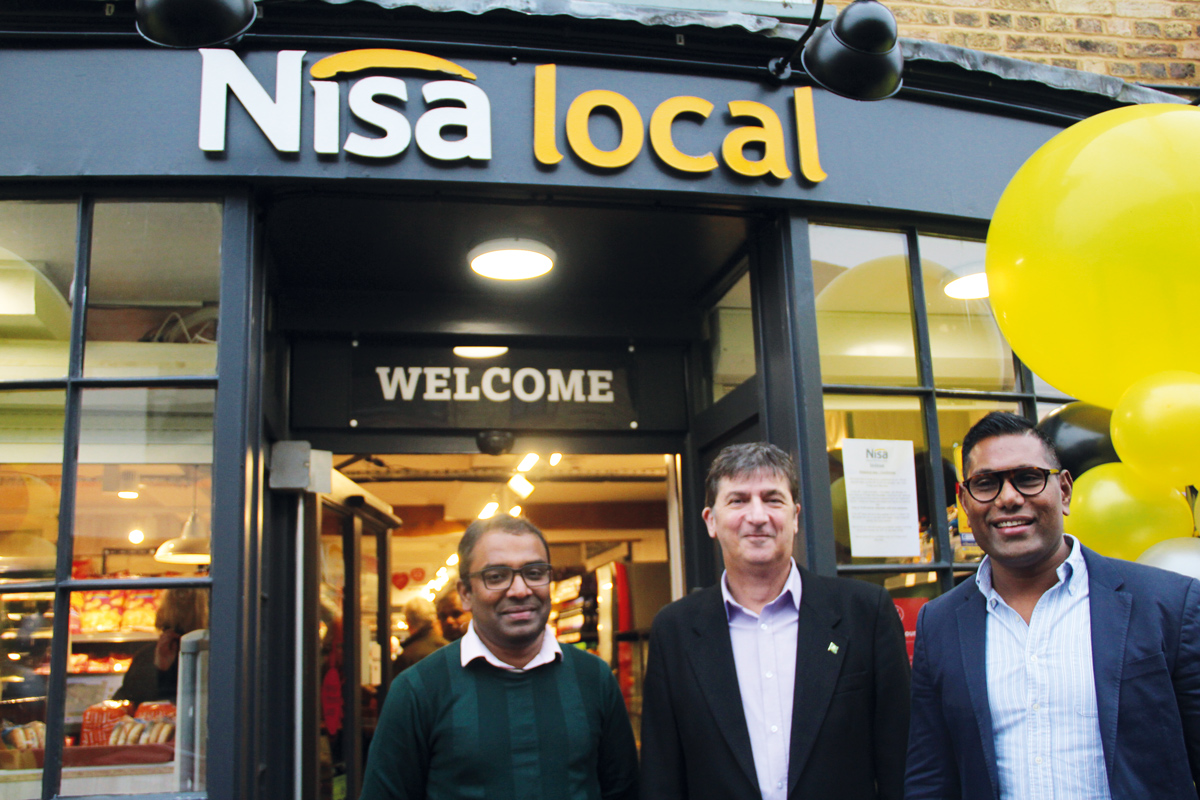 4 Church Street, Stilton, Peterborough, PE7 3RF
New beginnings
"We don't want customers to be frustrated, we want their shopping journey to be as convenient and quick as possible," says Sudakaran Selvaraj (Suda), from Nisa Local Stilton in Cambridgeshire.
With that in mind, the store recently underwent a major refit with the aim of streamlining both the business and the customer experience in the store. "We've almost doubled in size, from 1,500sq ft to nearly 3,000sq ft," says Suda.
The refit was completed in late December, and on 24 January a community focused store opening for the new business was held. Attended by a local councillor, the event was also supported by in-store tastings from suppliers, and even featured a ribbon-cutting.
"We're a community store, so we wanted an event to get our community involved," says Suda.
Suda is operations manager at Siva Thievanayagan's T Y S Retail company, and is responsible for several stores in the Peterborough area. He believes retailers must use technology and data to grow their businesses. He sees it as something that is increasingly playing a role in how he ranges and merchandises.
"Without data analysis, retailers can't survive in such a fine-margin industry," says Suda. "There's more pressure to keep track of data. It can highlight simple things that make a difference. For instance, I noticed that a brand of yoghurt was not performing well. They were stacked at the bottom of the fridge – moving them to the centre had a massive impact."
According to Suda, the refit is already having an effect on the store. "It's early days, but there's definitely been an increase sales-wise," he says. "We're doing much better than the same time last January, and we expect this growth to keep going into the spring and summer. We can see that, with the changes in our ordering frequency, we're performing a lot better."
What I do well
"We're becoming much smarter with our ordering," says Suda. "I come from a business computing background, so I'm running programs in our back office to see what is selling well and what isn't. We're delisting those items that don't sell in order to streamline the whole shop.
"We're taking a scientific approach to retailing, rather than just using guess work," Suda continues. "That's what they're already doing in the supermarkets.
"People say it's difficult to do that in the convenience sector because it varies week in, week out. However, we've found in this shop it's easier because it's only serving the local community."
Suda uses a system from EPoS provider MSP to keep on top of these data and shopper insights. "We're also starting to use our EPoS data to help us reduce wastage on the bakery," he says. "It helps us monitor what we're throwing away."
Where Nisa Local Stilton's biggest profits come from
The store is located in an affluent area, and this is reflected in the store's bestsellers and customer buying habits.
"Meat is a big seller for us," says Suda. "Grocery and wine, especially high-end wine, are also very good categories. It's a very particular marketplace here, and the shopping trends are very specific. There are certain items that will sell here but won't in one of the sister stores, and vice versa.
"Chilled foods and fresh also do very well," Suda continues. "We sell fruit and veg very quickly. E-cigarettes are also a major category. We had a Vape Station display installed, and we were worried it wouldn't sell, as many of these products are quite pricey. However, within three weeks of the refit, the display had almost sold out.
"I think that was partly down to the broader trend of customers moving from cigarettes to vapes."
How I stay competitive
"Convenience stores can't be insulated from their communities, they need to be integrated," says Suda. "You can't operate in this competitive environment alone."
The retailer is a firm believer that convenience stores need to take an active role in their local area, and this has quickly seen Nisa Stilton get involved in a number of different causes.
"This month, we'll be sponsoring an RAF charity event for veterans," reveals Suda. "There's a concert to raise money for veterans, and we're supporting it."
According to Suda, the store's event sponsorship can take on a number of different forms. "For the RAF event, for instance, we paid to help them publish the programme for the day, and we'll have a colour page in there. At the local preschool, we've paid for play equipment for the children. These are all little ways we can help local people," he says.
The changes and their impact
The refurbishment has brought a number of benefits to Nisa Local Stilton.
"The aisles are wider now, and this means people with prams and pushchairs can move around the shop much more easily," explains Suda. "Before, the aisles were much narrower and so there wasn't that space.
"Most importantly are the changes to the range in store," says Suda. "We've built up a range that customers wanted – there's a lot more stuff in the shop now.
"For example, if you take a look at the meat, there's a massive demand for it here. We use a local butchers, and before the refurb they'd deliver to us on a Friday, and sometimes by Saturday we were sold out of meat because we didn't have the capacity to store it.
"Now, we've dedicated three or four shelves to meat, so we can at least last the weekend."
What I'm doing next
A big change following the refit has been in the range of fresh and food to go offered in the store. This is an area that Suda and his team are continuing to develop in the shop.
At the store entrance is a Costa Coffee machine, next to a display of chilled food and drinks to go, containing things such as sandwiches. The store also has a fresh bakery display, and off-shelf units displaying bakery products.
"We had bakery before the refit, but we only baked a few things, such as breads and baguettes," he says. "But now it's much more full-on. We have a new deli area as well, which we hope to develop into a fully-fledged deli counter. We'll be able to do freshly made sandwiches, replicating what's happening in our sister store in Fletton."
Already, the deli section is offering a selection of store-made Indian foods, such as samosas and dal, alongside a range of local cheeses, and olives.
---
HOW Nisa Local Stilton… is streamlining
Get the most from data
"Every Monday, I check the data for all the stores we look after. This helps me see what our bestsellers are, and what's underperforming, so I can see if anything needs to be delisted," explains Suda.
Invest in self-service tills
"We're installing a self-service checkout soon. We know customers don't like spending too much time in store – this is the key to convenience, so we want to speed up the journey if we can to keep shoppers returning."
Access success
A major part of Nisa Local Stilton's refit was making the store easier to shop for customers. Suda says: "Before, the aisles were too narrow, which made getting around the store complicated, especially for shoppers with wheelchairs."
Cater to your area
"In our Fletton store, crime can be a problem. However, it's not such a major issue in this store. This means we don't have to stock our spirits behind the counter, for instance. It allows us to use the space differently."
Light up
"We changed the lighting in the store so it's now much brighter. We now use LED lights, which are more economical. We want customers to come in and be attracted to the range we have in store. It shows how bright and fresh the store is."
---
Find Nisa Local Stilton
---
Explore Nisa Local Stilton
Read more Store Profiles: Nisa High Heath in Walsall shines as overall best shop