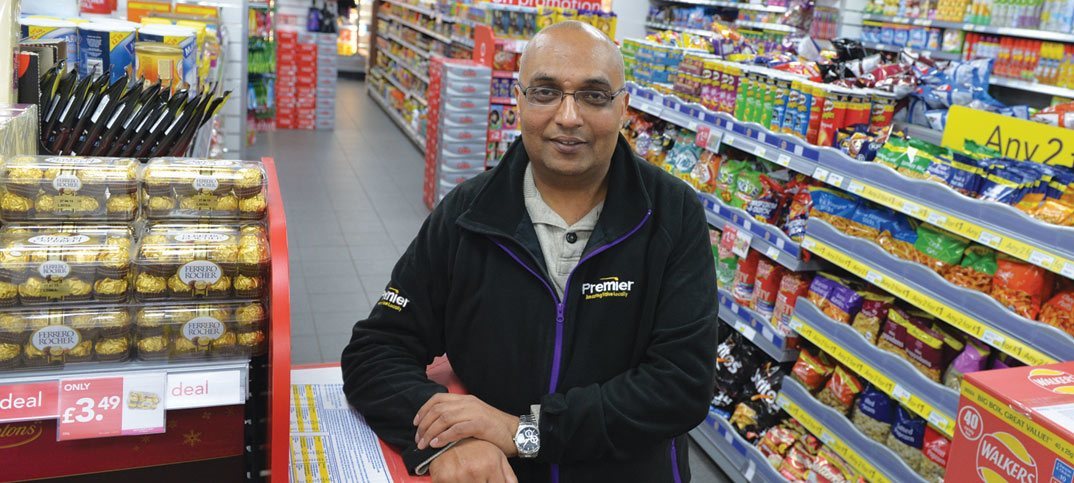 While stores around him stood still, Glasgow retailer Naresh Gajri secured a great future for his by constantly innovating and evolving. Now, as the only surviving independent in his area, he's looking to build even more customer loyalty.
Chris Rolfe
reports
Twenty six years ago, Naresh Gajri was starting out in retail with a c-store in a tough suburb of Glasgow, making £3,500 a week by selling newspapers and alcohol.
Today, that same store has doubled in size to 2,900sq ft, offers an extensive convenience range and post office, has loyal customers shopping by the basket load and has increased weekly turnover to £40,000.
This success, says Naresh, can be attributed to a mixture of regular refits, strong community links and a constantly updated range of products and promotions, while a decision back in 1991 to become one of the first stores in Scotland to trial direct deliveries and the Premier format with Booker has also paid huge dividends.
"When we first took over, the store hadn't been changed in 20 years. We upgraded it in 1997, bought the unit next door in 2006 and knocked the two units together. We also had another major refit two years ago," says Naresh. "There used to be four stores in the area but the others are all closed now because they didn't move with the times, but we refurbish ours regularly."
The most recent refit has had a big impact on the store, he says.
"We had a brand refresh, removed three internal walls, moved the till and post office counters and installed a new ceramic floor and ceiling. We also added LED lights and low-energy chillers, which has saved us £800 a month on electricity."
The refit also gave Naresh the space and opportunity to extend the store's range and promotions to tailor his offer more closely to suit the needs of local customers.
"We decided to add Polish food because there are 400 Polish families living nearby," says Naresh. "I have two Polish members of staff working here so they suggested what I should stock."
He was also able to add a large section for £1 household non-food items which has drawn customers in.
An extensive range of Euro Shopper crisps, drinks and cakes, and Mega Deal offers on packs of Daz and Surf and multipacks of Coca-Cola have proved most popular in recent months, he says.
"We've got Morrisons, Tesco, Asda and Sainsbury's all within two miles of us, but our shoppers prefer to do little shops here and some come in three times a day."
Another key to the store's success is the relationships built with customers and the local community by Naresh and his team of 12 staff, many of whom have worked for him for over 15 years. A mixture of sponsoring two kids' football teams, donating food and drink to local fundraising events at the nearby church and giving money to local charities earned Naresh a "Local Hero" award from the church.
His efforts have helped the store forge links with its regular customers too. So when a shoplifter targeted the shop recently, it was regular customer who stepped in to protect Naresh's wife and send the would-be thief packing, he says. And another customer was quick to offer to clean the store's ATM when it was recently sprayed with graffiti.
There used to be four stores in the area but the others are all closed now because they didn't move with the times, but we refurbish ours regularly
"We don't have problems here because we've been here such a long time and know 99% of our customers. They see this as their local store, and if anyone gives us grief one of the locals will step in and help sort it out."
In the past month, Naresh has updated his range again, this time adding packs of Booker's pricemarked fresh meat range, Butcher's Market, so that customers can buy whole chickens for £3.99 and packs of chicken breasts for £2.99. As a supporter of Scotland's "Eat Better Feel Better" scheme, Naresh has also added to his fruit and veg range, and now offers customers pricemarked cauliflowers, broccoli and plums.
His new additions are already paying dividends, he says. "Now that we have good displays, customers have gone from buying one or two items to buying full baskets and some can spend up to £30 or £40 a time."
Visit my store