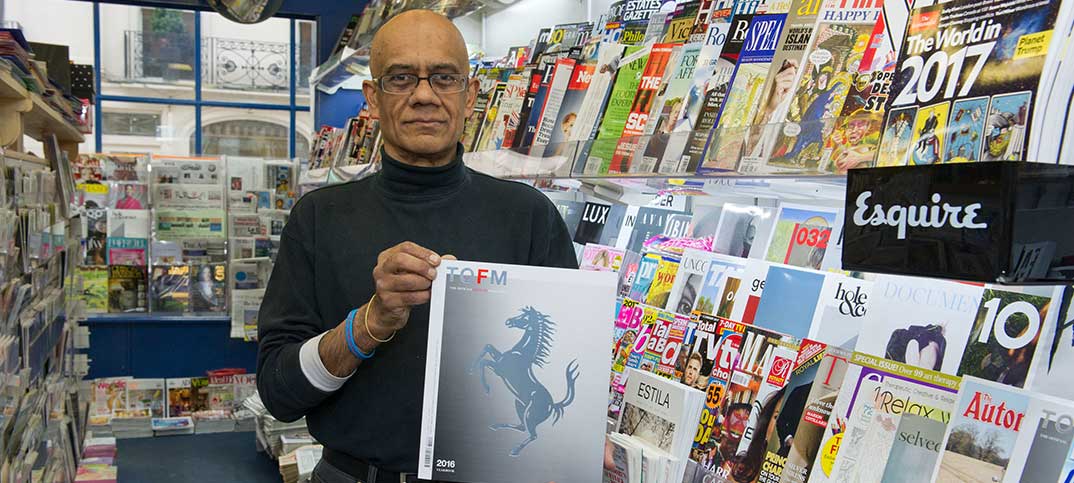 Nainesh Shah has earned the loyalty of locals and visitors to London's exclusive Belgravia, by providing unique specialist ranges and excellent customer service. Chris Rolfe reports
Every good retailer tailors their store to their location, but what does that mean when you serve some of London's most exclusive businesses and affluent people, such as Meryl Streep, Dustin Hoffman and Sylvester Stallone?
For Nainesh Shah, whose 600sq ft Mayhew Newsagent store caters to A-list celebrities, five-star hotels, embassies, private airlines and affluent locals, it means offering a range of 3,500 magazines, international newspapers, stationery and brilliant customer service.
Meryl Streep came in the other day and stood staring at my magazines – I don't think she'd seen so many before. She spent a long time browsing and bought a handful.
"There aren't many shops like mine these days, so when customers see my papers and magazines they're excited," says Nainesh, whose magazines, including bestsellers and £94 niche titles make up 68% of his business. "Meryl Streep came in the other day and stood staring at my magazines – I don't think she'd seen so many before. She spent a long time browsing and bought a handful."
Nainesh works with a company which prints more than 3,000 international newspapers the day they come out, that sell for up to £13 a copy. He has built a reputation for supplying whichever titles his customers need.
"We've got a lot of exclusive hotels nearby and know the concierges, so when people want unusual things they ring us," Nainesh explains. "We also supply specialist airline companies and look after Saudi and Dubai offices. We sell 50-60 titles daily and when staff collect them, they buy a huge selection of magazines too."
But print titles aren't the only items guests at Belgravia's exclusive hotels buy, and Nainesh has strong sales of stationery, based around their expensive tastes.
"We sell commercial stationery such as boxes and bubble wrap. If a guest has been shopping at Harrods and the hotel needs to ship it they buy packaging from us," says Nainesh. "That's around 28% of my business and the margins are great."
Nainesh also serves local residents and builders, and has likewise won their custom with his range, services and by keeping his tobacco, drinks and confectionery prices low. As a result, his loyal customers lobbied his landlord when his lease came up for renewal recently.
"They got behind us because they want to make sure we stay. Amazingly, Grosvenor Estates renewed the lease with no rent increase."
Still, Nainesh faces two challenges this year, but is confident this loyalty and local developments will help him.
An increasing number of properties have been bought by people who only live in them for a few months a year, and Nainesh is experiencing a 20% loss in trade. And he is facing a 90% business rates hike which will take his bill from £22,000 to £40,000. But plans to develop the streets around the shop should bring in extra sales.
"They want to pedestrianise the street outside and create a seating area behind the store. If people come here for teas, coffees, breakfasts and lunches, we'll get the extra traffic," he says.
Nainesh plans to add a door at the back of the shop and plans a refit and new layout to showcase his newspapers, magazines, stationery and greetings cards. He is also considering extending his opening hours.
"I expect us to get very busy if these plans go ahead, so we'll need to recruit extra staff and possibly our first manager. I'll approach the Post Office too because there is definitely demand for it here."
His other big goal is to get to grips with online ordering.
"I learned at the Local Shop Summit that online shopping is on the rise and I need to be a part of it. I need a website where I can link up with publishers to advertise new titles. I'm good at getting back copies of titles too so I need to advertise that. Our service makes us different – I need to let more people know about it."
Visit my store