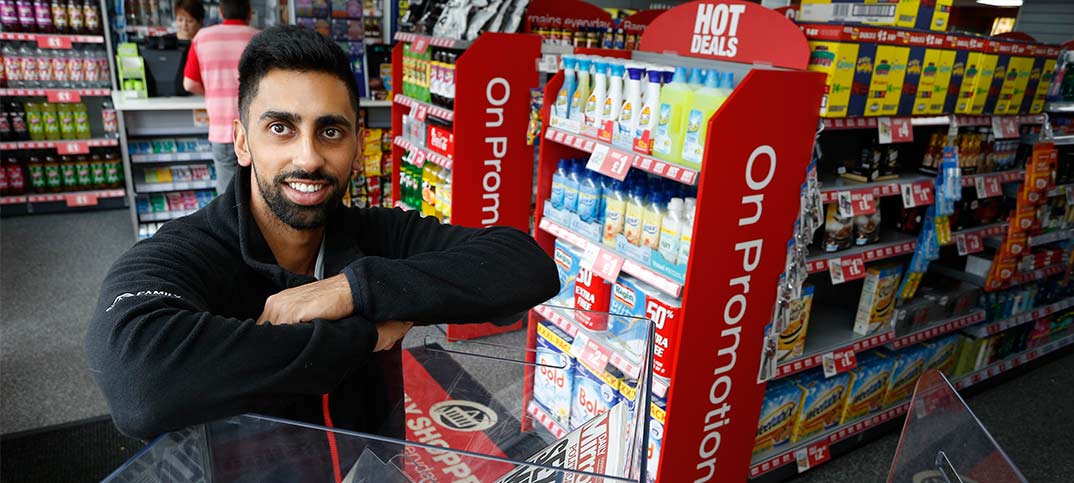 Jasdev Jatana's new 2,500sq ft business is the first convenience store to carry the Family Shopper fascia in East Anglia – and it was the promotions available through the group that first attracted the 26-year-old businessman, who also owns a Premier store in the area, to join it.
"The Family Shopper team at Booker were aware of the fact we were going to take over the premises and they took us to look at stores in Nottinghamshire to learn more.
"Multipacks of crisps are always on offer with Family Shopper, milk is two for £1.50 and so are soft drinks."
"The deals and the layout of the store were a lot more eye-catching than other things we'd seen and my instinct was that I needed these kind of deals to compete with the nearby Tesco Express," he says.
In fact, the store has 20 such deals permanently running and Jasdev credits Family Shopper's promo-heavy ethos (its motto is 'bargains every day') with helping weekly sales soar to as much as £20,000.
And, to further emphasise his value proposition, he is constantly looking for new opportunities to cut prices. He uses a separate discount wholesaler to get £1 pricemarked bottles of Barr soft drinks, for example, while Overseas Trading Limited (OTL) provides discount non-food items such as household goods, baby items, candles and stationery, all of which offer 50% profit margins.
The success of Subway
Such is his commitment to low prices that Jasdev says it isn't unusual for new customers to confuse his shop with a pound store and even premium items, such as Gullon sugar-free biscuits, sit on the £1 pricepoint. "We are the only place in the whole town which stocks it. We stock the whole range and it's so popular we can't keep up with the demand," he says.
While Jasdev was confident these low prices would ensure price-conscious customers came back to his store time and again, he also wanted to offer time-poor customers a reason to walk through the door.
Following advice from a family friend, he decided to incorporate a Subway franchise to the premises.
"It works hand-in-hand because customers spend money in the store when they come in for a Subway and vice versa," says Jasdev.
Subway's online staff training portal, meanwhile, has proved to be an especially useful tool as Jasdev looks to get all of his staff trained up.
"If I think one of my staff needs training in a certain area, I can assign them with one of the courses," he says.
The success of his Subway franchise was recently confirmed when Jasdev realised his business had been recommended as a Subway training store – something he sees as a massive boost for himself and his team.
As with the rest of the store, Subway also runs strong promotions to fit in with the rest of the business's identity.
"We recently had a Subway offer of £1.50 for a drink and a free Sub. That day we saw 412 transactions compared to around 150 on a normal day."
Alongside the Subway franchise (and in another nod to the current trend for food to go and ready-to-eat-and-drink products), he also offers Slush drinks on the counter which have proven very popular this summer.
Customer service is key
That customers can come to his store for great deals and fresh food has no doubt been a large part of Jasdev's instant success, but there's another reason why he thinks locals are choosing his business over the Tesco Express that lies just half a mile away from his door: customer service.
"I like my staff members to know customers' names and to go out of their way to help find the products they're after," he says.
He also looks to them for ideas on where to improve the store, putting a feedback notepad on the counter for comments to be jotted down – something which he says is "vital".
"We know around 60% of our customers. It's good fun and nice to feel like we're part of the community."
Visit my store