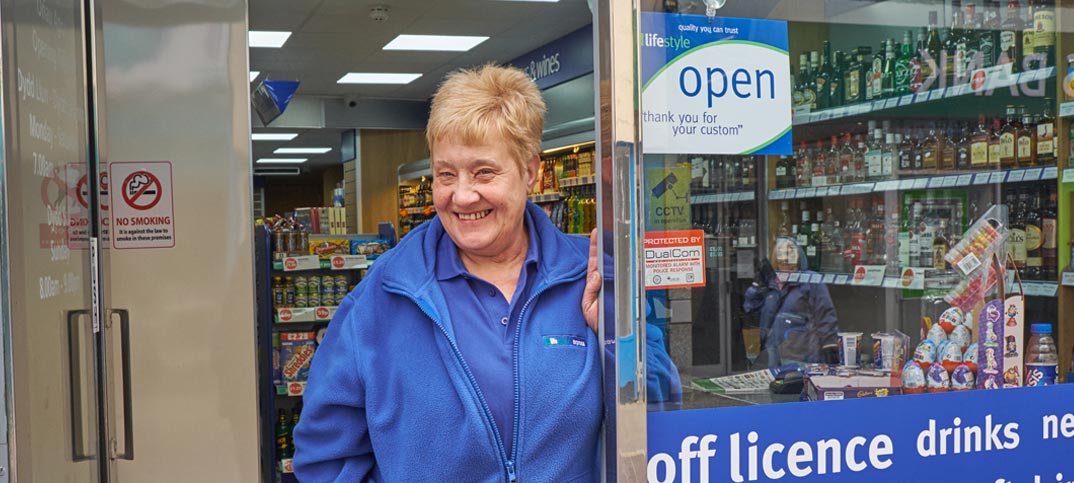 Some 50 years after helping her father run his corner shop, Kath Hitchin has opened her first convenience store at the age of 65.
Tim Murray
hears all about it
At a time of life when most people are thinking of retiring, Kath Hitchin has returned to her first love – retail, some 50 years after she started out working in a corner shop.
The dedicated retailer, now 65, is as passionate as ever about the independent trade and, with her K.A.T.H Lifestyle Express convenience store just opened in Caernarfon, Wales, she is back on the front line again.
After helping her father run his business as a 15-year-old back in the 1960s, Kath ran a number of her own businesses, including a cleaning service and a B&B, before taking up a job working at a local newsagents.
"They wouldn't listen to my advice so I started to think about opening my own shop. When one came on to the market close by I thought, 'why not?'.
However, Kath says she became "fed up" when her suggestions for improving the store fell on deaf ears.
After identifying a location, an old dry cleaners, Kath worked with Lifestyle Express to help her design the type of store she felt would better serve the needs of shoppers. This included adding a large focus on value-for-money lines, pricemarked products and a robust news and magazine section.
She says: "I knew the kind of things that people wanted. For example, newspapers aren't huge earners for us but shoppers are looking for special offers on them. We had one woman the other day who only came in for a paper and ended up spending £20.
"That's what a convenience store is – it's convenient for the shoppers, not the people running it."
Kath adds that her customers are very price-conscious, something that has influenced her decision to introduce a wealth of pricemarked branded goods and lines from Lifestyle's own label range.
"All my drinks, my biscuits, and even my spirits are pricemarked," she says. "Customers also like to have pricemarked cigarettes. My cigarette profit isn't high, but I can sell up to £5,000 worth of them a week. If you can get these people in to buy a pack, they'll look for other things as well."
Kath has also sought to appeal to local tastes by introducing a range of Welsh products, working with suppliers to add cakes, chutneys, jams and other goods.
Since opening in March, Kath says business at the store has been going exceedingly well, with sales growing by around £600 week by week.
She says: "All the locals were behind me. But in the first week, a lot of people didn't really know about me, so we put some advertising in the newspaper for local people, and it really helped."
She is now looking to capitalise on this with new additions to the store, such as a slush machine introduced four weeks ago, while Kath is also looking to bring in a Mr Whippy ice cream machine and a Lottery terminal.
She says: "We're also looking at more food to go, maybe doing hot food where my gondola is now. We've already started selling sandwiches and we want more of what people want."
When asked for the secret of her retailing success, Kath says customer service is the key to keeping customers coming back through the door.
"I don't like going to big supermarkets because they won't talk to you," she says. "With the customers here, we have a laugh together and an understanding. It's a very close-knit community.
"We've got that busy, we now need to employ another two members of staff. But I won't just take anyone, they need to be up to standard, which is very high here."
Despite being at the age when most are dreaming of putting their feet up, there's no sign of Kath Hitchin giving up yet. As she concludes: "I love it, but I do get tired – at my age, who wouldn't? But it's very rewarding and it's what I've always wanted to do."
Visit my store