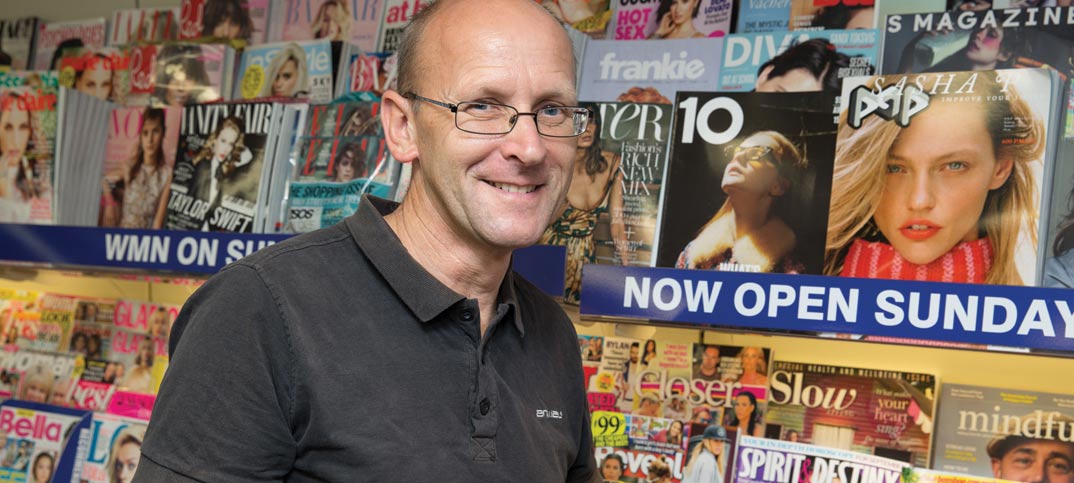 By specialising in magazines and keeping up to date with the latest trends, traditional newsagent Mark Ansell has taken full advantage of sales opportunities and grown his profits. And with his HND and sub-retailing also flourishing, he is confident about the future.
Tim Murray
reports
Minions, superheroes and all manner of costume characters are congregating outside Mark Ansell's Liskeard News store the day RN arrives in town.
It's not a welcoming committee, however, just part of a fun day organised by Liskeard's trading association aimed at attracting tourists during the holiday season.
The event provides Mark with an opportunity to showcase the specialist magazines range he has built up in Liskeard News, a 900sq ft traditional newsagent he has owned for the past nine years.
"We've built a big display of children's titles in the window to highlight magazines like Minecraft and Lego Ninjago," he says. "We're a year-round business rather than a seasonal one, but this should give us an uplift in magazine sales."
Magazines have been a key focus for Mark since he bought the store. His original intention was to build a business his sons could take over, but their rapidly developing sporting careers put paid to those plans and Mark, his wife and three staff now run the shop, which is open six and a half days a week.
Although many of the fixtures and fittings, particularly the impressive shelving that houses the wealth of magazines Mark stocks, were already in place, he has rebuilt much of the business from scratch.
The store excels in magazines and boasts a range of around 2,000 titles.
"When I started, I went for the specialist market," says Mark. "This is a very traditional newsagents so I have to offer something others don't do."
Mark's extensive range attracts people from all over Cornwall and even further afield, he says.
"A lot of customers can quite easily spend £30 or £40 on magazines," he says. "We had a customer spend £80 on them the other day."
The range has helped the store reach an annual turnover of more than £580,000, and recent trends such as adult colouring books have helped magazine sales grow by nearly 3% over the past few months.
"We've got just about every title – around 22 – and sometimes they are so popular they sell out straight away," he says.
One shots, likewise, are very successful. First and Second World War titles, Nikon's Photomasterclass series and titles such as Teach Yourself Lightroom, which sells for £19.99, are among Mark's bestsellers.
"iPad and iPhone one shots are popular too, because older customers are buying new phones and want to know how to use them. We're always putting new titles in the system. Five new titles came in this morning, and three of them are one shots."
Mark says browsing is crucial to the success of his store, so customers are allowed to take their time in this section.
"People might be here an hour but they might not buy anything. Another day, they might come in and spend £15."
HND is also a core part of the business. Mark won back newspaper rounds from a disinterested Co-op store nearby and now employs 12 deliverers and runs a van to make deliveries.
When I started, I went for the specialist market. This is a very traditional newsagents so I have to offer something others don't do
Mark also sub-retails to five other businesses, including a farm shop and a station."Newspapers and magazines are our core business. We're still building newspaper sales – last quarter, they were up 5%," he says.
"The turnover they make wouldn't cover their carriage charge so this is the only way to make newspapers sustainable for them."
Elsewhere in his store, Mark is gearing up to replace his selection of toys with a new range of greetings cards, which he plans to sell at mid-range prices to attract volume sales. A revamp of the till area is also about to take place.
Planning for upcoming legislation such as plain packaging and the National Living Wage has put paid to more ambitious plans for now, but Mark has confidence in his growing magazine business.
"If the content is there, people will pay for it. There's plenty of life in magazines yet."
Visit my store