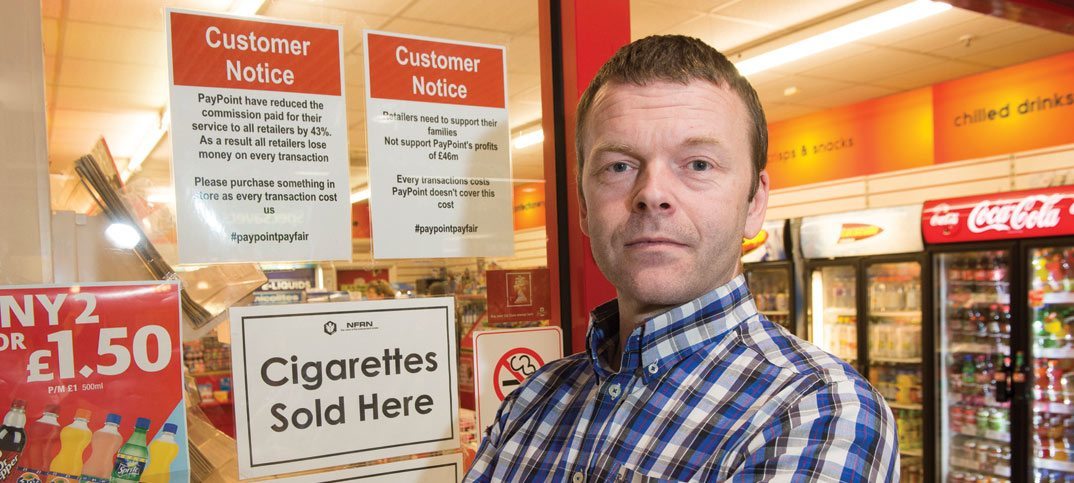 Over the past two months, Marcus Bergin has created a social media storm with his fight against PayPoint's commission caps.
Nicola Stewart
visited his CTN in Gloucester to see the business and meet the man behind the PayPoint Pay Fair campaign
When Gloucester retailer Marcus Bergin took over an ailing CTN last summer, he was looking forward to building a business that would support his family of six. Little did he know that less than a year later, he would create a social media storm with his protest against PayPoint's commission caps and cause close to 2,000 retailers and supporters to unite online.
SuperNews, he explains, is a traditional 750sq ft newsagent in a busy shopping centre. "The business wasn't doing well under the previous owners. There was hardly any stock on the shelves but I could see its potential," he says.
Marcus introduced a strong range of magazines, newspapers, confectionery, and other CTN bestsellers and put good customer service at the heart of the business.
"I wanted to reintroduce that old-fashioned CTN thing of friendly, talkative staff. I thought the shop should be a nice place to spend time in," he says.
He employed staff member Michelle Probert and focused on building relationships with customers. "We now have the same people coming in every day. The store just needed the right person behind the till."
This has helped Marcus develop one of the store's specialisms, partworks, and he now sells over 80 copies a week, many on regular shop saves.
"It comes back to having a friendly conversation and asking secondary questions," he says. "I have a customer who likes Marvel so I asked if he had seen the Doctor Who figurine collection. He hadn't, so I showed it to him, he liked it and I put an order in."
He has also built strong links with Smiths News and is therefore happy to order any title a customer asks for.
This too has helped him to launch a small HND service, delivering copies of the Racing Post and betting guides to local bookmakers and supplying newspapers to several hotels.
But the store has also faced some big challenges, not least being directly opposite a Poundland. Marcus has fought this by introducing 450 items at or below £1.
"I use the space in the centre for £1 pricemarked chocolate multipacks and that has been a big success. We sell about 40 a day," he says. "I also have 50p pick and mix bags right at the front and they draw a lot of people in."
His investment in customer service, availability and specialist services means the store now has around 600 customers a day, an average basket spend of £3 to £4 and is set to turn over £500,000 in its first year.
But while footfall has been growing, Marcus noticed early on that many customers only visited to use his PayPoint terminal. He quickly calculated that after bank charges, he was making a loss on payment transactions, and PayPoint's recently-announced commission caps escalated the problem.
I decided something had to be done, so I started fighting for myself and for all retailers
"I decided something had to be done, so I started fighting for myself and for all retailers," he says. His campaign – which has involved everything from in-store posters, the creation of the near-2,000 member PayPoint Pay Fair Facebook group and coverage in national newspapers such as the Times – ensued and has kept PayPoint's treatment of retailers firmly in the headlines.
Marcus has vowed not to back down until conditions are improved, but he says the campaign has also helped him identify ways to drive his own business forward.
His efforts to encourage customers – including PayPoint users – to increase their spend have prompted him to tailor his range to better suit his shoppers.
The next step, he adds, is to advertise what he is doing more effectively.
"The PayPoint campaign has shown me how powerful Facebook and Twitter can be, so I need to use them to promote my store."
Of the past 12 months, Marcus says: "I have worked hard to build this business back up and that's why I will always stand up against companies like PayPoint."
Visit my Store