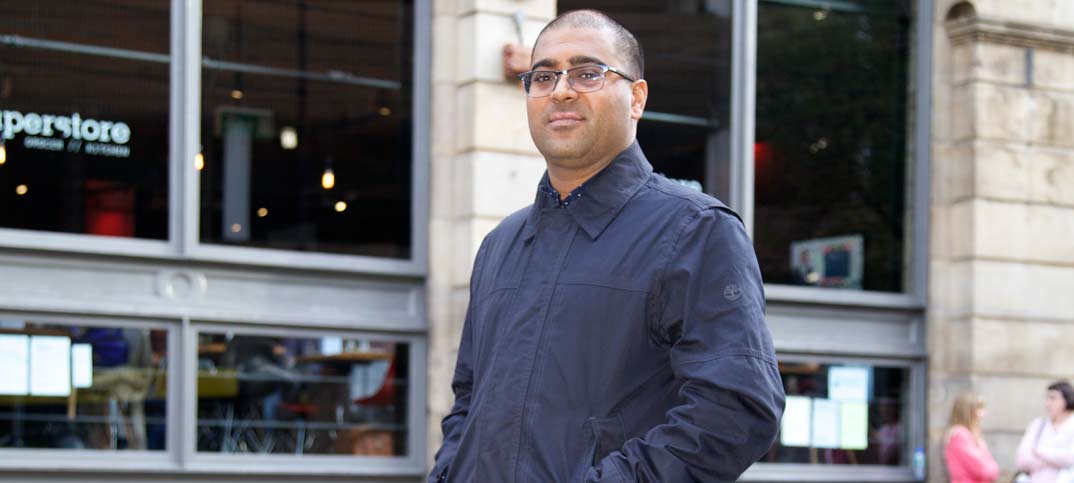 With one floor dedicated to an 'alcohol emporium' and another to a restaurant offering food and cocktails, Mital Morar's Manchester Superstore is catering to a different kind of customer. Steven Lambert reports
Nestled among the trendy bars and eateries in Manchester's Northern Quarter, Mital Morar's Superstore is not your typical convenience store.
Whether you want to grab lunch cooked by top class chefs in the restaurant above or pick up a rare bottle of gin in the 'alcohol emporium' below, Mital's business has been geared towards appealing to the constant stream of fashionable shoppers visiting the area.
It's a journey that started three years ago when Superstore opened its doors for the first time. Mital picks up the story: "At the time, the business was split into two storeys, with one floor a traditional shop offering groceries and the other our alcohol emporium, which was purely beers, wines and spirits.
"It worked fine but I felt that we weren't taking in enough sales, which is why we decided to open a restaurant."
This led to the creation of a kitchen area on the top floor of the business, which opened last December, while the convenience store and alcohol sections were combined and moved to the lower floor.
Customers can now take advantage of full breakfast, lunch and dinner menus, while also being able to choose from an extensive cocktail menu and wine list. The area can also be hired out for corporate events, says Mital.
He adds: "We already had a diverse range of people coming to shop with us and a lot of passing trade. They also come to the area because of the bars and restaurants here, so it made sense for us to go down this route as well."
As well as driving sales, the restaurant has drawn extra footfall to the 1,000sq ft store below. With a large amount of competition from a Tesco, Co‑op and other multiples nearby, Mital says his main focus has been developing his extensive range of specialist beers, wines and spirits to give him a point of difference.
"We could go down the traditional convenience store route and do more groceries and fruit and veg, but we already have plenty of stores here that are doing that already," he says.
"We have seen a real boom in people looking for different kinds of spirits or wines they have tried in a restaurant but can't find in a regular shop, which is where we come in."
The store has, therefore, become a treasure trove for shoppers looking to recreate bar drinks and cocktails at home.
Mital explains: "Gin has become really popular lately and we stock around 10 to 15 kinds, ranging from standard brands like Gordon's to lesser known names such as Death's Door and No. 209.
"Craft beer has also been really popular and we're sourcing plenty of products, such as India Pale Ales and pilsners, from local suppliers. We sometimes have people spending more than £100 at a time on craft beers alone.
We have seen a real boom in people looking for different kinds of spirits or wines
"While we're a bit more specialist, we still have to think about value. For example, while we do have a few expensive bottles of wine, our main volume from wine comes from bottles priced between £5 and £15. We're typically looking for margins of around 25% to 30% on alcohol."
Mital is also a big exponent of social media to promote his business, with a dedicated website showcasing food and drinks menus for the restaurant and what's on offer in the shop, while Facebook and Twitter also give him the chance to raise awareness of product promotions and deals.
While Mital also has two other stores under his belt, he says future plans involve him selling these and establishing a new shop in a rural part of Manchester.
"It'll be interesting as it'll be a completely different proposition to what we have here. I'm driven by trying new things and I have a passion for doing things a bit differently. It's what gets me out of bed in the morning."
Visit My Store