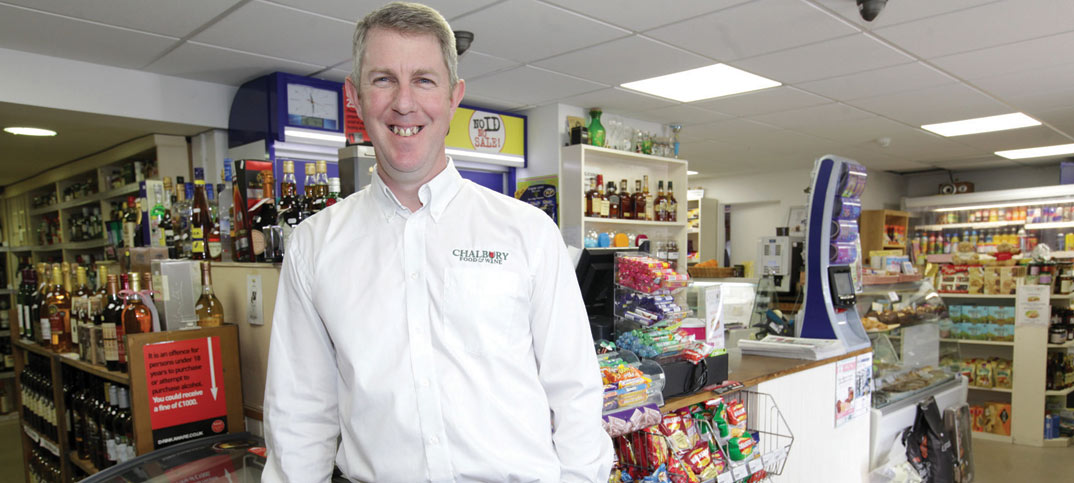 When Luke Mansell popped into his local shop a decade ago to buy a Mars bar, little did he know it would kickstart an exciting career running his own business.
Steven Lambert
reports
After working for a wealth of companies ranging from Tesco to estate agents, Luke Mansell decided to take the plunge and open his own independent retail business 10 years ago.
He says: "I've been working in retail and sales ever since I left school but by the time I was about to turn 30, I wanted the chance to work for myself. At the time, I'd popped into a local shop to buy a Mars bar and the owner told me he was closing down. I saw this as the opportunity I needed to set up my own business."
The result was the creation of Chalbury Food & Wine in Weymouth, Dorset; an off-licence offering eye-catching, year-round deals and a wide selection of national and locally-sourced beers and wines.
Luke says the decision to focus on alcohol came from wanting to stand out from the wealth of retail competition around him: "When we first opened we had a lot of convenience stores located just half a mile away down the road, so I wanted to offer something a bit different.
"The shop is located on a busy A-road, so we made it as colourful as we could with big point of sale so that passing trade would notice us. I also did direct leaflet drops and back-of-bus advertising to get the word out."
Luke adds that offering consistent promotions was also important for attracting early trade: "When you go to somewhere like Tesco, you might find a good deal but then it's gone two weeks later. We offer two-for-£10 and £11 deals on around 20 wines all year round, along with other permanent promotions, which has made our store a destination for customers."
The strategy paid off, with trade at the store growing 15% year on year for the first five years, according to Luke. This prompted him to add an extension on the business in 2009, growing floor space from 500sq ft to 900sq ft.
"I put in some investment and renewed the lease, and the extra space allowed me to include things like a seven metre Arneg fridge, where we stock chilled beer and wines. We also added a deli to offer customers over-the-counter cheese and olive bowls, added a small grocery section and now we also do scratchcards and have a free external ATM machine."
We offer two for £10 and £11 deals on around 20 wines all year round, along with other permanent promotions, which has made our store a destination for customers
While these additions have added further sales – with yearly turnover nearly trebling from £250,000 in 2004 to £700,000 today – Luke says alcohol remains the store's biggest selling point and represents 70% of his sales. And with a number of nearby Spars and a Co-op expanding recently, he has sought to further strengthen this area of his business by stocking more than 100 local ales, working with nearby producers such as Lyme Bay Brewery, and offering draught scrumpy cider.
"We order cider by the barrel and bottle it for customers in the store," says Luke. "It's one of the few things the original owner did that we've kept going and it continues to be popular with locals and holidaymakers."
Luke also has a second store, Chalbury Dorset Gifts & Hampers, which opened in 2012 and is located in the town centre. He says: "It's a different proposition, with 70% of it being a tourist shop, so we focus on offering more local goods and gift hampers."
And looking to the future of his flagship shop, Luke is hopeful that the recent addition of a bean-to-cup coffee machine, fresh bread and filled rolls and plans to update his trade website to enable online ordering for gift hampers will encourage further sales from morning commuters and during seasonal events. He says: "We've pretty much exhausted the space we've got in the shop, so we've had to be creative and fill the gaps where we're missing out on sales.
"For a small shop like ours, being different and having friendly staff who are engaged and interested in what shoppers have to say is what sets us apart."
Visit my Store