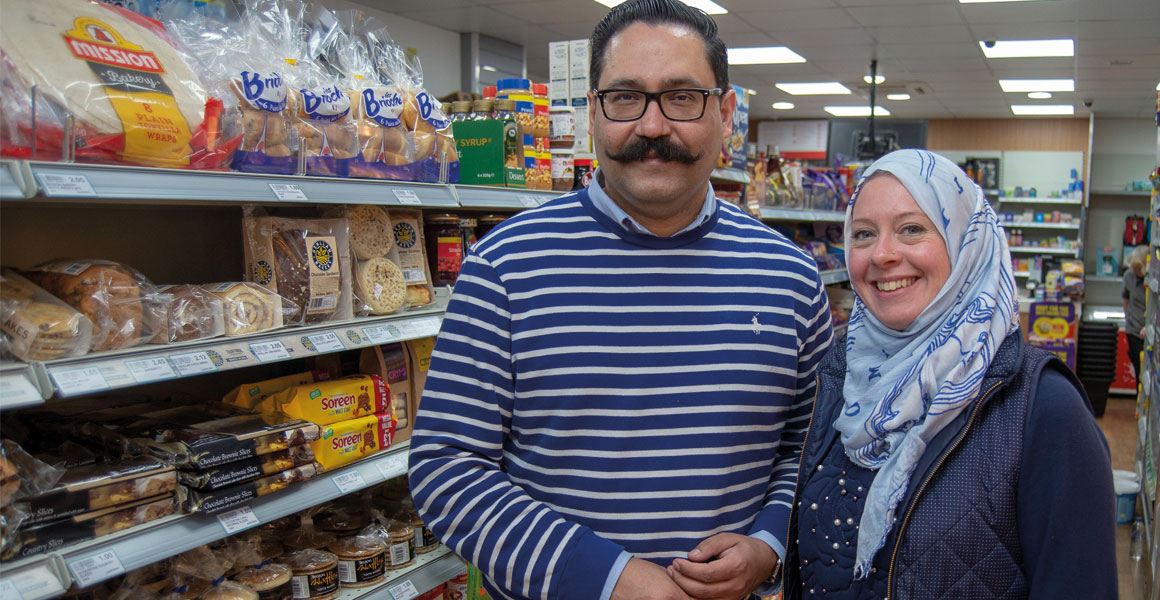 Holyhead Rd, Betws-y-Coed, North Wales, LL24 0AB
Three years after moving from London to a small town in Wales, Nadeem Abbasi is at the centre of the community with Londis Betws Y Coed. Toby Hill reports
Nadeem Abbasi was working as a consultant for McDonald's in London when he decided to quit his job and take over a store in Betws-y-Coed, a tourist town in the heart of Snowdonia National Park.
"I saw the property on Christie & Co with a beautiful, mountainous background," Nadeem recalls. "So I put in an offer immediately."
It was a big change, and not just in terms of moving from one of the world's biggest cities to the wilds of rural Wales.
"My family were the only Asians around," he says. "This is a Welsh-speaking community and people asked me if I was learning the language, but I couldn't even pronounce the name of the town."
Since arriving in 2016, Nadeem has become an integral part of the community. He gathers donations for the local school, helping them buy a fleet of computers for students. And his customers return the favour, helping shape his product range by recommending local products – such as a new local ale being pulled in the pub – that he then tries out on the shelves.
"There are some real characters in the village, and I can spend hours in the evening chatting over a cup of coffee," Nadeem adds.
While being part of the community matters a lot to Nadeem, the mainstay of his turnover comes from outsiders.
Tourists flood the town between March and November: both day-trippers from surrounding towns, who buy pasties and £1 bags of sweets, and visitors from farther afield. At the height of summer, his weekly turnover can quadruple compared to quieter periods.
"It's a small store, but it gets very busy during the tourist season," Nadeem says. "So, my main priority after taking over was to make it bigger."
The major change in the resulting refurbishment was to move the post office from its own section at the back and place it next to the tills. "Londis helped me a lot with reviewing the plans and now it's a much more efficient use of space," he says. "We used to hold 30,000 units of stock, now we have 45,000."
Nadeem used that extra space to maximise his range of local products, which are big sellers with tourists and locals alike. Dairy has proved an unexpected stalwart, particularly cheese from Cotswold Dairy and the Snowdonia Cheese Company. Local beers and spirits are also popular, including ales from nearby Conwy brewery, alongside Aber Falls gin and Penderyn whisky.
Another area he has focused on is food to go. He sells sandwiches sourced from local supplier Pick of the Pantry, as well as pasties from a bakery in Wrexham. Hot baps and burgers are supplied by Country Choice. This all sells well with locals, tourists and especially the workmen that fill the town during the low season, refurbishing the hotels and B&Bs.
"We have benches outside, and during the summer people can sit with their food and look out over the landscape," he says. "And there's a village green next to a beautiful old church for a picnic."
During the next year, Nadeem plans to deepen his involvement in the local area even further. The Welsh government is seeking to revitalise Wales's rural areas – which are gradually emptying as young people seek work and opportunities elsewhere – with projects and investment. One recipient of these funds – a local company called the Severn Wye Energy Agency – approached Nadeem to ask if he'd be interested in opening a local shop in the nearby village of Penmachno.
"Penmachno residents currently have to travel here for everything they need," Nadeem says. "We could provide the community with dry cleaning, a postal service, prescriptions, electricity payments – all kinds of services on top of just groceries."
As this suggests, after just three years, Nadeem and his family are thoroughly established in their new home.
"My two youngest daughters are already fluent in Welsh," Nadeem says, proudly.
Find my store