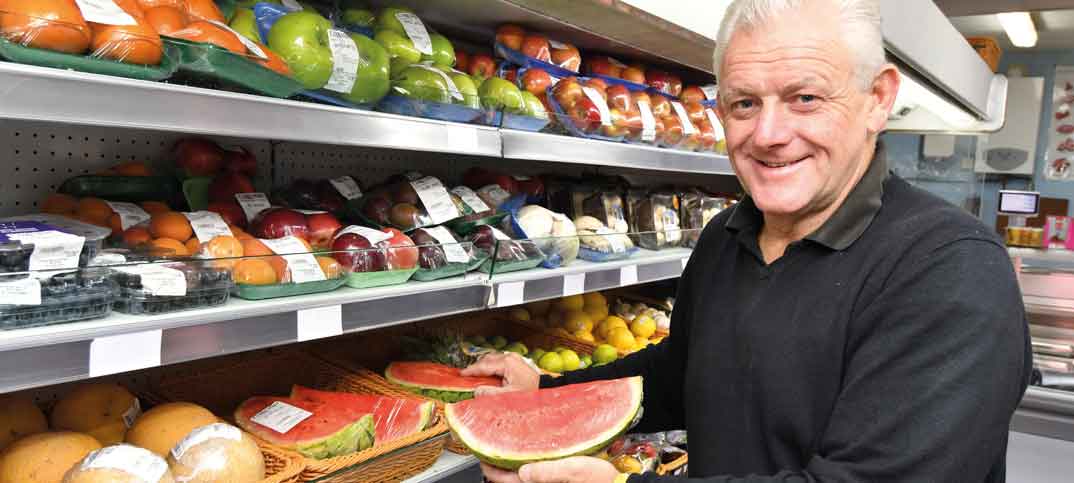 Keith Tomes' business has been in his family for nearly 100 years. With recent innovations including meat multibuys from his in-store butchery and fresh, store-made frozen ready meals, he is shoring the store up for decades more lucrative trading. Joe Cooper reports
The building that houses Costcutter & The Food Shop has been in the Tomes family for just short of 100 years.
It has come a long way since it was opened as a grocery store by Harry Tomes in 1908, and under the stewardship of his great-grandchildren Keith Tomes and Marie Smith its future looks assured.
Situated a mile inland from the picturesque Dorset seaside town of Swanage, trade is heavily seasonal. But Keith makes sure the business evolves constantly to attract custom all year round – whether that is through updating his unique butchery offer or undertaking regular refits to keep pace with today's customer trends.
The in-store butchery, first installed 40 years ago, has made the shop a destination and accounts almost 15% of turnover.
"This area has really grown," says Keith, who trained as a butcher, although he now employs three butchers to run that part of the business. "It used to be more traditional things such as pork chops but now we're making more sausages, burgers and minted lamb steaks for people to take home."
The family continually updates and invests in this offer, he adds.
"We've just started a deal offering enough meat for a week for two for £20. We also recently bought a vacuum-packing machine so we can sell meat at the front of the store after the butchers have gone home. We only use British meat and try to source as much as possible locally."
The butchery's reach extends beyond the fresh meat counter, too. Keith has started supplying meat to shops at local campsites.
With all the deal-making going on at the moment, I read RN to keep on top of legislation and the latest trends
The meat is also used in another of the store's more recent experiments – homemade frozen ready meals. Two and a half years ago, the flats above the shop were converted into a kitchen, creating an area for one of Keith's sons to make a mixture of lasagnes, curries, bakes, as well as cakes. These products bring in around £1,500 each week.
In addition to its butchery, the store also benefits from its location and strong promotions. Competition is limited to a Co-op and a Budgens in Swanage, with the nearest Sainsbury's 10 miles away.
"Costcutter's offers are more competitive than Budgens' and on a par with the Co-op," Keith says. "We send out a couple of the thousand leaflets with the deals on every three weeks."
While he needs to ensure the store is competitive on price, however, customers are also willing to pay a little more for local products, including beers and vegetables.
It is products like these, along with Keith's other fresh produce, which are flourishing and driving developments as shopper habits change.
"In our area, the nearest decent-sized Tesco is 20 miles away. We've noticed people will get online deliveries from there, then come to us for day-to-day goods and fresh produce. More people are coming in after work to get what they need for that evening," he says.
Keith estimates 20%-30% of his business will be food to go in the near future and is refitting to accommodate this trend.
The store underwent a mini refit last November, in which chest freezers were replaced with upright units. This made more room at the rear of the store for a food hall-type area housing fresh bread and vegetables alongside the butchers' counter. The changes added to the existing food to go offer, comprising a coffee machine, hot cabinet for sausage and bacon rolls and Country Choice bake-off.
Other changes have also freed up space for growth areas, including a switch from a traditional sub-post office format to a counter at the till run.
Not content to stand still, Keith has further plans for expansion in the next few months.
"Later in the year a three-metre chiller will be brought in to bring together the food to go," he says. "We've got to improve our food to go offering even more."
Visit my shop