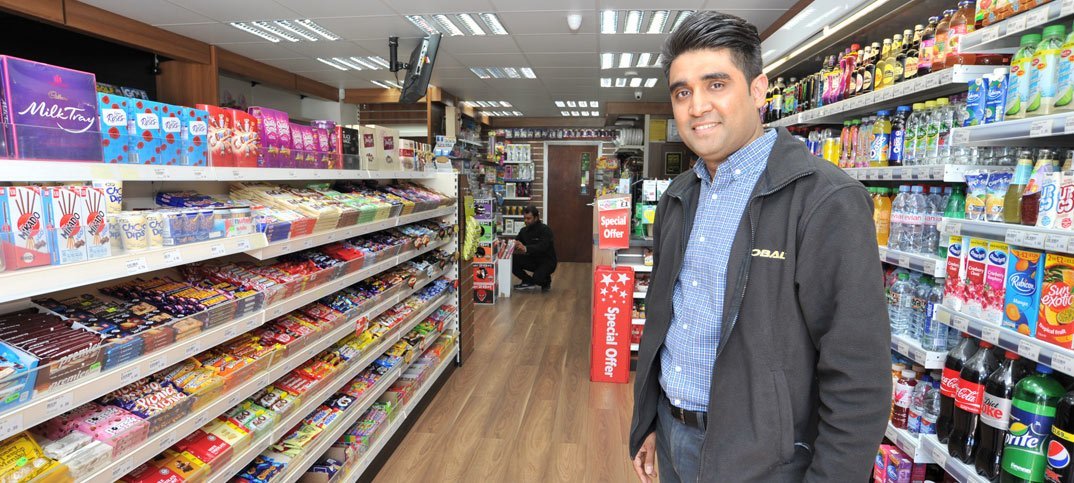 East London retailer Kay Patel has been in the business for as long as he can remember. But his passion for retail has not faded since working in the family newsagent in Stratford nearly 30 years ago.
Gurpreet Samrai
reports
When the owner of a newsagent five doors down from Kay Patel's east London convenience store decided to sell up and retire he saw it as the perfect opportunity to eliminate the threat of competition and go back to his roots.
What started out as a "pet project" led to him investing £25,000 to turn the "dilapidated" shop into "a real CTN again", adding to his ever-growing business ventures which include two more Global News newsagents in Stratford, two Global Food & Wine convenience stores, with another in the pipeline, a fireworks shop and a café. He is also hoping to add an Indian restaurant to his empire.
The 450sq ft Global News in Wanstead, which now has an average basket spend of £3, has seen turnover increase by 20% since its refurbishment. Its services range from home news delivery and Western Union to greeting cards, e-cigarettes and a large sweets section.
"Before I bought it, when you walked in it felt like you were walking into the 1970s," Kay says. "We've refurbished it from the bottom up so nothing in here is old.
"We have introduced some new lines such as stationery and Western Union, created additional impulse purchase areas, and changed the flow of the shop. Before the refurbishment you could only walk in one way so people wouldn't go around the other side, but now it really flows. We are trying to get our customers to use the whole of the shop rather than leaving areas cold."
Kay says the store has been designed to complement his 1,000sq ft Global Food & Wine convenience store metres away, rather than compete with it.
"We never had the space in the convenience store to offer a true CTN range with kids' sweets and more stationery even though there was demand for it," he says. "We had to balance that against space for alcohol and other profitable lines so this was the perfect opportunity.
"This is an affluent area with a lot of older customers who like the look and feel of a real newsagent, which this area lacked, so we did it partly because we were curious if a true newsagent would still work in this climate and also for the benefit of the community."
Kay's family have been in the business for nearly 40 years, since his father bought his first newsagent in Stratford, which was shortly followed by a nearby grocery store.
"I grew up in this environment so I know it, I live and breathe retail," he says. "I like products and have an interest in how they're made, where they come from, brands and who owns them.
"Store layout is also a passion of mine and I have designed all of my stores. I have a certain way I think a store should look so they are really tailored to my needs."
I grew up in this environment so I know it, I live and breathe retail. I like products and have an interest in how they're made, where they come from, brands and who owns them
All of Kay's stores are independent, Best-one members. He says they are "customer-focused" and offer competitive prices, citing one of their main strengths as the many promotions on offer.
"Our customers are very important to us," he says. "My staff know all our regular customers and look after them.
"The stores are all very presentable and tidy, and our prices are very keen. If we buy from Best-one, for example, a lot of our prices are below the RRP they set for us because we understand that, even though this is an affluent area, a lot of people are on low budgets. We also offer a lot of promotions, any we can get we will run, as well as some of our own."
Kay was named an Independent News Retailer of the Year finalist in the NFRN's awards last year. He says he entered following a nudge from his local NFRN representative, who has supported him over the years.
"When I've had issues with wholesalers and suppliers I have given them a call and they have resolved a few issues for us. They have also given me ranging advice for our magazines and newspapers and really helped with going dark."
Visit my Store