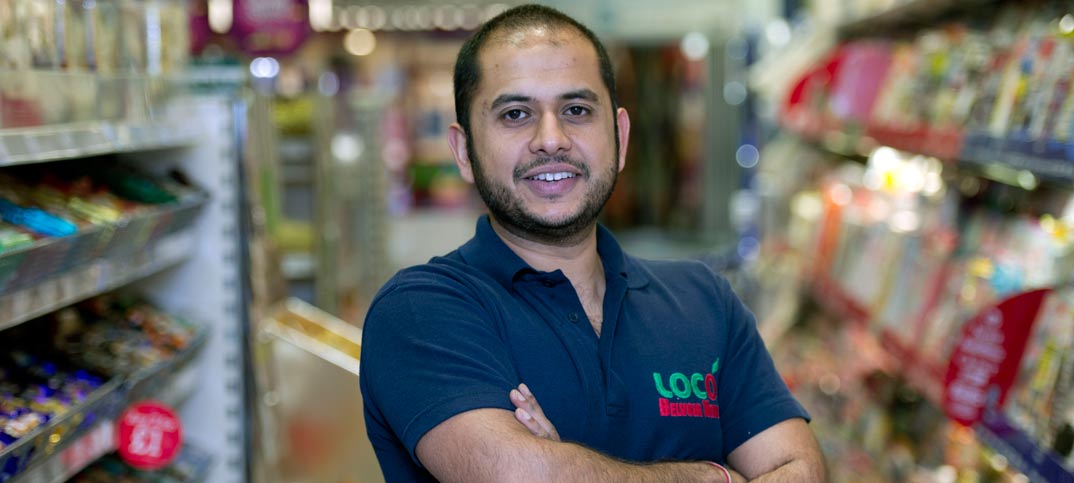 Kamal Sisodia has had to work hard to create a point of difference against a tide of discounters and supermarkets. Now his distress purchase-led store and extensive magazine range has helped him win over more customers.
Steven Lambert
reports
With his shop located in the busy Belvoir shopping centre in Coalville, Leicestershire-based retailer Kamal Sisodia faces a daily battle to secure a steady stream of footfall and sales against the wealth of supermarkets and discount stores around him.
But the owner of Belvoir News Loco says paying close attention to the pricing and strategies of his competition has enabled him to grow turnover and keep a constant stream of customers coming in.
Kamal says: "We've got a Morrisons close to us, as well as an Asda, Home Bargains and other discounters, so it is a challenge.
"With that in mind, it's important for us to find out what the competition is doing so we can counter this in our store."
Since taking over the 950sq ft business four years ago, Kamal has turned what was formally a traditional CTN into a convenience store focused on top-up shopping. He says the changes have led to weekly turnover growing from £15,000 to £20,000.
"When I started we had a complete refit," says Kamal. "I took out greetings cards and added things like sandwiches, more grocery lines and alcohol.
"I learnt quickly that we weren't going to be big on things like food to go, because we have Greggs and other places on our doorstep. Also, because we're in the shopping centre, many people want to get in and out quickly. That's why we concentrate on offering emergency purchases at good prices."
Kamal says joining Nisa's Loco fascia has helped him to offer more multiple-beating promotions and show he is offering good value for money.
"We can't beat the supermarkets on price every time, but when we do have a good offer on, such as when we had bags of sugar for 50p, we'll create promotional stacks and add secondary sites around the store.
"Shoppers here are really savvy, especially when it comes to price. But that plays into our hands in some ways because if we can offer them the bargains they're looking for, more often than not they'll pick up a product on impulse."
Big seasonal events such as Easter and Christmas also present further impulse sales opportunities, especially around two of the store's best-selling categories – premium chocolate and alcohol.
Kamal says: "We're quite well known for our premium chocolate, something that the supermarkets aren't as big on.
"We have a good Ferrero and Lindt range, which sell well around Easter and Christmas. We'll promote these at competitive prices and get a 25% margin from them.
"We also have a large range of spirits in fractional sizes and, when we're getting close to Christmas, we always make sure we build up our range of malt whiskies to offer a point of difference to customers."
While Kamal has endeavoured to modernise his store, he has also maintained a number of profitable services introduced by the previous owners. This includes an impressive magazine section, which includes more than 900 titles.
I learnt quickly that we weren't going to be big on things like food to go, because we have Greggs and other places on our doorstep
Kamal says: "Our bestsellers are TV magazines, women's weeklies and craft titles such as knitting and cross-stitching.
"We also do well with farming and tractor titles and plane and train magazines. We have around 30 shop saves at the moment and quite a few partwork collectors."
He adds that he has worked with News UK and the Leicester Mercury to promote national and local newspapers using PoS and merchandising materials, which has helped him to maintain more than 500 customers signed up to his HND service.
With his business going from strength to strength, Kamal says he is now eyeing up new ways to attract even more shoppers.
"We recently had a nearby dry cleaners close so I've been thinking about introducing a service in the shop. I also want to expand our grocery range.
"There are still plenty of sales opportunities out there."
Visit my Store