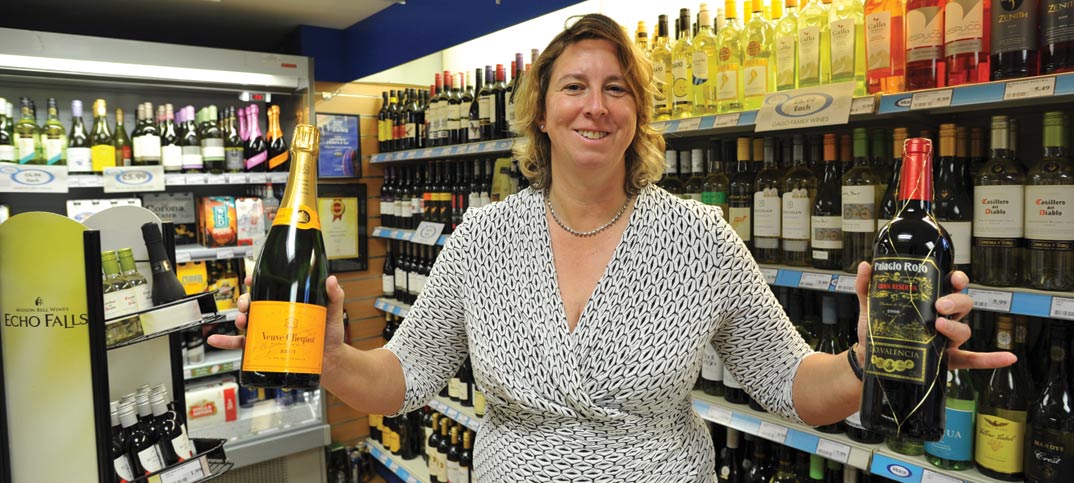 By becoming a specialist retailer and focusing on niche products, such as craft beer, wine and locally-sourced produce, Josie Chamberlin has created a destination store. Now, the Hitchin retailer has her sights set on creating more space in which to introduce even more services
.
Steven Lambert
reports
On a high street awash with retailers, Josie Chamberlin wanted to make her business stand out and decided to give her customers something beyond the usual groceries sold by nearby supermarkets.
This led her to expand the number of artisan and locally-sourced products in her store's delicatessen area and to widen her range of specialist beers and wines.
The move has yielded positive results, with average basket spend increasing by 4% to £5.80 over the past year at her Mace J Robarts & Son Ltd store, located in the village of Codicote in Hitchin.
Josie says: "We're on a high street with a number of convenience stores and supermarkets around us, so we've tried to become more of a specialist retailer, offering a wider range of services that other shops don't."
The business has become a haven for food and drink connoisseurs. Josie says white wine is one of the store's biggest sellers, with some customers spending up to £25 a bottle.
"I have an interest in wine and I've done various tastings and courses to learn more about it. So when I took over the shop, this was an area that I wanted to develop.
"We've also started stocking more craft and microbrewery beers, which are now quite popular. We've been offering deals on these such as three for £5 to grow sales."
Josie says her sale-and-return policy on alcohol for functions and events has been a big draw to this side of her business.
"We supply alcohol for events at the local tennis club and we're looking to do something similar at the golf club. We also hire out glassware for parties and functions, which is something that keeps shoppers coming back to us."
Josie adds that growing interest in her alcohol section has also had a knock-on effect on sales from her deli.
"We have a great range of locally-sourced products, such as Broad Oak sausages, and we also have local bacon, cheese and cooked meat suppliers.
We supply alcohol for events at the local tennis club and we're also looking to do something similar at the golf club. We also hire out glassware for parties and functions
"We often have cheese and cooked meat tastings in store, which we now matching with alcohol. Our customers are becoming better informed about alcohol and food and some are now looking to trade up."
Josie is looking to take this further by creating a moveable shelving unit that can be used for wine tastings.
She says: "We've had private wine tastings in the past for various clubs but we want to expand this and include more shoppers."
While supporting a large mix of passing and local trade in-store, Josie has taken her generosity further with her long-running backing of the Macmillan Cancer Support charity, and has recently become chair of her local Macmillan committee.
She says: "We've held coffee mornings and various other events, and now we're looking to organise a fundraising ball. With the committee, we've helped to raise more £50,000, which has been used to open a Macmillan Cancer centre."
Elsewhere, Josie says she has also widened her range of fresh and hot food in response to growing demand from shoppers.
"We've reduced space on general groceries to make more room for fruit and veg and ready meals. We've also taken on more of the Independent range from Costcutter, which is good quality and shows we're offering good value to shoppers."
She is now looking to create more space for these products by moving her two post office counters into a Post Office Local format next year.
It will form part of larger plans to celebrate the store's 175th anniversary in 2016. Josie explains: "The shop dates back to 1841 and I'm the fifth generation of the Robart family to run it.
"We're planning to have a big celebration next year and, before then, we'll have a store refit and add new flooring and lighting."
With the work being put into the store by Josie and her team, the business is set to toast many more anniversaries.
Visit my Store