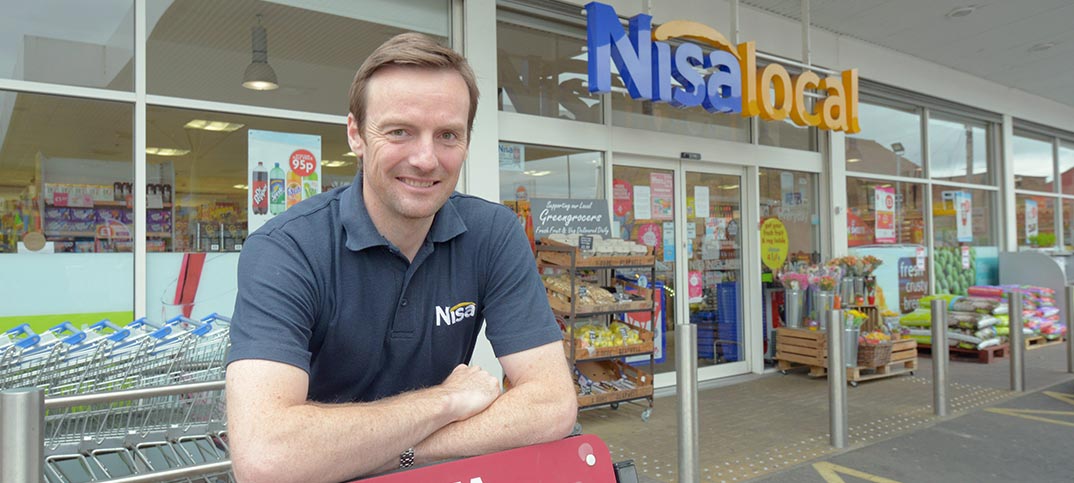 Thriving is perhaps the only way to sum up the last five years for Stockton-on-Tees retailer John Stevenson. Investing £1m, he transformed his father's business into a Nisa store, and following the locally-sourced, fresh and chilled and food to go trends, business has never been better.
Toby Hill
finds out more

It's been five years since John Stevenson revamped his Dad's old forecourt business, investing £1m to establish a 3,000sq ft Nisa store selling groceries, alcohol, news, and a small selection of food to go.
Since then, success has meant keeping up with the consumer trends that are transforming the sector, making sure they are reflected in his store through continual modernisation and updates.
Two years ago, growing preference for locally-sourced goods led John to call on a nearby florist to replace his old forecourt supplier.
"We present flowers nicely and highlight that they're locally-sourced," he says. "In the last 12 months we've tripled our sales. Between Easter and Mother's Day we sold £1,800 – that's increased from £400."
Similarly, shifting consumer tastes towards fresher and healthier diets have shaken up John's fruit, veg and chilled selection.
"People are more into cooking from scratch, and we're seeing lots of new products to cater for that," he says. "Our meat selection has been growing rapidly. Pork loin steaks are really popular."
"In the UK we really need to be pushing food to go. My idea is
that 20% of the store will be dedicated to this"
Geography prevents him doing all that he'd like with his fruit and veg supply. "It's not easy to get locally-sourced produce in this part of the country," he says. But even in this limited context he's seeking out ways to innovate, planning to place individual apples and bananas alongside confectionery. "They can be an impulse buy and also create a healthy in-store ambience," he says.
John is also capitalising on online buying habits with his Hermes parcel collection and delivery service. "We've been at it 18 months and it's great – it gives us a really good margin, between £16 and £20 a day, and brings new people into the store too. Rather than waiting at home for parcels to be delivered, they can just drop round after work and grab a bottle of wine while they're at it."
The most expensive recent changes have involved investment in food to go: two years ago, John spent £35,000 on new equipment, including turbo ovens worth £7,000. "In the UK we really need to be pushing food to go," he says. "My idea is that 20% of the store will be dedicated to this."
As well as hot breakfasts and wraps, he sells a range of pizzas. "We brought them in so we have some kind of evening offer. Otherwise, you end up with dead space after 2pm."
John's breakfasts have long been a huge hit and, again responding to evolving tastes, he is now looking at bringing in some healthier options, such as a range of granola, yoghurts and fresh fruit.
But, despite all these updates, much in the store remains unchanged. "Our cooked breakfast – bacon, sausage, hash brown, back pudding, eggs, any combination for £2.99 – is still immensely popular. Loads of people come in to pick it up," says John.
And, just like the evergreen popularity of an English breakfast, John argues that the basics of running a retail store remain consistent, even as trends and technology evolve.
"There are new trends, but the most important things haven't changed," he says. "Customer service is so important, and training staff to be polite and helpful is the very core of a business. Then the layout of the store is vital too, for example, creating a perception of value by placing cheap items such as crisps, chocolate, biscuits, snacks in displays by the doors. Getting involved with fairs and summer schools – selling raffle tickets, making donations – and just being part of the local community is vital too. These are just as important now as they were when I began working here in 1999. I'm sure it was the same when my dad started the business in 1985."
Still, even if the foundations might stay the same, John's restless passion for retail means he is committed to further innovation across the rest of his store.
"I'm constantly thinking about the store – there's always something to improve. That's never going to change."
Visit My Store