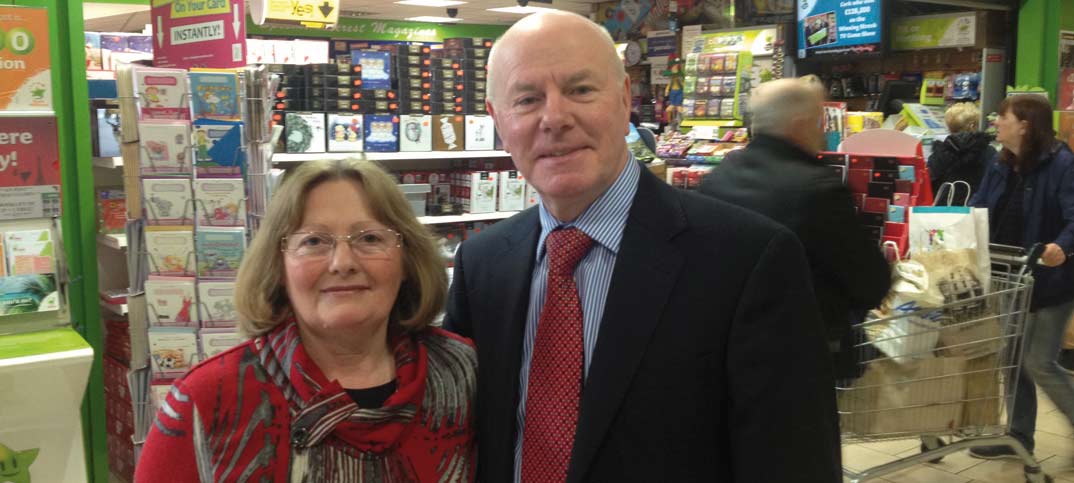 By specialising in greetings cards, Dublin retailer Joe Sweeney has turned his store into a destination for shoppers of all ages. Add to this his expert knowledge and diverse range and success was always on the cards. Ed Chadwick reports
If you're going to specialise in a category, make sure you have a range that marks you out from your competitors and become an expert on the products.
That's the advice of Joe Sweeney and – after spending an hour watching him at work in his Dublin store – it's clear that he adheres to his own mantra.
Newscentre has stayed true to its CTN roots since opening in 2001, but the focus has shifted away slightly from news and magazines to greetings cards.
There are still more glossies here than in your average store, spread across five separate bays and well merchandised to help drive impulse sales.
But in the past few years, the store has become a destination for greetings cards shoppers of all ages, looking for the mundane to the obscure.
Every occasion is catered for and cards can be personalised thanks to in-store printing.
Cards now represent 10% of the turnover in Joe's store – but thanks to the high margins, a much greater share of profit.
In the run-up to Christmas, the store is turning over €2,500 a day on cards alone.
The range includes festive cards bearing the 100 most popular names in Ireland and tiny town and villages for expats living abroad.
Any customer wanting help is directed instantly to the right section of the huge display.
"We also find we get asked as for a lot of advice," says Joe. "People want to buy the right card and by knowing the products, we can offer great service."
There are plenty of other reasons they keep coming back.
"A lot of my customers tell me they'd have to go into the centre of Dublin to see a range even half as good as this," adds Joe.
"I had a woman come in the other day and ask me if we had Christmas cards for a hairdresser. I work very closely with one of my suppliers and I will think about asking them to produce some for me next year."
Other small touches like handing out Newscentre-branded pens to card customers help to engender loyalty.
Based in the busy Donaghmede Shopping Centre, the shop has guaranteed footfall which means turnover of €25,000 a week on tobacco and the biggest lottery sales of any outlet in Ireland.
So big, in fact, that Newscentre is one of a handful of stores which boasts two terminals. Four staff are permanently on duty to man the busy tills and help customers looking for advice.
The shopping centre's anchor tenant is a branch of grocer and department store Dunnes.
While it competes in some areas like news and magazines, Joe has enough experience to make the most of the custom that it brings directly to his shop.
"It only stocks the top 100 magazine titles and we know we can win every time on customer service," he says.
A lot of my customers tell me that they'd have to go into the centre of Dublin to see a range even half as good as this
Joe's retail career started more than 40 years ago when he began Irish supermarket chain H Williams in 1972, where he learned the ropes of grocery.
Branching out on his own, he owned Centra and Supervalu stores before opening Newscentre with wife Margaret.
Two of the couple's sons now work in the busy store, each taking on an area of specialisation. Settling on a model that works doesn't mean Joe has stopped looking for new revenue streams.
He's recently added a section carrying Games Workshop products to the store and benefits from 35% margins and SoR.
"It's a niche range, but people are prepared to travel and sales are definitely picking up," he says.
Joe balances running the store with playing an active role in NFRN Ireland, having recently served as district president.
During his year in office, he helped to raise the political profile of the federation, giving evidence to a parliamentary committee about the effect of cigarette smuggling.
"Ireland is a hard place to do business so I want to help other retailers where I can," he says.
Visit my store