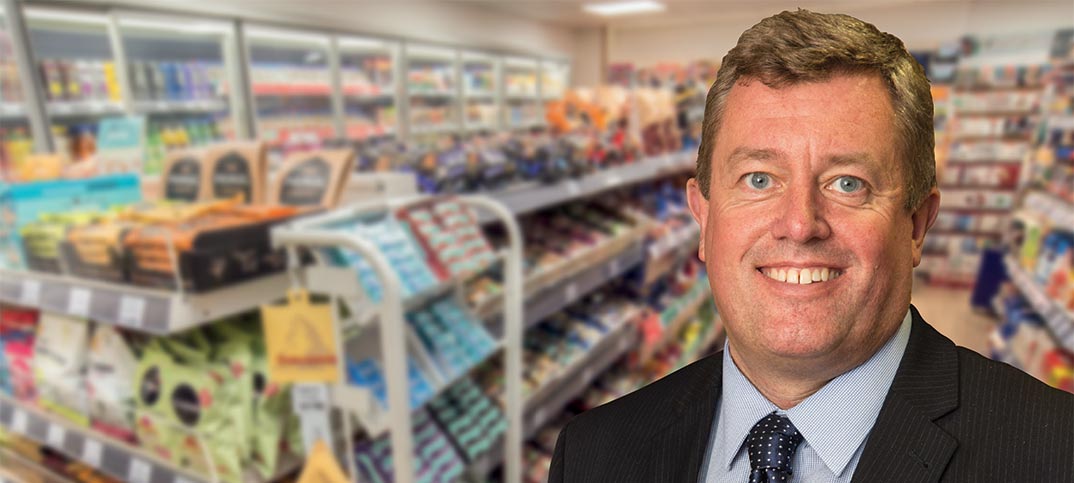 18 months. That's all it took Jonathan James to go from owning a few stores to overseeing the management of more than a hundred. He tells RN about how he reached his position, and how other retailers can grow their own empires. Tom Gockelen-Kozlowski reports
Matt Hutchinson has journeyed from working eight-hour shifts on Saturdays in a Sheffield newsagents to becoming a trouble-shooting store manager for one of the UK's fastest-growing retail groups.
"My job involves a lot of merchandising and work on general store standards after a refurbishment, as well as offering support afterwards," he says of his role at James Convenience Retail. "Some of the stores I work with previously lacked investment. When you've got a newly-refurbished shop it's about getting staff to run it the way we need them to."
Matt is giving RN a tour around a "barely 500sq ft" store in Glenfield Hospital in Leicester, where he has been seconded for the past six weeks.
The store, formerly a traditional newsagent, has been transformed into a modern convenience store with an extensive healthier range, including protein snacks, fresh sandwiches, fruit and vegetables.
While much of its layout and management mirrors that in other c-stores, there are elements of running a shop in a hospital which make it unlike any other, says Matt.
"We take a trolley round the wards once a day. Patients come in in such a rush, so we cater for them by stocking toothpaste, toothbrushes and razors. They can be settling in for a long stay, or their families will be visiting and need bits. Then there are the doctors and nurses who work massively long shifts. They need a caffeine boost."
Matt says this job has created many opportunities for promotion and to increase his skills.
"I started on a Saturday afternoon contract in 2007 in a store in Meadowhall in Sheffield," he says. "A supervisor position came up and I got it, then assistant manager, then manager, then they came to me with this job."
You can work your way up through the ranks to be whoever you want to be. We've got team members in head office who came up through the stores and there's no better way of learning
The remarkable thing about Matt's story is that it ties so neatly into that of his new boss, Jonathan James, who took on the Glenfield Hospital site as part of his acquisition of the 77-store Rippleglen estate in March.
His is one of the most spectacular retailing success stories of recent times. The former Association of Convenience Stores chairman and Budgens retailer has gone from owning four forecourts and two supermarket sites to overseeing the management of 110 franchised convenience stores in less than two years.
"It's been a rollercoaster and extremely busy," he says. "It's been quite staggering because alongside that, through my construction business James Construction and Development Limited, I'm in the process of developing a new-to-industry petrol station that I'm leasing to BP."
Jonathan says his original aim was to get more involved in the operational side of retailing, but he was also keen to develop standalone convenience stores.
"I'm quite well-known within the industry and was introduced to Diana Hunter at Conviviality. I had been keeping an eye on Bargain Booze for some time and was really interested in what it could offer," he says. "It seems to have a real point of difference, and I like the alcohol-led convenience model."
When the opportunity arose, therefore, Jonathan pounced.
"Diana told me there was a plan for an acquisition and asked if I would be interested. That's how we bought GT News."
That was in April 2015, and Jonathan took over 36 stores on behalf of Conviviality as part of a 10-year agreement. James Convenience Retail was born. Then came further acquisition.
"When I took over GT News, their chief executive Mark Titterton, made me aware that Rippleglen may be up for sale. We approached Mike Colley of Rippleglen in July 2015 to open discussions with him, and bought the group in March."
The good news for other retailers is that Jonathan doesn't believe his story has to be unique.
"I've grown to 100 stores in 18 months and we're very acquisitive now, so it can be done. We've got an offer our customers like, which is extremely competitive," he says.
The first step to such success, he says, is having great colleagues – from in-store to the boardroom.
"It's completely about your team. I'm extremely lucky that the two teams I inherited have been superb. They've allowed us to work on the business, not in the business, which is half the battle.
"Internally, we all play to our strengths. Between myself, my chief executive and my chief finance officer, we all have the skills we need. We pool them to make it work.
In this model, Jonathan is able to do what he does best – seek out great ideas and share best practice. "I tend to be really up to speed with what's going on in the industry. I'm out there looking at opportunities, which I guess is the definition of an entrepreneur."
These ideas don't always need to be dramatic, he says, pointing to a recent study tour in Berlin where he saw an innovative way of positioning tongs on a fresh bakery counter that helped ensure the fixture was hygienic.
He's also able to keep up with what's going on across the estate of stores – a key element in his mission to ensure the "family feel" of the business remains.
"We visited every shop before we bought GT News and Rippleglen. We also have company meetings and I make sure I'm at every one I can be."
With 1,000 employees, retaining this intimacy and a sense of a single company-wide community is more challenging than ever – but Matt Hutchinson's story is representative of how Jonathan wants his employees – and his business's culture – to develop.
"We say to staff 'we don't offer a job, we offer a career'. You can work your way up through the ranks to be whoever you want to be. We've got team members in head office who came up through the stores and there's no better way of learning."
After visiting the Glenfields Hospital store, RN sees another of Jonathan's teams in action at another former Rippleglen store in the Leicestershire town of Rothley. Refurbished just one week previously, the business is now a Select Convenience store and boasts a new, extensive alcohol range.
It's another store Jonathan is particularly proud of.
"It was very much a CTN, with an excellent home news delivery service, but desperately in need of modernisation.
"It's now got the most amazing alcohol section – you'll never ever see a spirits section like that in an independently-owned convenience store," he says.
Individual touches such as the "James Sweet Shop" section point to effective head office management, but the cleanliness and tidiness of the store has more to do with the store team. Speaking to them, it becomes striking how far a good business culture can go to motivate and bring together colleagues.
"We've all mucked in and kept the store open through the changes," says Lynne Piggott, a supervisor who has worked at the store for a decade. "There's so much enthusiasm it rubs off on you."
It's not difficult to imagine that, in this store and others newly joined to Jonathan's retail empire, there are many more staff who, coupled with a strong offer to work with, have the potential to secure the company's ongoing success. It's a set-up from which any retailer can benefit.
"If you've got an offer people like and if your service is good, people will keep coming back – whether you've got one shop or 100 shops," says Jonathan.
Visit My Store