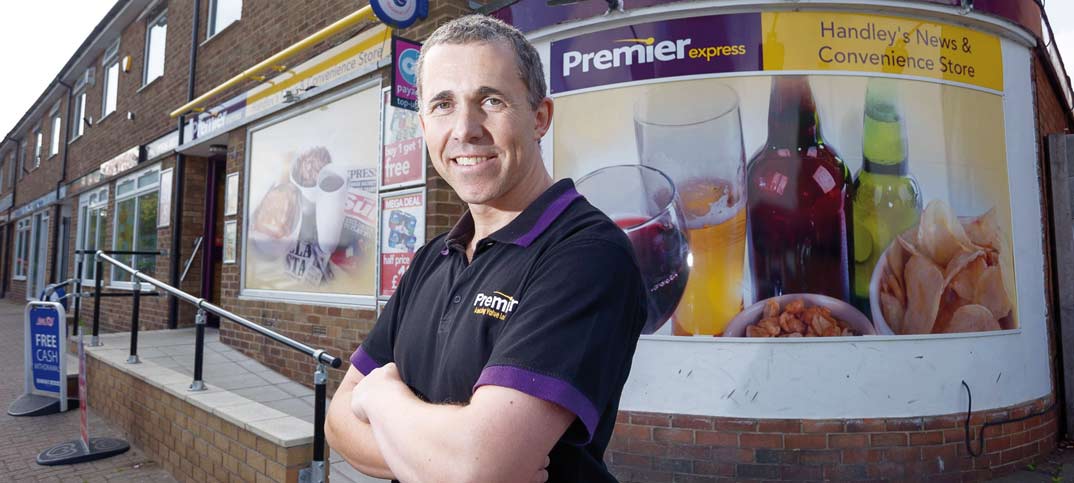 For 31 years Ian Handley's Northwich CTN catered for the needs of locals. However, four years ago he decided to take the plunge and expand into convenience. As Steven Lambert reports, he hasn't looked back since
Consider the situation – you're a traditional newsagent with a strong heritage but want to modernise your business.
However, you don't want to lose your loyal customers by neglecting long-standing core categories. This was the conundrum facing Ian Handley as he considered making changes to his family's store, which has been serving the residents of Northwich, Cheshire, for the past 35 years.
The solution? To offer the best of both worlds with a combination of convenience and CTN services, which has led to his weekly turnover nearly doubling in a year.
Ian says: "When I took over the business nine years ago, we were still a traditional newsagents doing sweets, papers and tobacco. Then, about four years ago, we had a refit to add a few extra fittings and help improve the look of the shop. But I felt we could do even more with it."
This led to a series of rapid changes over the next few years. Firstly, Ian worked with the NFRN's Model Shop team to build an extension to the business, growing total floor space from 500sq ft to 900sq ft. Secondly, the retailer joined Booker's Premier Express symbol, giving him access to a larger range of promotions and products.
He says: "We must have spent around £30,000 on the last refit – £12,000 for the fittings and £18,000 for construction. We had a few issues with the building works initially but the Model Shop team were brilliant."
Ian explains that his new "L-shaped" store allows him to continue running his newsagent operations at the front, while providing space for grocery lines at the rear.
"We now have an alcohol licence and a 3.75 metre chiller filled with beer and wine. We're also stocking a range of real ales from a local microbrewery, Blakemere, which are popular with customers."
Ian has also utilised the extra space to introduce innovations such as a slush machine, something which has proven to be a hit with schoolchildren and even older customers since being introduced in May.
He says: "The machine cost us £1,468, and within six weeks of installing it we'd made our money back."
And the addition of sausage rolls, croissants and other food to go goods from Cuisine de France has also been a popular choice across the board: "I've used Facebook to let people know when the sausage rolls are being cooked, and they have responded and popped into the shop to pick some up."
With a largely elderly population and the majority of trade coming from local shoppers, Ian has always made it his mission to make his customers' needs his number one priority – whether it's installing a disabled access ramp at the front of the shop, managing nine newspaper delivery rounds, or installing a free cash machine.
I've used Facebook to let people know when the sausage rolls are being cooked, and they have responded and popped into the shop to pick some up.
He adds: "We are still doing weighout sweets by the front counter and we have been working with Frontline to improve our news and magazine display.
"We also have a board where we have posters and notices about upcoming local events, which helps to keep us at the centre of the community.
"We're very big on customer service and one of our shop assistants, Emma, is currently doing her NVQs in business management."
Since the extension and the changes, Ian says turnover has grown from £9,000 a week to £16,000, with average basket spend also rising from around £3.20 to more than £4.
"A lot of customers who had previously just come in for a paper and a pack of cigarettes are now coming in and picking up baskets for a full shop. I'm now even thinking about another shop.
"I think if you want to run a successful business, you need to open your ears and take in as much advice and information from other top retailers as you can, and then adapt this to suit your own business."
Visit my store