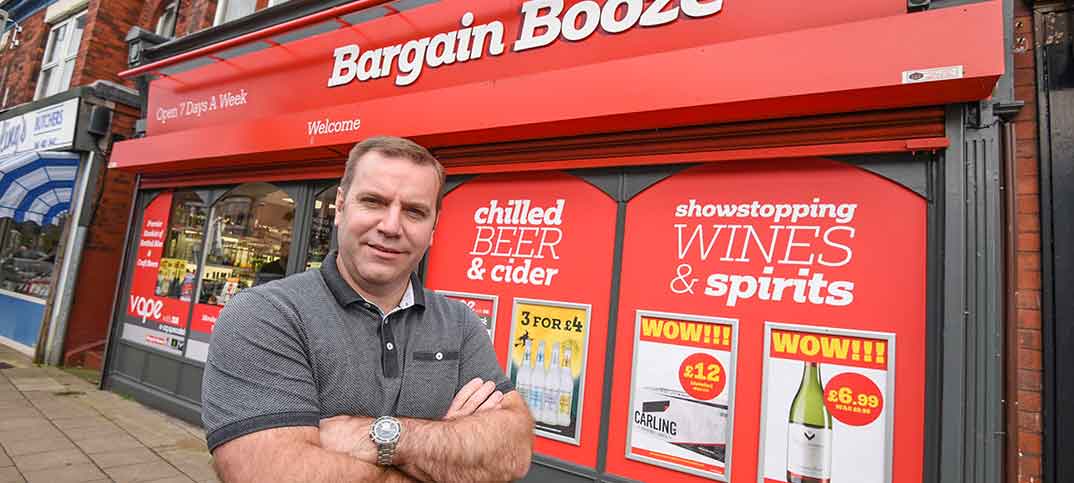 Five years ago Paul Walker had never run a convenience store – now he has a fast-expanding portfolio and a reputation for excellence. 
What does a Paul Walker store look like? The question is a tough one for a retailer who has quickly risen to become one of Conviviality Group's most successful retailers.
"Not every Bargain Booze or Select Convenience is the same, because the demographic they serve are different."
Operating 13 stores in the north-west, Paul and his wife Kerry took over their first store nearly five years ago and have since grown the business dramatically.
"We have one store in Wythenshawe which is on a massive council estate and a lot of the store is behind glass due to a high risk of shoplifting," he says.
But elsewhere Paul's stores are getting attention for the on-trend ranges and services they offer – the Manchester Evening News recently asked if his Davenport Store was the UK's best Bargain Booze.
"It's in an up-and-coming area and we stock loads of local breweries, craft ales and premium spirits. We even have our own growler fill, so customers can refill bottles of beer to take home."
He took the store over in March and it underwent a refit which Conviviality were happy to share the cost of.
"If they see that their wholesale spend will go up as a result, then they will go 50/50 on a refit with us – it's a massive help," he says.
Focusing on high-margin products, alcohol makes up a more than 90% of his sales. In other stores this can be as low as 40% – highlighting the variety of Paul's portfolio.
There is one thing which unites his business, however. "One of my main strengths is that I know all of my staff. I have about 80 to 85 overall and the personal touch is very difficult to maintain as you get bigger, but we work hard on it. If you can help one of your team members out, they do pay that back."
A key part of achieving this is getting the right store managers in place.
"We try to recruit well – I like to promote from within," Paul says.
And just as his stores come in many varieties, so do his managers.
"A Select Convenience manager couldn't manage a store with 300 craft ales because it's such a niche market. The store manager in our Davenport store is really passionate and knowledgeable about beer," he says
Listening to Paul speak about his strategies for tobacco (he's replaced traditional gantries with premium spirits put in the prime-selling position), or his plans for the growth of the business (another store is about to open), it is hard to believe that Paul is still a relative newcomer to convenience. 
"My mum and Dad had a newsagents where I used to work part time when I was at college 20 years ago. I left the business to do my own thing," he says.
After stints working in property and running his own central heating and plumbing business, a friend convinced him to try running a Bargain Booze
store.
"He owns Bargain Boozes and we have been friends since we were children."
Paul asked his friend to help him look for a suitable site, and he and his wife even worked there to learn how the industry operates.
Soon after opening, however, Paul was convinced by Conviviality's financial director to open a second store.
Like with his refit, the company stepped in to help with the cost, trialling a license system which is now available to stores nationwide.
"Conviviality heads the lease then licenses it to us. So if the business is worth £150,000, they will lend the money and let us pay it back in instalments over five to seven years," he says.
"We're opening another store in a few weeks' time. It's just a really exciting business to work with at the minute."