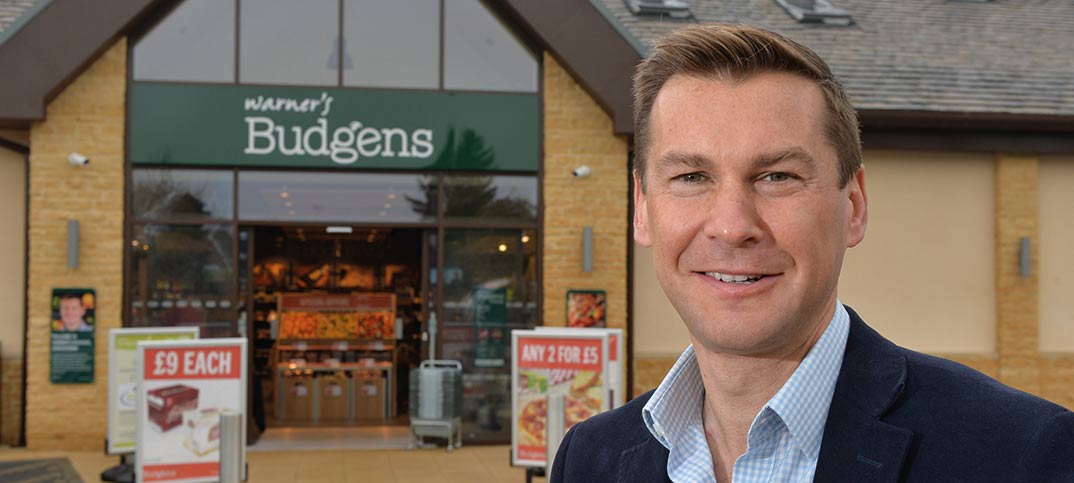 Guy Warner's latest store – set in the heart of the Cotswolds – blends together his usual mix of premium, local and specialist foods with value products, pharmacy goods and even kitchen appliances. He tells
Gurpreet Samrai
, how he's learning lots of lessons for the rest of his estate
Situated in the Cotswolds town of Winchcombe, Guy Warner's new Budgens store has become a one-stop shop for local residents and nearby workers, offering customers everything they would expect to find in a traditional CTN and convenience store – plus a little bit extra.
With close to 10,500 products – offering everything from fresh produce, ready meals and pet food to freshly-ground coffee, medicine and even slow cookers – it caters for both shoppers popping in to grab a newspaper or cigarettes to those looking to do a larger shop.
"We have crammed the range in here, but we are getting sales across the board. We sold a slow cooker in the first week and that's not something you necessarily stick in a standard local food store. Shoppers now want a mix of what's on offer at Waitrose and Lidl and we're giving them that choice."
"In this area there isn't a credible food store, so we are trying to do the job of a bigger shop, which is why we have put the range we have in," says Guy. "Here we are the local supermarket, the local electrical store, the stationers, the kitchenware shop, and the chemist.
What also sets the Winchcombe store apart from Guy's other five stores, however, is its extensive value range which sits alongside its premium products, big brands and local produce. It's set something of a precedent and will revolutionise the Warner estate.
Despite reservations about Booker's Happy Shopper and Farm Fresh value ranges when the wholesaler first took over Musgrave, Guy says he is a "big convert".
He has seen his margin grow around 4% for fresh produce, which makes up almost 50% of the store's sales mix, and he is now more competitive on price in areas such as toiletries, homeware and pet food.
"I used to be embarrassed about the household and toiletries aisle in our shop because we were expensive," he says. "It's the first time in our retail journey we've never had any negative comments about our prices.
"It just shows no matter how affluent an area is or isn't, demand for value is very much there, and that has really underpinned the perception of the store. It's not going to be for everyone, but without a proper value credential these days you are at a huge disadvantage. For us, being able to blend it into what we do and come out with something stronger for customers has been really positive."
Another area of change for Guy has been the investment in an electronic tobacco gantry in preparation of EUTPD II and plain packaging regulations due to come into force.
"It ticks all the boxes of control, limits mistakes and frees up key sales space," Guy says. "I think there's real complications for staff coming down the line. It's hard enough now to pick packs, let alone when they all look the same.
"It's too easy for retailers to take tobacco gantries without realising they are giving away the prime retail space in the store for five years. We have premium and local spirits behind the counter and vaping products, which have a big margin and are in a growing market."
Other key in-store features include a display of local artisan breads at the front of the store, freshly ground coffee and beans to go, an extensive off-licence with local ale, fine wine and premium spirits, and a range of premium Cook frozen ready meals.
Guy says: "We are now looking at revolutionising the Warner brand across our estate based on what we have done here because the customers have loved it.
"We have given up none of our DNA, we are just appealing to a broader church."
Visit my store