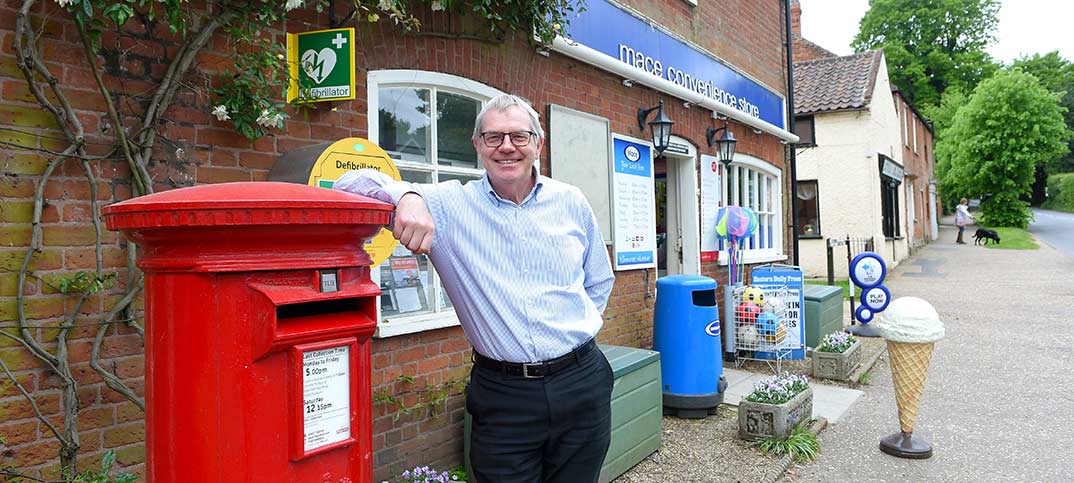 Fifteen years on from taking over his store in the picturesque Norfolk Broads, Mace retailer Steve Haines reflects on the changes he's made to transform a small CTN into the busy convenience store it is today. Helena Drakakis reports
In bygone days, boats would have transported grain and wool up the River Bure in Norfolk to Coltishall. Now, only yards from the old wharf, is Steve Haine's Mace convenience store.
As well as serving Coltishall's 3,000 village residents, summer brings in tourists anchoring their barges, ready to cast off across the picturesque Norfolk Broads.
"We have a rural demographic – a lot of retired people, and commuters travelling to Norwich, plus tourists in the summer," says Steve, who has developed the business since he bought it with his wife in 2002.
What started as a small CTN with a post office has expanded to house a convenience store with fresh and chilled bays, an alcohol area and a stationery section.
Despite being situated on the edge of the village, the store has a captive clientele. There are newspaper deliveries to 220 houses and a customer service ethos based around helping people in the community, for example delivering to the elderly.
"People cook from scratch here, so we've increased our fresh offering, however there is a Londis, a butcher's, a greengrocer's and a small farm shop in the centre of the village," says Steve.
The nearest major supermarket is Tesco, around five miles away, and over the past few years competition from Aldi and Lidl in Norwich has also increased.
"There is lots of potential for someone coming into this business with fresh ideas"
In response, Steve says he has aimed to provide a point of difference alongside remaining competitive. In 2010, he expanded the store from 400sq ft to 950sq ft. He also took out the fortress counter post office and replaced it with a Post Office Local format, freeing up more space for convenience.
That year, he also became a Mace store – a move which has allowed him to tap into the symbol group's three-weekly promotion cycle.
"We run regular promotions, especially on wine. Bottles at £4.99 seem to attract people, so we've got good loyal custom, and we're known for stocking all the basic essentials too," he says.
Moving the store's closing time from 6pm to 8pm and opening all day on Sunday also sparked a "step change" in turnover, which increased by £2,000 per week.
A refit with new lights and floors also created a welcoming shopping environment. Two years ago, he refitted the post office, installing LED lights on a suspended ceiling.
Before going into retail, Steve worked in technology and management. While he describes opening Mace Coltishall as a "steep learning curve", his MBA qualification has come in useful, as has his knowledge of IT.
"I learned a lot about staff management in my previous life and my wife says I've probably got more computers than any other convenience store. I have four screens on my desk, but my IT side has allowed me to analyse sales," he says.
In doing so, Steve has been able to capitalise on the summer months, for example. As many as 30 families can be moored at the wharf at any given time, meaning sales of alcohol, food items and essentials increase.
As for the future, Steve sees lots of ways to develop the store further, although he is unsure whether he will be the one to do it.
Aged 60, he is looking to retire, but he is enthusiastic about a new owner putting their stamp on it. One idea he thinks may work is an in-store bakery.
At one point, he even considered a tea room, but shelved the idea because of the hefty workload involved.
"There is lots of potential for someone coming into this business with fresh ideas," he says.
In the meantime, Steve is happy with the store's current transformation and increased bottom line, as well as the service his staff provide.
"I don't think people get good enough service in the UK. It was one thing I was keen on changing, especially as we're part of the community," he says.
Visit my Store