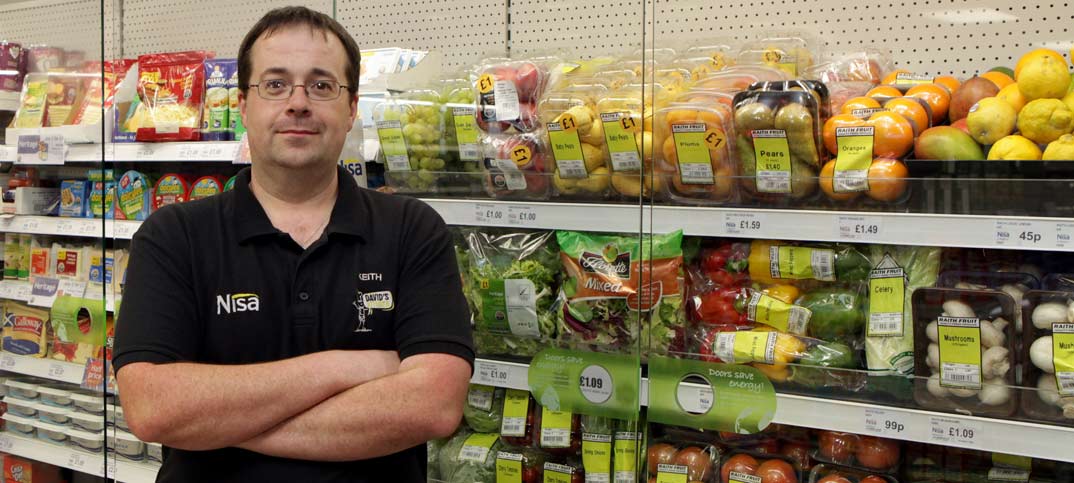 Focusing on fresh and food to go are surefire ways of creating strong points of difference when done with care. Veteran c-store owner David Sands has a proven record of doing things carefully. Nicola Stewart talks to his managing director Keith Fernie about his new Glenrothes store
Quality and freshness are the driving forces behind the exclusive David's Kitchen food to go range on offer at a new store built on the site of a former local pub in Glenrothes, Scotland.
"These are the most important things for customers," says managing director Keith Fernie. "Quality comes first, price comes second. In fact, price comes way down the line compared to quality."
The 2,500sq ft store, which operates under a Nisa Local fascia, opened its doors in May, marking the return of convenience veteran David Sands.
The industry stalwart sold his long-established David Sands business to The Co-Operative Food in 2012 and is now embarking on a journey to offer something fresh to the sector.
Keith, who acted as company trading manager for the former business, has taken on the day-to-day running of the new shop.
The store specialises in sandwiches, wraps, soups, salads and hot and chilled ready meals, freshly prepared by staff in the store's own kitchen and sold under the David's Kitchen brand.
"We have everything from macaroni cheese and chicken and broccoli bake, to baked potatoes and chicken curry," says Keith. "We even make our own sandwich fillings."
An in-store bakery counter that is run in partnership with a local baker, Stephens Bakery, provides customers with fresh bread, cakes and savouries.
This comes on top of the usual convenience store offerings of fresh and chilled produce, frozen foods, grocery, alcohol, crisps and snacks, confectionery, soft drinks and newspapers and magazines.
"The shop is set up so we have got a convenience store and then the David's Kitchen area – it's like a shop within a shop," says Keith. "We are trading really well. Customer feedback has been very positive for both the store and our food to go selection."
David's Kitchen not only accounts for 17% of the store's revenue, it also creates a strong point of difference – driving footfall and building a level of credibility, he says.
"I think customers have understood that the products we are selling are made fresh here and are of a high quality. We find that people will come in to buy lunch, and then they will also pick up some juice, crisps and sweets or come in to do their shopping.
"When you look at where we are – in the middle of a housing estate – and we have people travelling from work to buy their lunch from us, it's a positive sign."
Four months in, Keith and fellow director Diane Greenough are making an effort to ensure customers know they are a locally owned and operated enterprise.
We have everything from macaroni cheese and chicken and broccoli bake, to baked potatoes and chicken curry. We even make our own sandwich fillings
"It's a hard one. When we were David Sands, people knew who we were. Now we are a Nisa Local, some people aren't as sure."
Part of being a local store means hiring local people and the business invests in training and development for its staff, he says. The store also donates the proceeds from its carrier bags to a nearby school.
"That's a good way to get the name out there," says Keith.
The store is also building its community links by working with a lot of local suppliers.
"We have a local butcher, we stock local beer and dips. So we try to support local companies where possible.
"People like it when they see products made in the area – it all comes back to that idea of quality."
Customers also benefit from Nisa promotions and Keith always jumps on board with any special offers and in-store theatre.
While he is kept busy with the everyday running of the store – "I work shifts the same as everyone else" – there is never room for complacency when it comes to innovation.
"We constantly try to create new revenues," he says. "We are always coming up with different meal ideas for food to go and looking at what else we can offer.
"I think, to keep customers interested, we have got to keep trying to change."
Visit our store