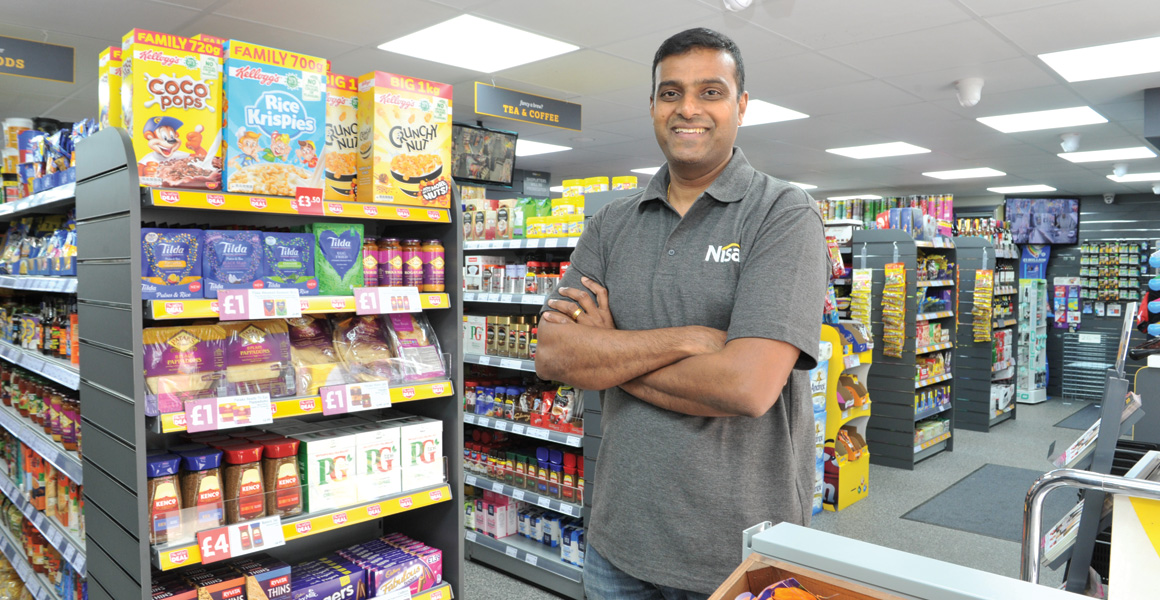 With two

differing

customer bases on either side of his new store, Philip Constantine has taken on a major challenge. He tells

Marcello Perricone

how he is making it work using the right strategy – and support from his symbol group
All retailers have to be flexible, but Philip Constantine's new store in Orpington, Kent, lies in an area that forces him to take this to another level.
"I've got two kinds of demographics here: affluent people and poorer customers, many of whom live in council housing and rely on benefits," Philip says.
With five stores – three Nisas and two Premiers – Philip is an expert at adapting a store's offer to the needs of the community it serves. Yet catering for such different demands has been a major challenge in the three months since he took over the business.
Part of his approach is the range he has created. "We stock branded and unbranded products, so customers can find what they want, and come back again," he says. Even premium brands have an own label equivalent – such as Nutella and Nisa's Heritage Hazelnut Chocolate Spread.
Meanwhile, the store's value proposition is underlined by multipacks of budget-brand children's juices and pet treats.
"Having two of each product does reduce our range somewhat, but if we didn't stock these options, we wouldn't have customers coming back," he says. "Without it, I wouldn't have customers from both sides and couldn't stay afloat. It's a necessity."
Philip uses display to show range and pricing relevant to both groups – rows of shelves are stacked parallel to the entrance, giving passers-by a clear view of the products available. This layout also allows staff to monitor most areas of the shop, reducing the risk of theft.
With a Londis store nearby, Philip believes innovation and good service are necessities.
"Customers come in and tell me, 'Londis does this, Londis doesn't do that,' so we try to capitalise on that," he says. "For example, customers constantly complain that promotions are not very clear in other stores, so we put a big monitor on each till that faces customers and tells them exactly how much they are saving."
This is a trend that unites customers of all kinds, Philip says. "People nowadays are much more careful with their spending, so showing customers exactly what they're saving is a big draw," he says.
Customer thriftiness has also made meal deals one of Philip's focuses. Sandwiches and soft drinks are prominently positioned at the left of the store, by the entrance, since Philip read customers mostly look left when they enter a new shop. An increased basket spend of 20% suggests this move has paid off.
Meal deals also enable Philip to capitalise on a new, third customer demographic: commuters, a high number of whom pass the store and who have a higher spend. He plans to adapt his offer for them, adding a new Seattle Coffee machine and doughnut stand in the near future.
However, this is yet another challenge for Philip and his team. The support of Nisa has been essential here, he says.
"Nisa has given me an in-depth understanding of convenience," Philip says. "Until I joined, I wasn't clear about the business side of running a store."
Visits from Nisa help to share its expertise, too. "It's not just me who will know how to do the things they suggest. It will spread the knowledge," Philip says.
The industry is in the midst of yet another wave of consolidation, but Philip's example shows a business' future is best secured by reacting and responding to its immediate location.
"Co-op-Nisa and Booker-Tesco are the two major powers now. Staying with them is safe, but the secret to succeeding is innovating to stay ahead of your competition."
Find my store: