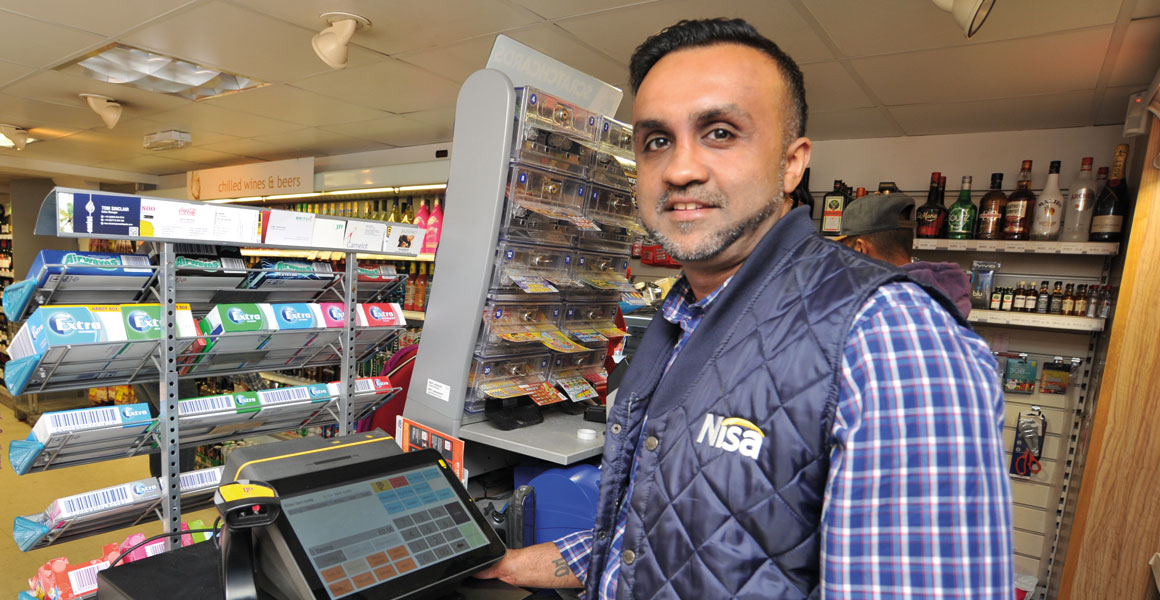 Having grown up working in his parents' convenience store, the retail life wasn't Raj Chadhhadia's first choice. More than a decade on, however, he and his brother, Nilesh, went back to the family trade. He tells

Olivia Gagan

all about running his own store
Retail is in the blood for Raj Chadhhadia: he spent his teenage years working on the shop floor of his parents' newsagent in Luton. While he then went on to pursue business interests outside the world of convenience retail, 11 years ago he decided to set up a shop of his own with his brother, Nilesh.
They opted for a store in Bedford which had been owned and run by the same family for decades. "It was an old-fashioned, tired-looking store, with old shelving and lighting," he says. "It needed a complete refit, so we started from scratch, overhauling the stock and remodelling the layout."
Their first step was to revamp the product range. The store is located near a retail park, and his customers are often employees there, looking to pick up meals on their lunch break or on their way home. A new product range was designed to meet the demands of these shoppers. "When we bought the store, the choice of products was dated. They were largely dry, ambient goods and a lot of it was aimed at children. What customers want now is chilled, fresh food, so we trebled the amount of refrigerated space we have in the store by installing floor-to-ceiling chilled cabinets."
Soft drinks and alcohol form a major part of the store's turnover, he says, and offering these items cold is integral to sales. "Before we refitted, most alcohol and cans of soft drinks weren't refrigerated. We've created a much larger allocation for chilled alcohol and doubled our chilled soft drinks space."
Raj has never wanted to blindly follow retail trends, however. "We tried food to go in the store, but it didn't work for us. We realised that we're quite close to a bakery, and it didn't improve our sales." One successful move, however, was changing from an unaffiliated to a Nisa Local fascia store. "We've found it helps to have a brand image behind you," he says.
Raj says embracing technology is also key to the success of the store. Last year,his store was a pilot for the PayPoint One EPoS Pro system, which allows the store's EPoS system to be managed remotely via a mobile app.
"We were working on a 25-year-old EPoS system, so it was high time to upgrade and modernise. I have other businesses, I travel and I'm not always in the shop, so it has made it easy for me to log in on-the-go and see what's happening – what's selling and what's not, and making sure our stock levels are adequate."
Raj has also installed media screens in-store. "We went with a company which manages it all for us – they provide the screens and create our own in-store advertising for us. The company also displays brand advertisements on the screens, and the trade-off is that we get to advertise our own in-store offers free of charge."
Looking ahead, Raj says a challenge will be the face-off between traditional convenience stores and the multiples' increasing convenience offerings. "It is harder than when we started. It's a lot more competitive now the multiples have come into convenience. Retailers like us have to know their area, and find a way to differentiate ourselves from whatever is around us.
"We have to contend with a Tesco superstore about 10 minutes' walk from us. We try and offer something a store of that scale can't, by making the effort to know our customers by name. We aim to fit in with their lifestyles – there's a gym close by, for instance, so we now offer a strong range of protein-based products, high-protein chocolate bars and energy drinks."
Key to being able to provide this level of customer service is consistent, regular staff training, Raj says. "Nisa do a good training programme for staff, which we use. With our regular customers, staff will often have a suggestion or a product ready for customers before they even know they want it themselves."
Find my store