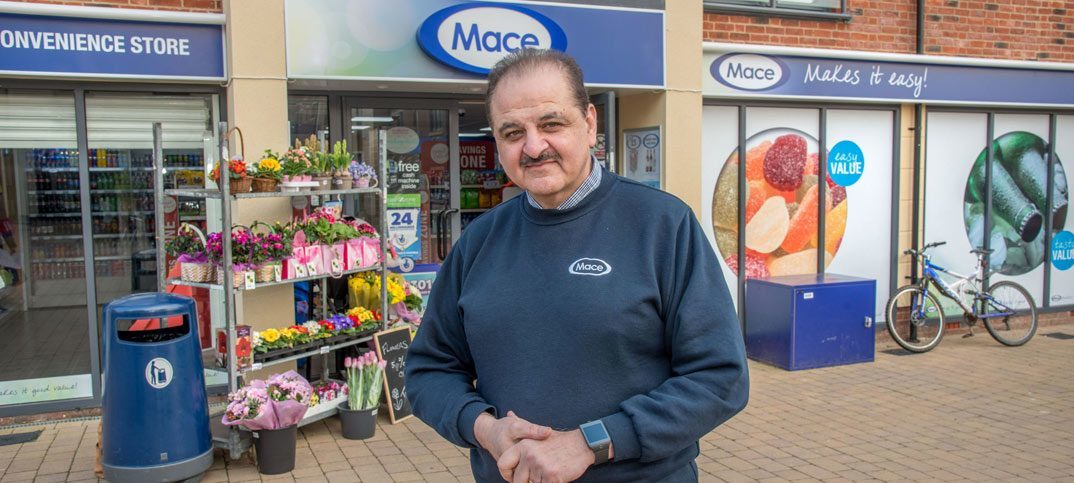 Taking on a new store is an exciting challenge for any retailer. For the award-winning Vip Panchmatia it was even more so as he set up a new Mace 'flagship' store from scratch as part of a major re-development.
Steven Lambert reports
When Stroud district council put a call out to local businesses looking to set up shop in a new £45m wharf redevelopment in Ebley, Vip Panchmatia saw it as an ideal opportunity to open a second business in addition to his award-winning Hexagon Stores in Andover.
He says: "I was looking for a new challenge and the area being redeveloped looked like a good opportunity for us. I was looking forward to starting a business from scratch and putting my own mark on it."
This led to Vip opening The Wharf Convenience Stores, 2,000sq ft Mace shop catered to meet the needs of top-up shoppers, more than 100 local residents and some 400 workers at the nearby council offices.
He says: "We originally came over to the new site in September, when they were still building some of the flats. These have now all been bought up, and we officially opened the shop just before Christmas.
"We have a lunchtime crowd coming from the council offices close by, and we also have a lot of local workers and a gym with 1,600 members nearby who are looking for meals in the evening, so we have catered the shop around them."
This is evident in the large amount of space dedicated to chilled and frozen goods, with 15 fridges and two freezers offering a wide selection of ready meals, cooked meats, dairy, sandwiches and snacks.
Vip says: "We were lucky in that around the time we were opening, Mace was just expanding its Independent range into chilled meats, which more customers are starting to buy, and the ready meals have been good sellers as well.
"When we started here, one of the first things I wanted to do was to make sure the shop was as energy efficient as possible, as this was going to be one of our biggest overheads.
"This is why we are working with Enviroglow, using their chill scoops on the chillers and LED lighting, which has helped us save on our energy costs."
Alcohol is another area which Vip has focused heavily on from the start. With rival convenience groups and a Sainsbury's not far from his store, he has been winning over customers with eye-catching deals and a range suited to every taste.
"Some of the deals we've had have been very good, such as Isla Negra at £3.99. It's now up to £4.99 and it's still selling.
"I Heart prosecco and Barefoot wines have also been popular, and we look to buy in bulk whenever there's an offer on.
"In the summer, we're looking to chill bulk packs of beer in the fridges as we're expecting a lot of passing trade from people walking along the canal path by the shop."
The area being redeveloped looked like a good opportunity for us. I was looking forward to starting a business from scratch and putting my own mark on it
Vip says warmer weather and his scenic position will also present further opportunities for him take advantage of other seasonal sales opportunities.
He explains: "I'm currently in talks to get a bespoke ice cream counter made, which is something I'm hoping to get in place in the next few weeks.
"We're looking to do a combination of scoop and soft serve ice cream, which should be popular if we get the right weather."
Vip says weekly turnover at his new shop has climbed to £7,000 and, withthe services he is planning to introduce in the coming months and more flats due to be built nearby, he believes this could rise to as much as £12,000 over the summer.
He says: "It's going to be a challenge but I think it's something that we can achieve.
"We're already seeing a lot of repeat visits and Mace has been very helpful with leaflet drops and getting the store advertised in the local paper.
"This is one of Mace's bigger stores, and they're hoping to turn it into one of its flagship stores as well, so we're really going to be pushing the boat out this year."
Visit my store
[googlemaps https://www.google.com/maps/embed?pb=!1m12!1m8!1m3!1d2470.621477072356!2d-2.2485999!3d51.7399584!3m2!1i1024!2i768!4f13.1!2m1!1sEbley+Wharf%2C+Stroud%2C+Gloucestershire+GL5+4UN!5e0!3m2!1sen!2suk!4v1427285422083&w=600&h=450]