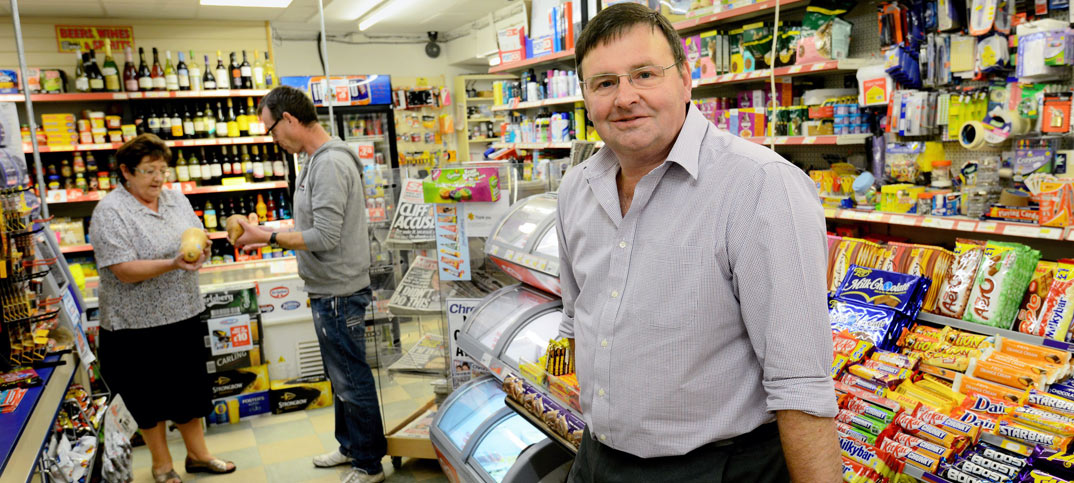 … alongside enthusiasm, keeping customers happy and having an open mind about new ideas has enabled Duncan McCutcheon to run a successful family business, writes Steven Lambert
Despite having more than 40 years of retail experience under his belt, Duncan McCutcheon has never been afraid to go out on a limb and try out new ideas.
Whether it's online deliveries or setting up his own in-store photo studio, Duncan has been determined to make McCutcheon Newsagents stand out against other businesses close to the shopping parade in Winlaton, Tyne & Wear where his store is located.
He says: "My grandfather set up the business in 1937. I used to help out when I was nine years old and then started working here properly at 18, before spending some time working at WHSmiths. I'm 54 now, but there's always something new you can learn from."
Having sold off three other stores in the past 10 years, Duncan says he's now free to focus solely on developing his 1,200sq ft business. He describes the store as a traditional newsagent with convenience store sensibilities.
"News and magazines have always been our bread and butter," adds Duncan. "We have around 1,500 magazines and we deliver to 200 customers every day, selling around £1,500 a week in newspapers and magazines in the process.
"But we are also sandwiched between a Co-op and a Spar, so we do have some local competition."
To this end, Duncan has broadened the range of services and products he offers to shoppers to encourage repeat visits. This includes expanding into fresh fruit and veg, which he introduced after a nearby greengrocers decided to shut up shop.
Duncan says: "At the time, Booker were having a promotion offering a selection of fruit and veg at £25, so we thought 'why not?' We're now doing sales of about £5,000 a week on fruit and veg. We differ to the supermarkets in that we can offer all the products as single purchases, because some of our customers don't want to take away big bags of produce."
Fruit and veg is also one of the many lines available to order online from the store, after Duncan signed up to the We Deliver Local service. The scheme allows shoppers to browse and purchase products on a website, with any orders emailed directly through to the store.
"We offer to deliver direct to your door within 90 minutes of placing an order," says Duncan. "We charge £2 if the delivery is under £30, but over that and it's free. It's still very early days but we have a lot of interest and more people are starting to use it."
[pull_quote_right]I'm 54 now, but there's always something new you can learn[/pull_quote_right]
McCutcheon's Newsagents is also well known for its ID and passport photo service, something that Duncan has been offering for 25 years. "We used to have our own photo lab where we developed the pictures. Now that it's all digital, we have a separate area in the store where we can take professional photos for customers.
"It's really spread through word of mouth and we even have staff at the nearby post office sending people here to have their passport pictures taken."
Meanwhile, Duncan works closely with his son Mark, owner of battery and e-cig specialist MNL Wholesale, to offer a number of value-for-money deals to shoppers. "We have a wide range of batteries on the front counter, ranging from £1 JCB batteries through to four packs of Duracell at £3.99. We're also a big stockist of Kik e-cigarettes and liquids, which are popular."
By adapting to the changing retail landscape while also staying true to his newsagent roots, Duncan has succeeded in maintaining regular trade while also attracting a whole host of new customers to his business.
And with little sign of hanging up his boots just yet, he offers these pearls of wisdom to other retailers: "Stay enthusiastic, keep your shoppers happy, and have an idea a day."
Visit my store